I'm sorry (but I'm not sorry) that I've been MIA this week.  Playing catch-up after being on vacay is a never-ending process.  When I haven't been working or sleeping, I've been spending every single extra second with Kyle.  Absence does make the heart grow fonder, FYI.
I also stopped taking photos of my food for a while because my camera couldn't keep up with my appetite.  I've been doing quite a number on the fridge/pantry (it's as if I arrived home from Europe and immediately felt the need to ravage our kitchen and make up for the 20 days I was gone).  Seriously.  If you want a visual, just picture the Tasmanian devil whirling through the apartment.  I haven't been uncomfortably out of control, but I do want to get back to intuitive eating.  Soon. 
There's also that matter of triathlon training…but I'll get to that later.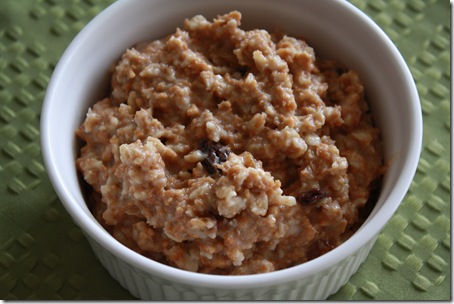 In the meantime, I found a way to make oats taste like Raisin Bran without using the actual cereal at all.  Raisin Bran is one of my favorite cereals (a fact that means almost nothing since that category has close to 50 occupants).  But let's pretend that I don't put cereal before my husband in terms of devotion…and say that being one of my favorites is a highly elite and selective honor.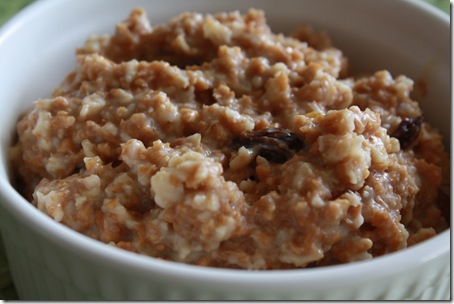 Raisin & Bran Oatmeal
3/4 cup whole rolled oats
1/4 cup wheat bran
3/4 cup water
1/4 cup vanilla soy milk
1/4 cup raisins
4 drops NuNatural's liquid stevia (or 1 tbsp sugar)
I cooked the oats in the water first, then added the bran and soymilk at the very end. 
True to the OG cereal, I doused the raisins in the sugar separate from the oats.  And just like the actual Kellogg mantra of "two scoops," I added in just enough raisins to make the ratio fairly raisin heavy.  🙂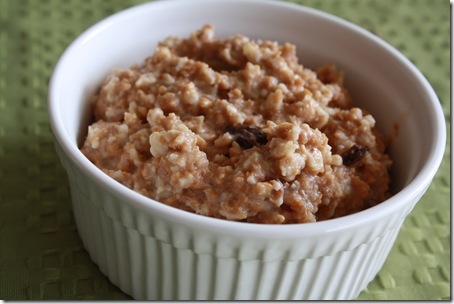 And while we're on the subject of themed oatmeal flavors…
This is one I packed for work the other day.  It looks like an ordinary tupperware of oats, but just wait.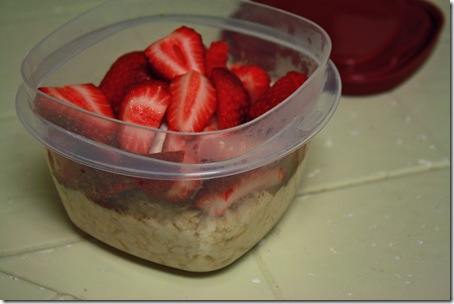 I swear I have more recipe ideas when I'm running than any other time of the day!  It's like the cardio clears my head and I am flooded with brain activity.  My breakthrough moments aren't always food related, but they often are.  I can't tell you how many times I get back from a run and immediately grab a pad of paper to jot down my notes.  Anyone else have this same method of madness?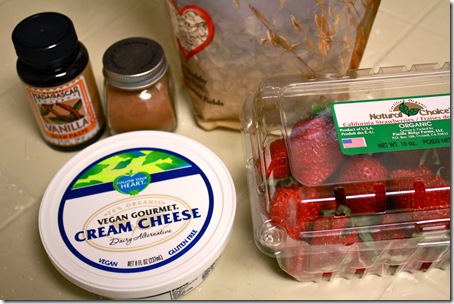 (Vegan) Strawberry Cheesecake Oatmeal
1/2 cup oats
1/2 cup water
2 tbsp vegan cream cheese (I'm partial to Follow Your Heart's dairy alternative)
1 tsp vanilla bean paste (or 1 tsp vanilla extract)
1/2 tsp cinnamon (or more to taste)
3-4 drops of NuNatural's liquid stevia (or whatever sugar you prefer)
1/2 cup sliced strawberries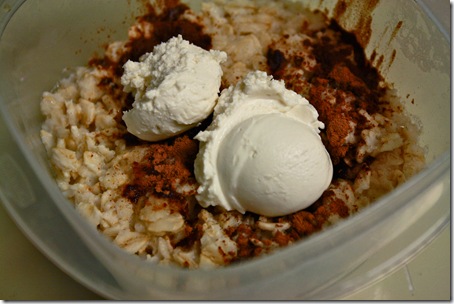 For transportation purposes, I left things unmixed until I got to work.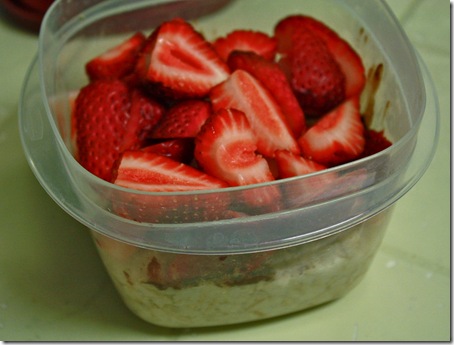 Once breakfast time arrived though, I stirred it all up.  After heating up in the microwave, the strawberries and cream cheese got soft and combined perfectly to make beautiful pink oats with a thick consistency and cheesecake-like flavor.  Mmmm…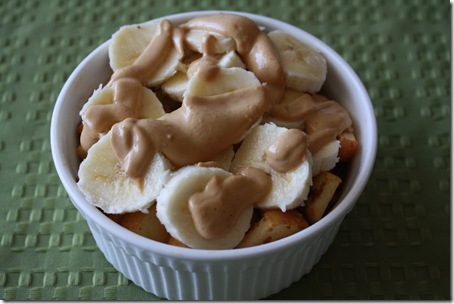 Today, I'm switching it up.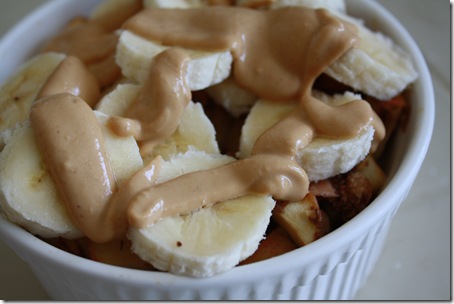 Apple pie oatmeal with bananas and peanut butter on top.
What kind of dessert have you made your oatmeal into?