The art of packing food is my specialty.  Much like making my daily work eats (tutorials here), packing food for traveling is a bit of a craft.  Some may find it easier to buy meals at the airport rather than go through the hassle of taking extra baggage through security.  Personally, I'm not one of those people.  I don't care if it adds 25 pounds of dead weight that I have to schlep by plane, train, and automobile, for me it's SO worth the energy.  The cost to benefit analysis probably differs depending on your diet and distance, but knowing I won't have to pay exorbitant prices for crappy food (with limited vegan options) is worth it.  Peace of mind for a peaceful stomach. 
Tips:
BYOB (tea bags and empty water bottles) – The way I get around the liquid law is filling up my klean kanteen at the fountain (for free) once I've made it through airport security.  Also most places will give you free hot water (some charge 25-50 cents).
Skip the salt – Flying causes bloating and there's no reason to add to that.  I don't know about everyone else, but I already feel gross within a second of boarding a flight.  So I generally try and ditch the pretzels and salted nuts and drink plenty of fluids.  And get an aisle seat 😉
Pack way more than you think you'll need – This is the same as how I pack for work.  If I have too much stuff, fine, it's not like I have to eat it all in transit.  Having extra bars and snacks is hardly a disaster.  Being hungry and unprepared, on the other hand, is totally miserable and leads to bad choices due to less than stellar options. 
Produce produce produce – Is there anything more portable than fruit?  No.  Apples, bananas, etc. are all naturally ready to bring on the go. 
Nibble mindfully – Because of time changes, my body never really knows what's going on and I end up doing more snacking than eating full meals.  Rather than snack the whole trip long, I make sure I am truly hungry and not just bored.  [In other words, bring lots of magazines, books, movies, crosswords, etc. to keep your mind preoccupied so you aren't using your mouth instead]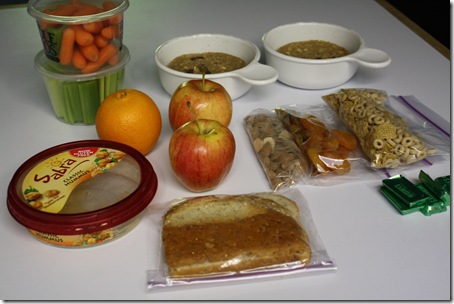 Veggies, hummus, bread, nuts, dried fruit, cereal, apples, orange, oat bakes, dark chocolate squares.
Snack central.  Seriously, I have no editing skills.  Just wait 'til you see everything hidden in that bag: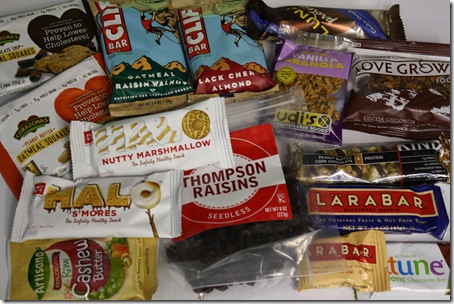 Probars, Corazona's, Larabars, Clif bars, Luna bar, KIND bar, Artisana cashew squeeze pack, Attune bar, Love Grown granola, Udi's granola, dried fruit
And my latest raw obsession too…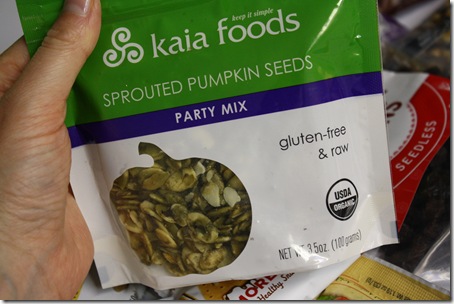 kaia foods makes really yummy raw foods including sweet things like granolas, as well as savory things like these sprouted pumpkin seeds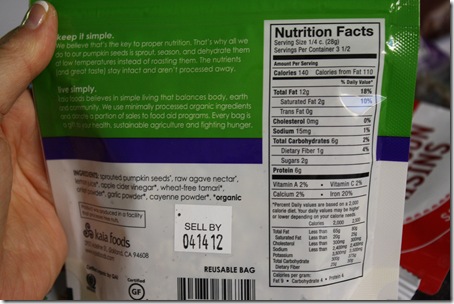 The good news is that I will have plenty of bars leftover to throw in my bag.  So when I'm struggling in Paris, I will have backup options and then some. 
Hummus and dip-ables (carrots, celery, bread).
Produce in zoom.  The salad is pretty much just romaine, carrots, corn, and avocado…with Trader Joe's faux chicken on top.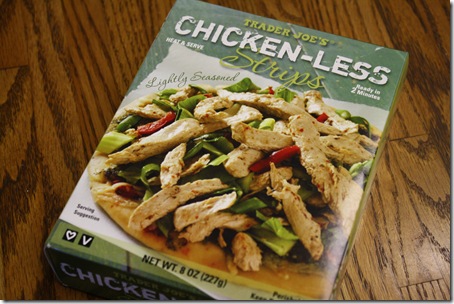 I've had these before and they are pretty good.  They remind me of the same "chik'n" that The Veggie Grill makes. 
It's soy based with vital wheat gluten too.  It comes with some seasoning on it, which lends itself to a Mexican flavored meal.  Hence the Chipotle-salad-esque meal.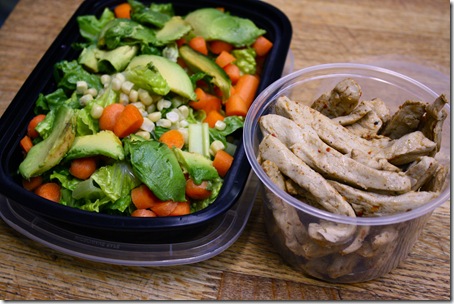 I only kept the soy meat separate for commute purposes…it will be added on top once it's time to dig into the greens. 
Now about those "oat bakes"…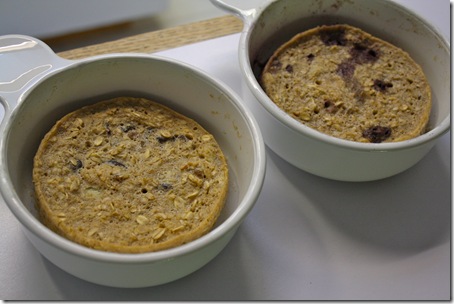 I decided microwaved "bakes" were a smart portable option instead of oatmeal.  So I turned to Ashley, the queen of breakfast bakes.
The first one I made was a spin on her ba-nilla bake. 
I have to say, almond extract is quite an interesting ingredient!  I'm going to have to get some of my own soon (my mom shocked me by having it in her cupboard, but I should have known she'd have it).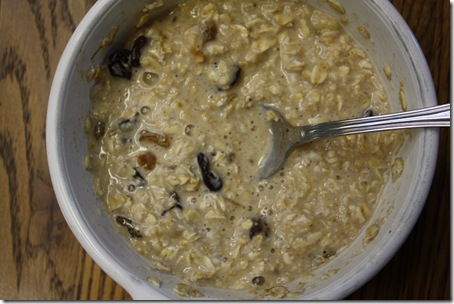 Where my recipe differs from hers is my grain and milk choices.  I opted for oats instead of buckwheat.  I also skipped the almonds and replaced the almond milk with soy.  Since there was almond extract in the bake already, I decided on soy milk.  I also threw in golden raisins and dried cherries because I think tart dried fruit goes so well with vanilla.  Otherwise, it was pretty much the same recipe.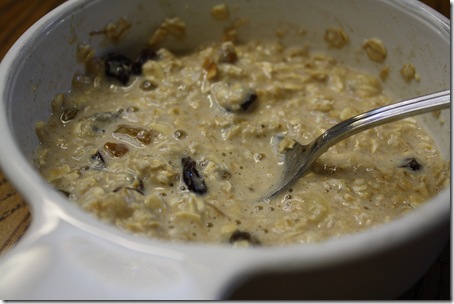 Mixity mix. 
Ba-nilla Oat Breakfast Bake [serves 1]
*adapted from this recipe
1/4 cup whole rolled oats
1/4 cup quick oats
1T chia seeds or 1 flax egg [1T ground flax meal + 2.5T warm water, whisked] or 1 egg white
1/2 banana
1/4 cup soymilk
1T maple syrup
1 t cinnamon
1.5 t vanilla extract
1/4 t almond extract
1/4 t baking powder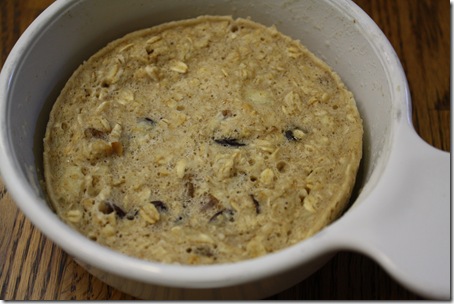 Here it is after just 2 minutes in the microwave.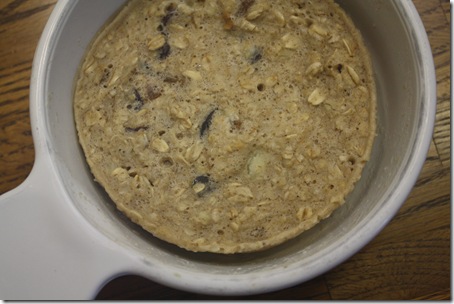 This photo steamed up the camera lens, but you can still see how it's like a baked good as opposed to a bowl of oats.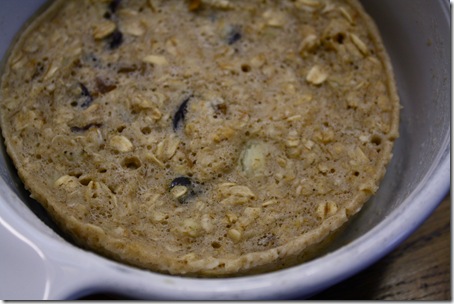 The ease of this is so mind blowing.  Now, I haven't tasted it yet, but I did lick the spoon, so I am pretty sure it's going to rock. 
The second "oat bake" I made was my own recipe using up the second half of the banana and whatever I could find in my parents' kitchen.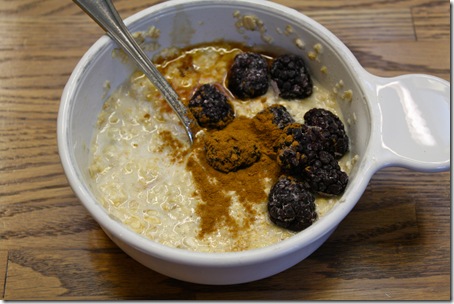 Frozen blackberries?  Sure, why not!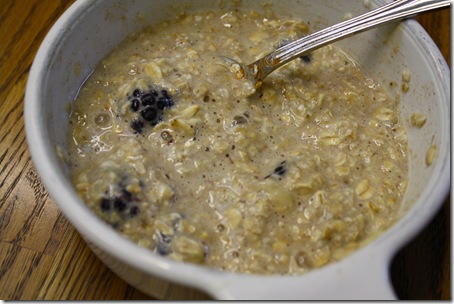 Nuts & Berries Breakfast Oat Bake [serves 1]
1/4 cup whole rolled oats
1/4 cup instant oats
1/4 cup soymilk
1T chia seeds or 1 flax egg [1T ground flax meal + 2.5T warm water, whisked] or 1 egg white
1/2 banana
2 T crunchy peanut butter
1 t cinnamon
1.5 t vanilla extract
1/4 t baking powder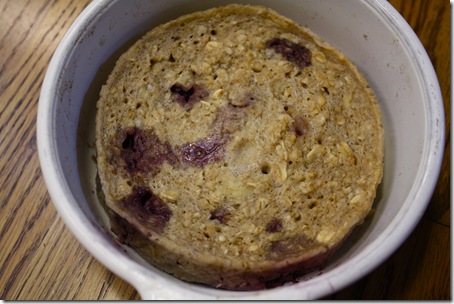 Once they had cooled I packed them up in tinfoil. 
I'm pretty sure I'm covered in the food department.  Now, hopefully I won't get to Spain and realize I am missing my toothbrush or something.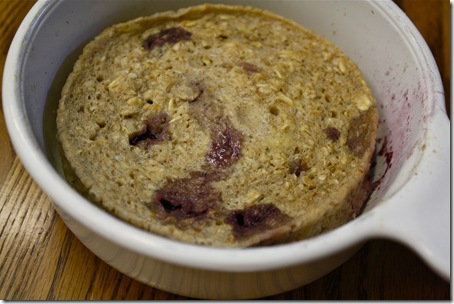 Adios amigos!