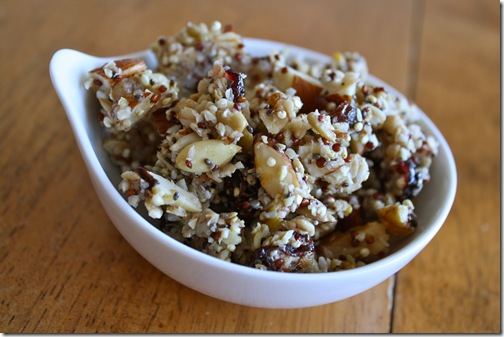 So.  Effing.  Tasty.
This was so much more simple than I thought it would be.
I'm never buying granola again (yeah right), but still…I know what I like in my cereal so why wouldn't I make it to my exact specifications?  Right?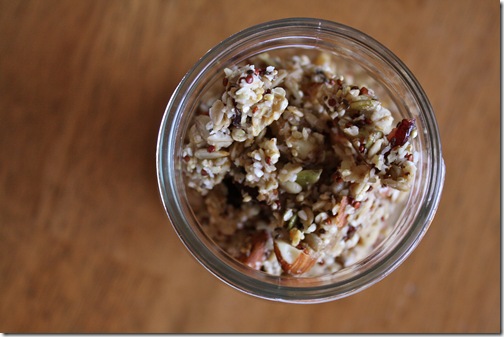 My favorite things:
1. Clusters – textural variety is the most important part of cereal, oats, granola…shoot any food!
2. Crunch – none of this raw muesli bullsh!t, I want toasty!
3. Dried fruit and nuts – not one or the other, both.
4. Ratios – I like it when there are even amounts of everything so no one bite dominates.  Everything should be well represented; no skimping on the cranz, no shortage of almonds.
5. Coconut!!! – Clearly my obsession with this amazing food has hit another level (it's made it's way into my diet at least daily), but I'm not too worried.  I'll have glossy hair and healthy skin that will make all the boys in the yard want my milkshake coconut oil.  Seriously though, I've come to realize that all my favorite brands and products are the ones made with coconut (flakes, shreds, butter, oil, whatever, the more the merrier in my opinion).
Given all this, I decided it was high time I made my own mix.
Then, a couple of weeks ago my cousin hooked me up with this quinoa cookbook and Roland red quinoa.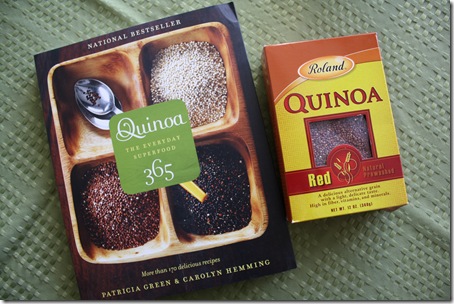 Divine intervention!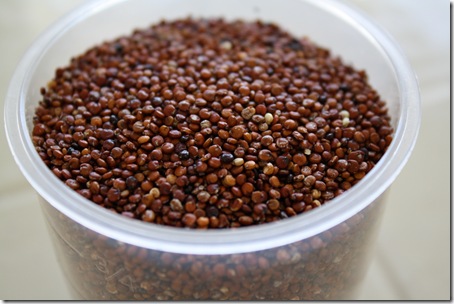 On my first flip through, several things caught my eye, but the really intriguing recipe was quinoa granola.  Raw quinoa?  Could that really taste good?  Wouldn't it be hard and flavorless?  I was so curious…
So I decided that "Q" day of alphebruary would be the day to experiment.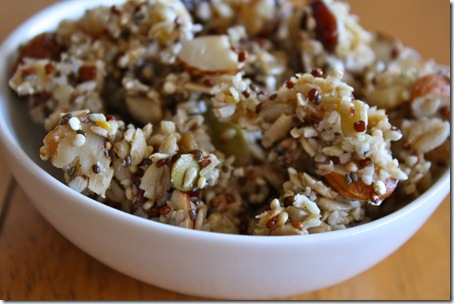 Oh boy was it a winner.
I tweaked the recipe quite a bit (ok, a lot) to meet my (aforementioned) specifications…and behold!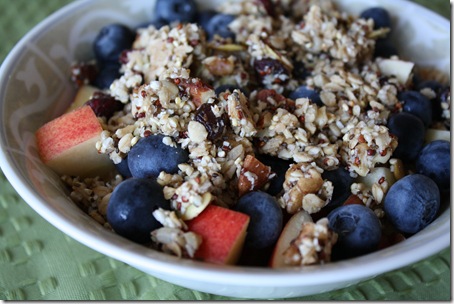 Perfection.  At the rate I'm downing it, there won't be any left by the time I get around to publishing this post!
Quinoa and Buckwheat Granola (vegan, gluten-free)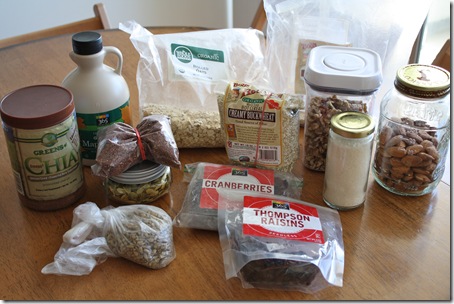 Ingredients:
1 cup whole rolled oats (certified gluten free)
1 cup buckwheat (either groats or uncooked hot cereal mix is fine)
1/3 cup quinoa (I used 1/6 cup each of of red and regular quinoa)
2 T chia seeds
3/4 cup raw almonds, coarsely chopped
1/4 cup raw pumpkin seeds
1/4 cup raw sunflower seeds
1/4 cup raw walnuts, coarsely chopped
1/4 cup shredded coconut
2 tsp cinnamon
1/3 cup dried cranberries
1/3 cup raisins
1/2 cup maple syrup
1/2 cup coconut oil, melted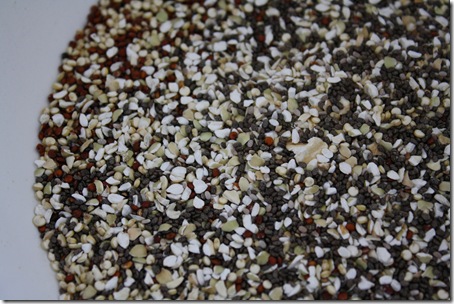 Directions:
In large mixing bowl, combine dry ingredients (first 4 listed).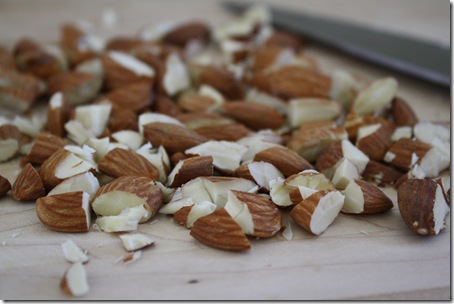 Chop nuts and add to the bowl along with seeds and coconut.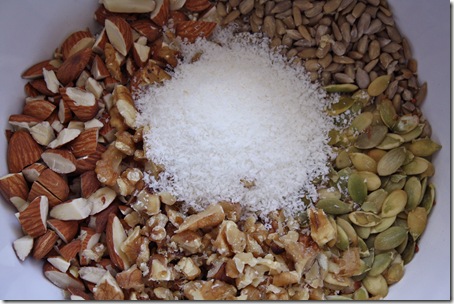 Mix well.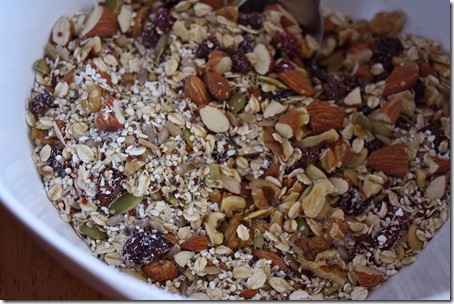 Add liquids (melted coconut oil and maple syrup).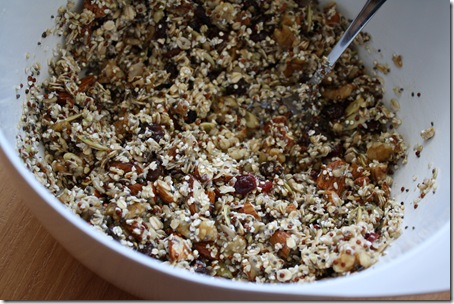 Mixity mixity stir stir stir.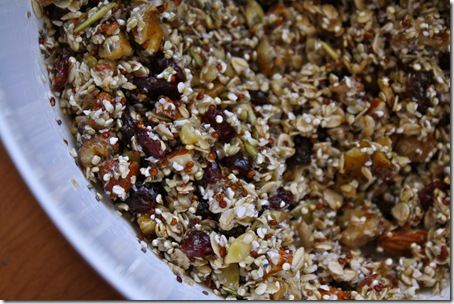 Side note: I've come to the conclusion that there's no better smell than melted coconut oil.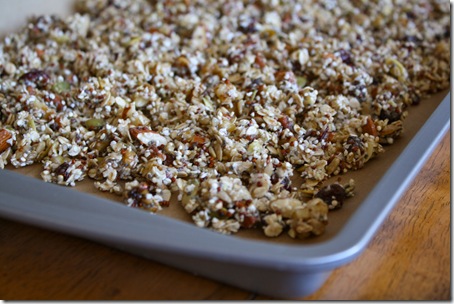 Spread onto a baking sheet lined with parchment paper.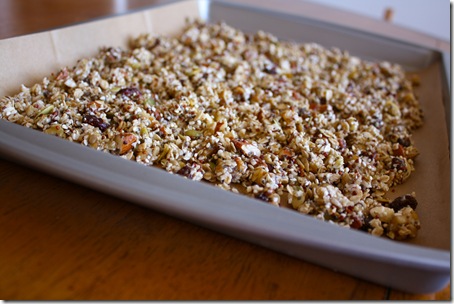 Bake for 60 minutes at 225 degrees F.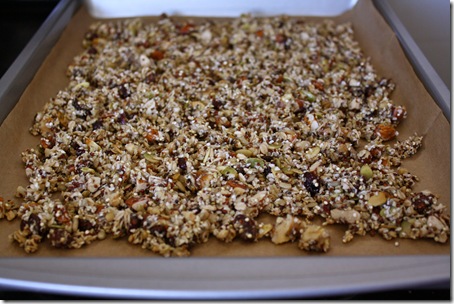 Let it cool and then break apart (you don't need to actually break it, it crumbles pretty easily if you just brings the ends of the parchment paper together).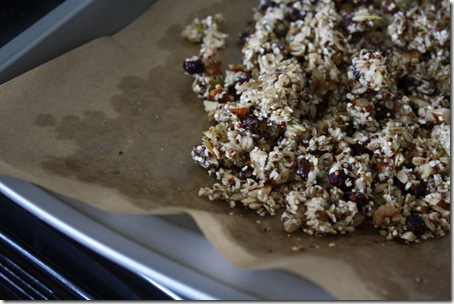 Sample.  Liberally.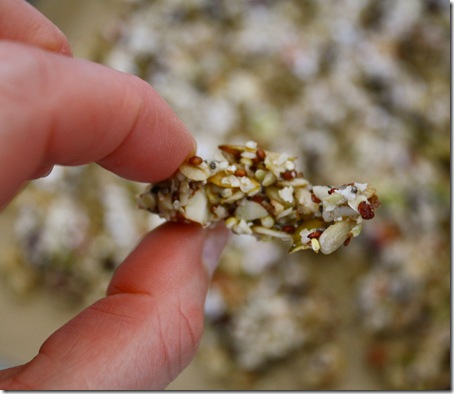 Plain and simple, this granola is out of this world.
The crunch is unreal.  It's still bizarre to me that uncooked quinoa and buckwheat are even edible, but I promise they're not just edible, they're fantastically flavorful.  It's the perfect amount of sweetness, with the perfect ratio of nuts, seeds, and dried fruit, and the hints of coconut were ahhhh-mazing.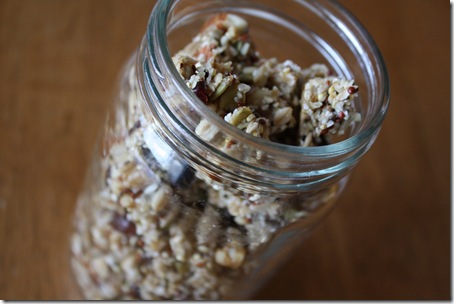 I snacked on this non-stop on Sunday…it's a wonder I had room for my other meals.  I just couldn't stop!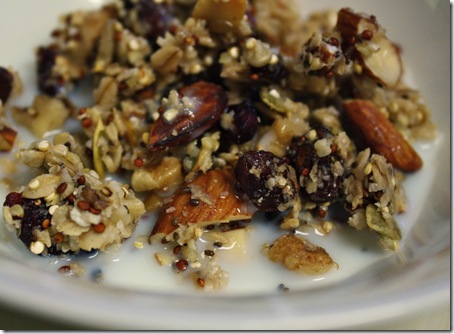 Are you drooling yet?
What are your favorite qualities (must-haves) in cereal/granola?