I got 5 pounds of oats from Tropical Traditions and I'm working my way through it pretty damn quickly. 
Aside from my daily – sometimes double – dose of oatmeal, I have been baking quite a bit too. 
Since I had bananas with more brown than yellow sitting on the counter, I knew time was ticking until they would be freezer bound.  But I already have plenty of frozen nanners!  Must. Use. ASAP.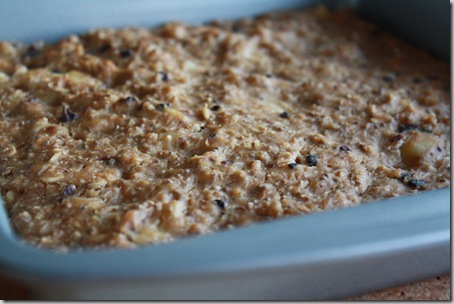 I was winging it as I went with this recipe, but it came out great, so I will share.
Peanut Banana Oatmeal Bars (v, gf)
Ingredients:
2 ripe bananas
1/2 cup peanut flour
1 1/2 cup oats
2 cups boiling water
2 tbsp chia seeds
add-ins of choice (carob chips, raisins, dried cranberries, cinnamon, almonds, etc.)  [I used cacao nibs and shredded coconut]
Directions:
Add bananas, oats and peanut flour to a mixing bowl and mash up a bit.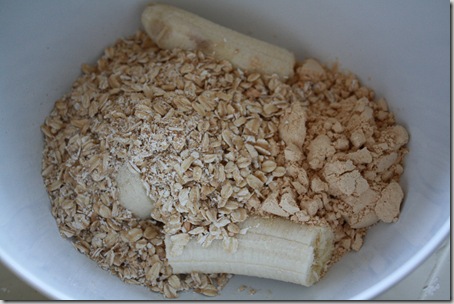 Add boiling water and continue mashing until mixture is thick and uniform.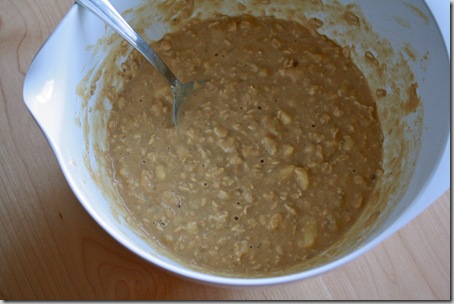 Add chia seeds and whatever other add-ins you want.  Seriously, go crazy!  There's no such thing as too much dried fruit, right?
If you want to eat the batter as is, I won't judge you.  That's the benefit of vegan baking right?  No risk of being poisoned with salmonella from ingesting raw eggs.  Oh, and that whole no cholesterol thing/heart health…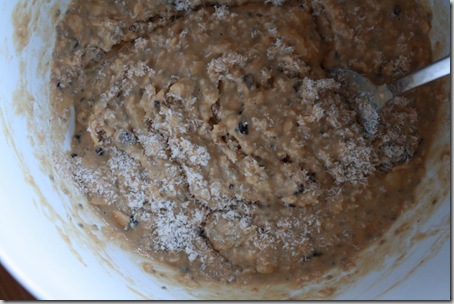 If you are anything like me, you've been hoarding your discontinued Trader Joe's peanut flour, saving it for only the most special occasions. 
Well Gollum, this is the time to let go of your precious.  Peanut flour makes these treats crazy healthy (and by that I mean containing fewer calories and fat than normal peanut butter bars).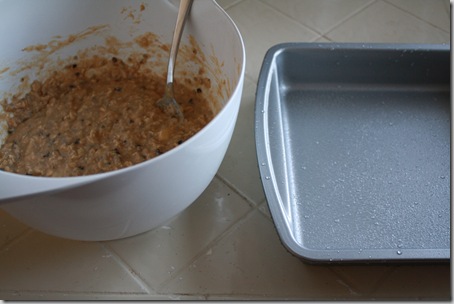 Pre-heat the oven to 350.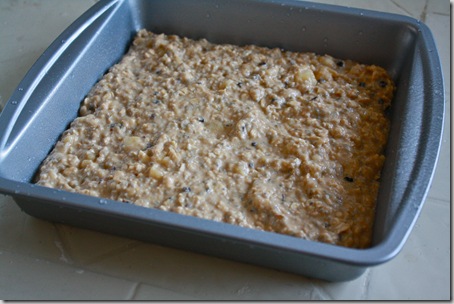 Pour the batter into a square baking pan with non-stick spray.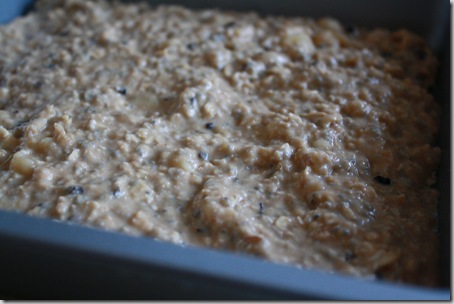 Bake for 20 minutes.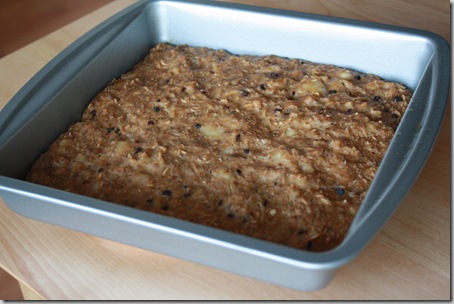 And…voila!
I had two squares for breakfast last Thursday, and then headed off to work.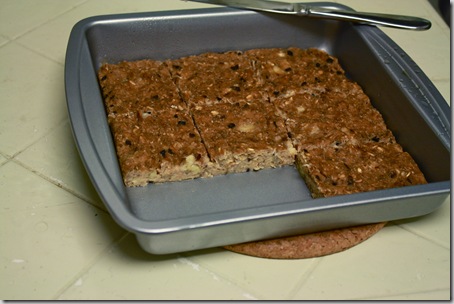 They held me over for hours (although to be honest, work was so freakin' busy I couldn't even find a spare moment to eat my second breakfast; oh, and I also didn't exercise before work either).  But still, I wasn't chewing my arm off when my lunch break rolled around, so that must mean something.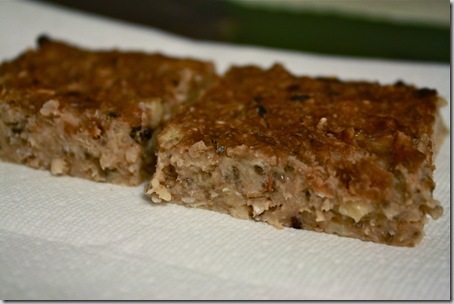 They are definitely "healthy" tasting – meaning not as sugary as a dessert brownie (but that's because I didn't use any sweetener).  So if you're into a sweeter bar, I'd suggest adding maple syrup, agave nectar, turbinado sugar, stevia, or whatever you prefer.  Or maybe just toss in some chocolate chips and/or dried fruit as add-ins.  Personally, I was fine with just the bananas to sweeten them up. 
Work wasn't so great.  Like I alluded to above, I was very very busy.  Head spinning, no time to breathe, crazy swamped with my poor unstable patients.  At least they were all nice people.  But my assignment load was too much, and I was still not feeling entirely healthy (I knew I should've called in sick!), and my neck and back were acting up (again), and…well, the list goes on and on…
Self-fulfilling prophecy.  I went into the shift with the wrong mindset and I think I just let the day play out as such.  Or maybe it was just a genuinely sh!tty day.  These things happen.  It's normal.  It's allowed. 
At one point I actually teared up, but (thank goodness) I held it together.  I didn't leave the unit until 8 pm.  Normally such a delayed departure from the hospital doesn't matter, but I had plans with my girlfriends.  So that sucked.  But in a way, it's good that I was meeting up with them. 
Rather than wallow in self-pity for the rest of the night, they cheered me right up and it was like the entire shift was erased as soon as I saw them.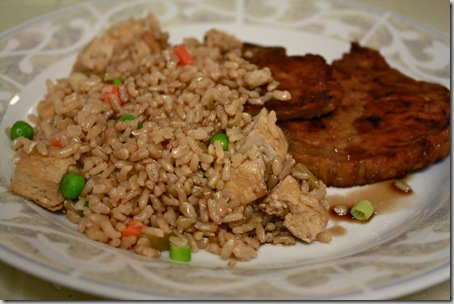 We got WF take-away, went back to my apartment, and stayed up late doing our nail and having pillow fights talking about girly things.  Funk over.
Do you find that when things don't go your way, the rest of the day starts to steam roll in the same direction?  Or do you actively try to reverse the negativity?  I'm usually better at steering my day back on coarse, but this time I was overwhelmed.  Self-fulfilling prophecies annoy me.  I refuse to rig my future and set myself up to be disappointed.