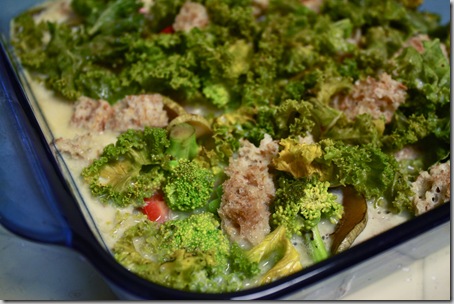 I made this on a whim because I had veggies on their last legs and part of a package of tofu.  Traditionally, you make strata with eggs and cheese and you bake it in the oven (here's my mom's recipe for a goat cheese, mushroom and asparagus strata).  But here's a vegan version that's fast and microwaveable.
Vegan Veggie Strata
Ingredients:
leftover sautéed zucchini and squash
3-4 de-stemmed leaves of kale
1/2 red bell pepper
1 cup broccoli florets
2 slices of bread
10 oz (~3/4 package) silken tofu
1 cup almond milk
1 tbsp apple cider vinegar
2 tbsp Bragg's liquid aminos
optional: spices to your preference (garlic, onion, paprika, cayenne pepper, etc.)
Directions:  Add veggies to the bakeware.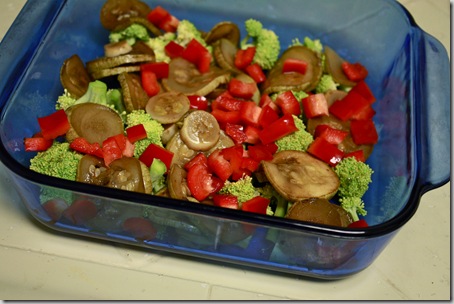 You could really use any vegetables you have on hand (cauliflower, squash, mushrooms, asparagus, etc.) just be aware of how quickly they cook.  Squash will obviously need more time to cook (as compared to mushrooms), so either pre-cook them or chop them into smaller sizes.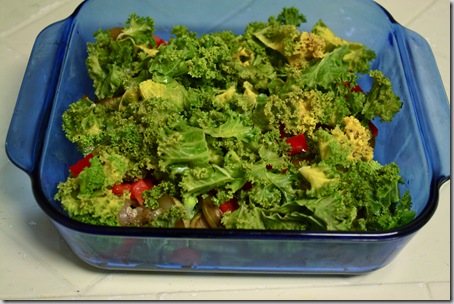 Because my squash and zucchini were already cooked (from this meal), I wasn't worried about the various vegetables' cooking times.  I just made sure the broccoli florets were on the smaller side and added the kale raw, knowing it would soften up once cooked.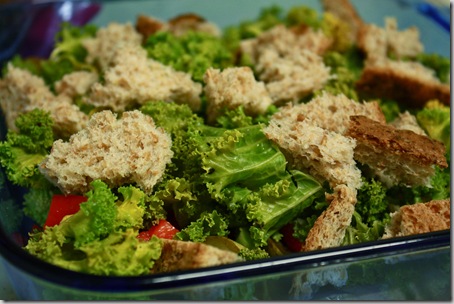 Next I ripped up pieces of bread and added them to throughout.  You could also sub in potatoes or yams for this ingredients.  Those would also make the recipe gluten free.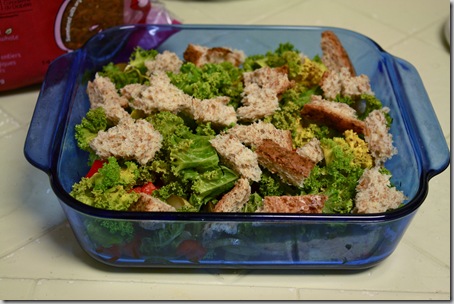 In a blender, combine almond milk and apple cider vinegar.  Let them sit for a few minutes to curdle (sounds gross, but I promise it's not).  This creates a vegan buttermilk of sorts.  Then add the tofu and Bragg's and pulse them all together.
You could use any non-dairy milk in place of almond milk, and you could sub soy sauce for Bragg's.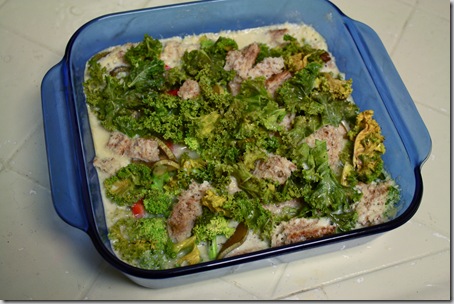 After I blended the liquids, I poured it over the veg and popped it in the micro for 5 minutes.  After the first five, I observed the status and did another two.  Seven minute strata!
Totally yummy.  And probably one of the easiest recipes on the planet.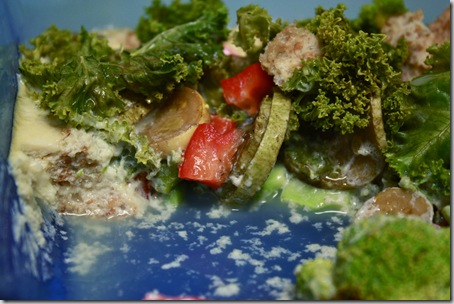 I'm a fan of clean food, so I didn't add anything else, but I think adding various spices could really excite the palate.