I finally did it.  I got over the "ick" of Mexican food that the stomach bug I caught in Cabo and morning sickness did to me.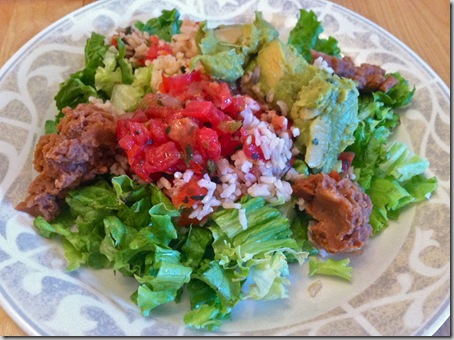 Kyle's very happy about this since he's been in taco withdrawal.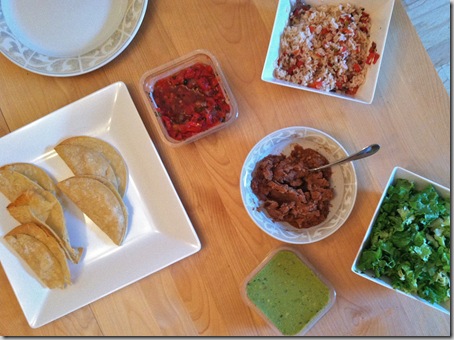 Taco Night!!
The prep for each ingredient was minimal.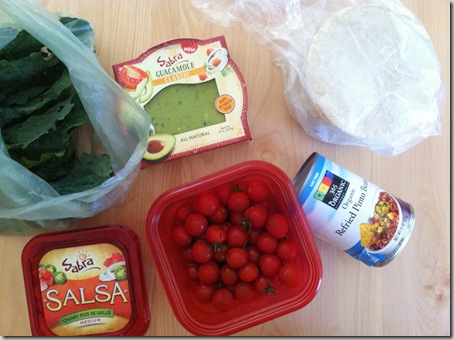 home-made baked taco shells (new method!)
vegetarian refried beans
lettuce
Sabra guacamole
Sabra salsa
mexi-rice
First up, the taco shells.  I can't remember where I heard about this trick, but it stuck with me and I knew I had to give it a shot.
Pre heat oven to 375 degrees.  Brush corn tortillas with canola oil and place them over the rungs of the oven rack.  Bake for 10-15 minutes (watch them and once they start to brown, remove them).  I only put them over one rung, but I might try them over two next time since they ended up forming a really acute angle.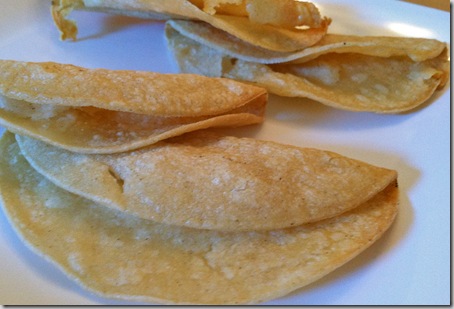 See what I mean?  They still worked though, and didn't crack or split down the bottom like shells normally do.  I'm considering it a success for my first attempt.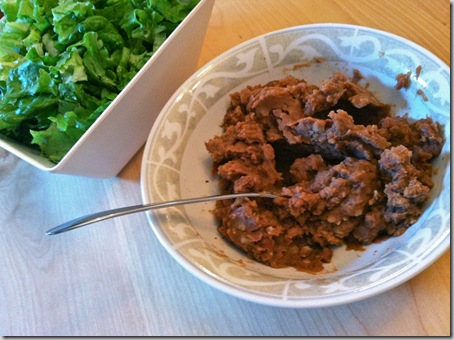 I was lazy when it came to the beans and heated them in the microwave as opposed to over the stove.  I'm blaming my pregnancy hormones and not wanting to trigger my hot flashes.
Obviously the lettuce was just chopped.  I used little gems, but anything would do.  I like crispy romaine too.
Both the salsa and the guacamole were sent to me by Sabra.  I am kinda a guacamole snob (living in California will do that to you), so I didn't know what to expect.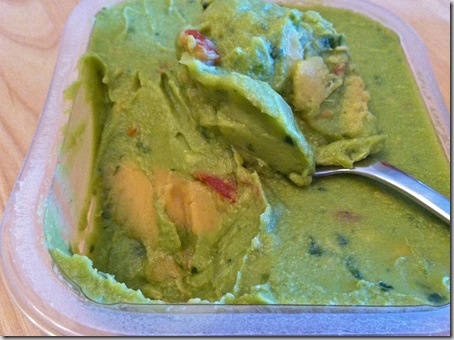 But as soon as I dug into it and saw actual avocado chunks I was happy.  Both the salsa and guac had a little bit of kick to them that I really really liked.  I could have eaten the salsa plain with a spoon.  Ok, I could have done the same with the guac, too.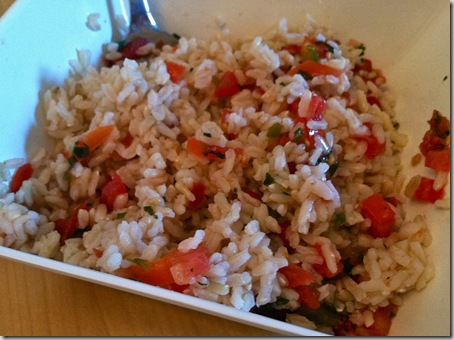 For the rice, I just made brown rice in the cooker and then added some salsa to it.  If you tasted it, you'd never know I put so little effort into it.  So good!  This could be a dish on it's own.
The only difference between his and mine was cheddar cheese.
That and the fact that I made mine a salad instead.  Kyle ate all five taco shells (so I think it's safe to say he liked them).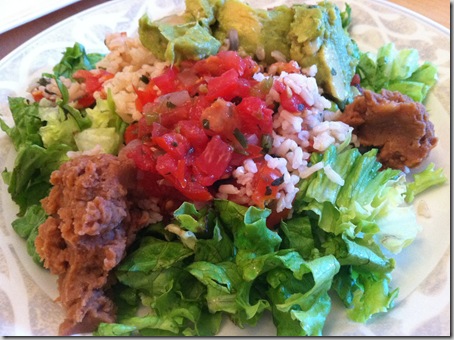 The best part was the easy clean up.  We simply grabbed tupperware and made ourselves Mexi-meals for the next day.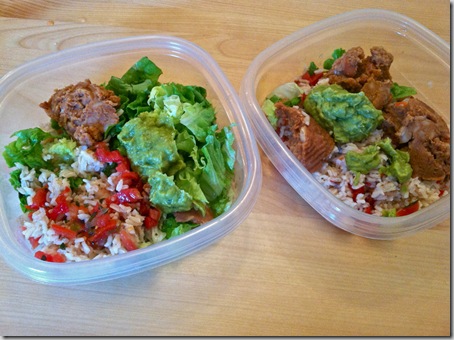 The rest of my packed up work stuff included home-made banana pancakes, Glutino pretzels, banana, candied ginger, roasted almonds, and a cookie.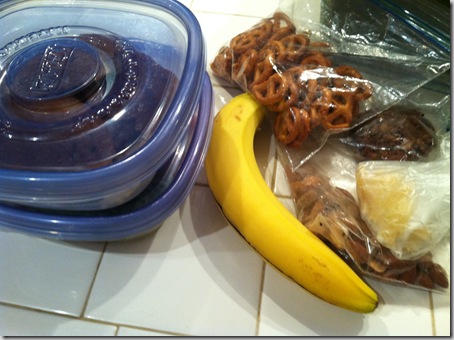 I made a huge batch of pancakes earlier in the day so that I wouldn't be lured to the cafeteria for the French toast.
I had two bananas on life support and I decided to pull the plug and whip them into the pancake batter.
The next morning I got a pleasant surprise.  The break relief shift was available…if I wanted it.  Yes please!!  I didn't care that the call came in at 4:30 am, it was still music to my ears.  So I go to sleep in an extra hour and eat breakfast with Kyle.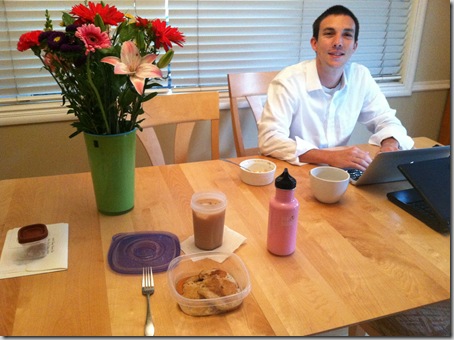 He looks like he's mid-sneeze or something…not sure what that's about.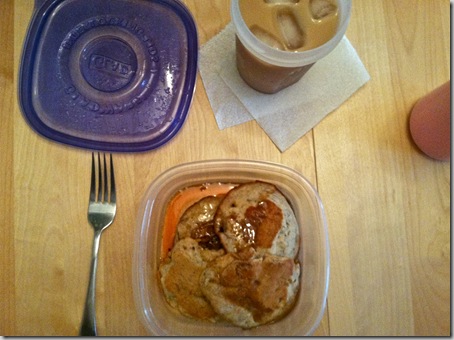 As you can see my breakfast was four pancakes with maple syrup.  I finished it all which turned out to be a bad call.  I was wayyyy stuffed afterwards – totally uncomfortable.  I used to eat 6 pancakes no problem, but my appetite is so funky nowadays it's taking some time to get used to.  Small and frequent mini meals.  That's my strategy.  Even if it means hourly trips to the break room while at the hospital.
FYI Kyle's breakfast was another quiche I made the night before with leftover brown rice.
It also had tomato (ours!), egg, parmesan, and Italian seasonings.