We tried to run and play tennis on Saturday morning but it was so windy we had to call an end to our terrible attempt.  Running against the wind with the heavy double stroller acting like a sail was extreme.  I was glad to be home and warm up in the shower.  It's feeling like Fall these days!  At least in the mornings with the chilly darkness.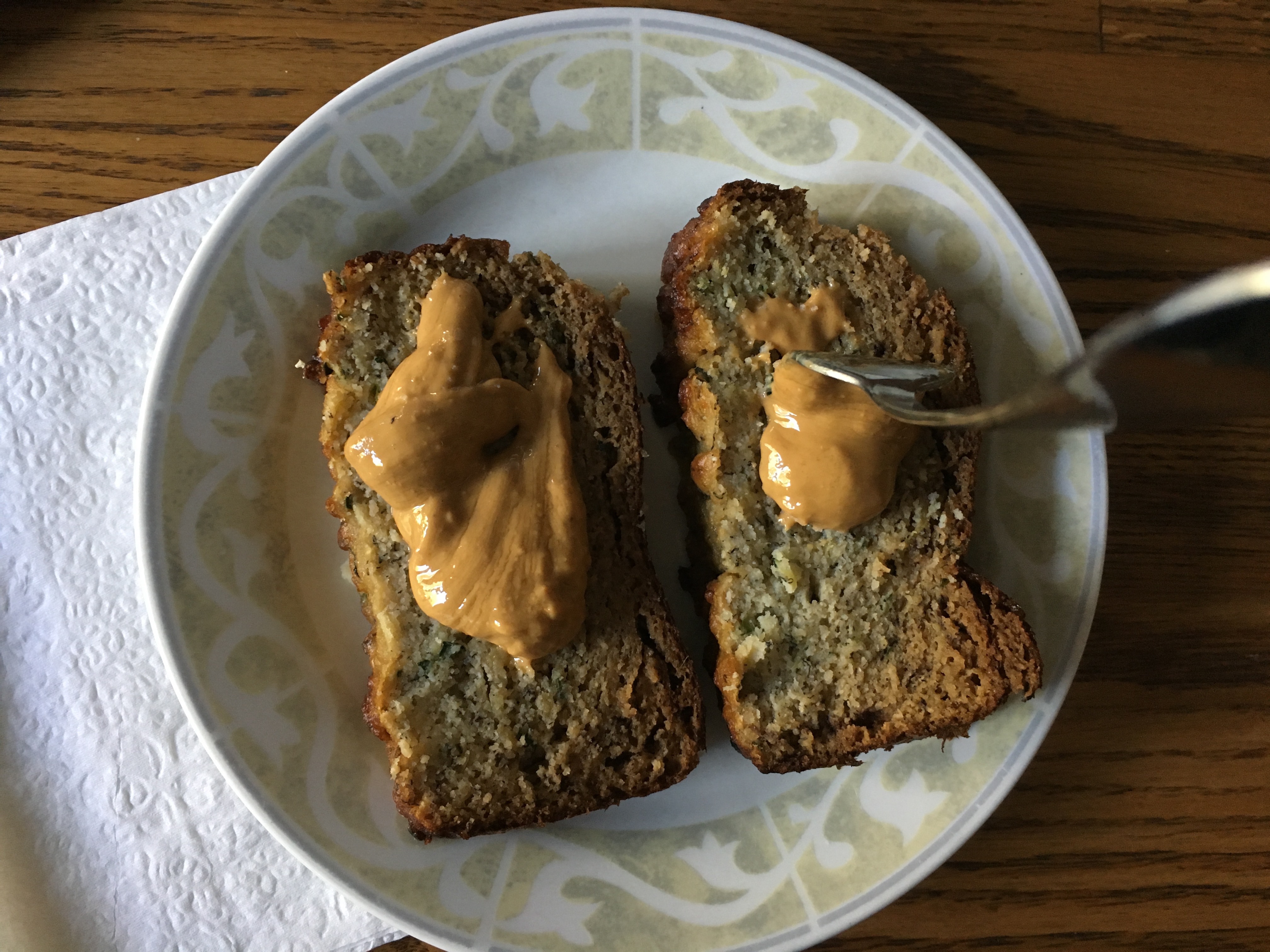 I had zucchini banana bread with cashew butter for breakfast.  This isn't my best loaf, but it gets the job done.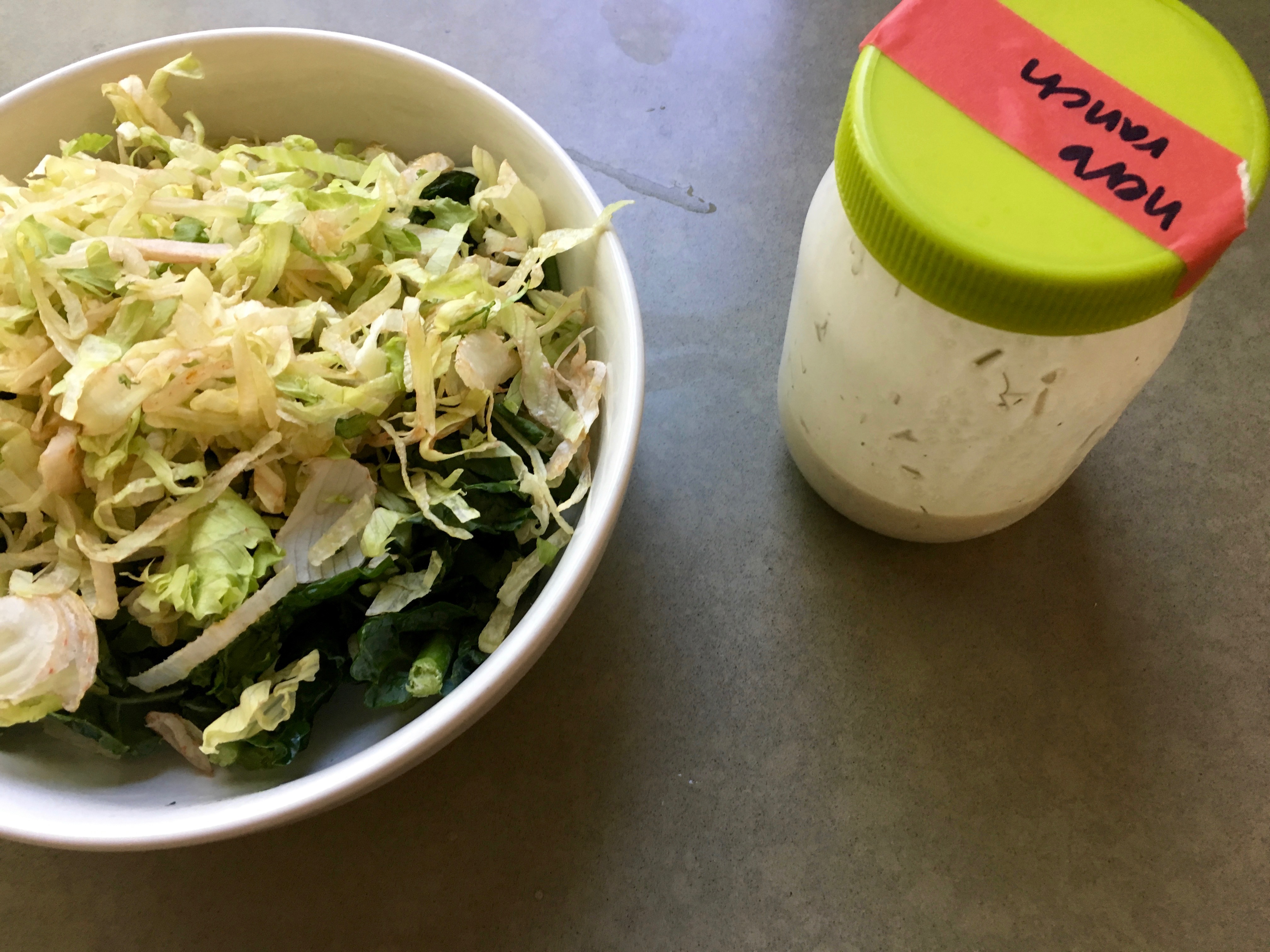 I was unsure of what to make for lunch so I scrounged up what I could find.  The last of some different kinds of lettuce…home made herb ranch dressing…and…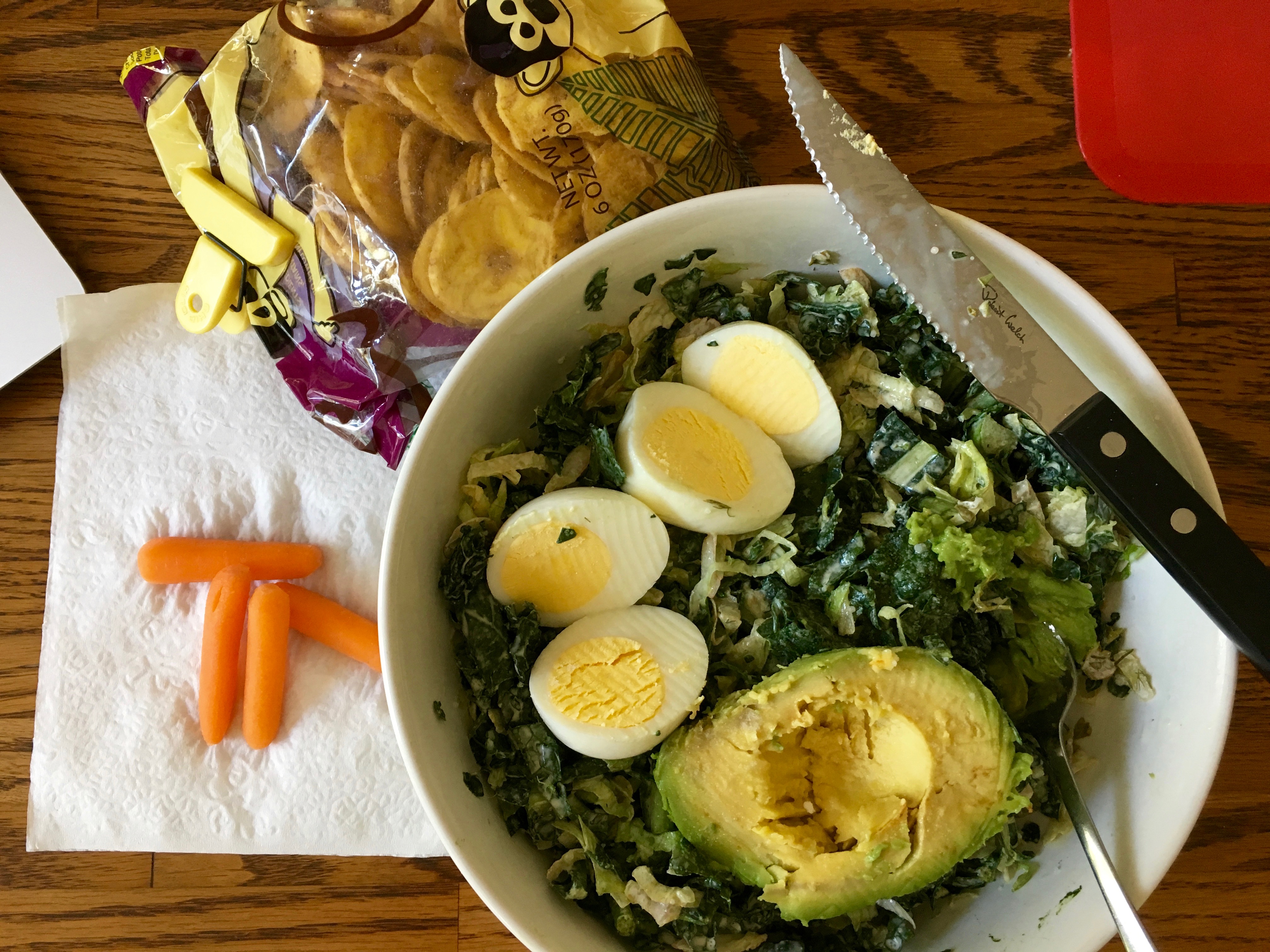 Avo and hard boiled eggs and carrots and plantain chips. It was actually a really awesome meal that left me perfectly satisfied!  I love when nothingness turns into yumminess.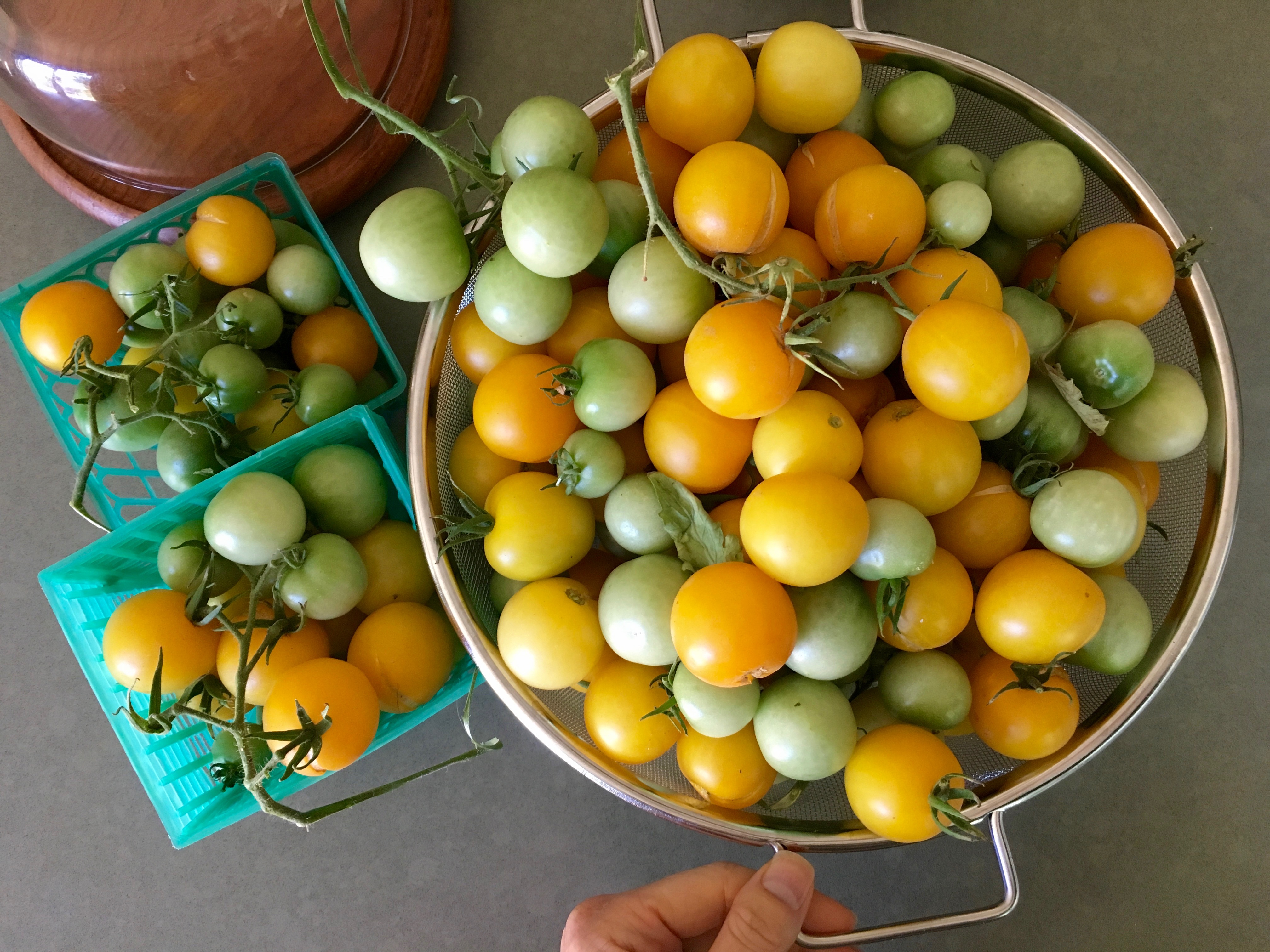 Inspired by the mountain of tomatoes on the counter, I decided to make something with them.  A bit of googling led me to green tomato soup…which was made with so few things, I figured I could throw it together with what I had on hand.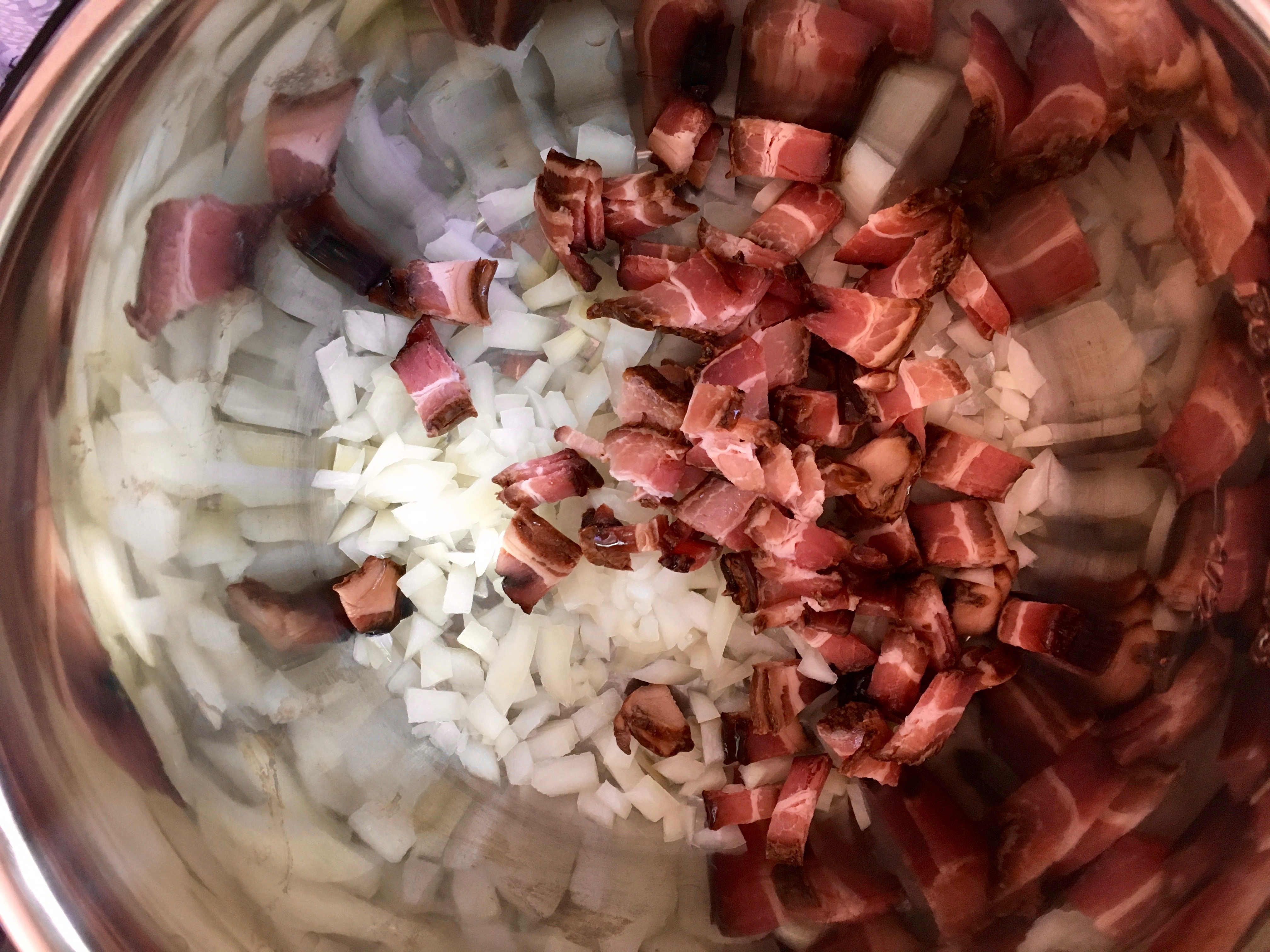 Into the instant pot went:
1/2 an onion, diced
6 oz uncured black forest bacon, diced
2 tbsp olive oil
Which I sautéed until the onion was translucent and the bacon was cooked through.
Then I added GREEN (unripe!) tomatoes all the way to the 2/3 max fill line, which is approximately 16 cups of tomatoes.  Talk about using up what you've got!
I know, 16 cups of tomatoes sounds insane, but it really was a lot of tomatoes.  It's hard to measure tomatoes accurately when they are whole without a weight based measurement, but I didn't weigh them.  Sorry.
Wow, I just typed out tomatoes SO MANY TIMES.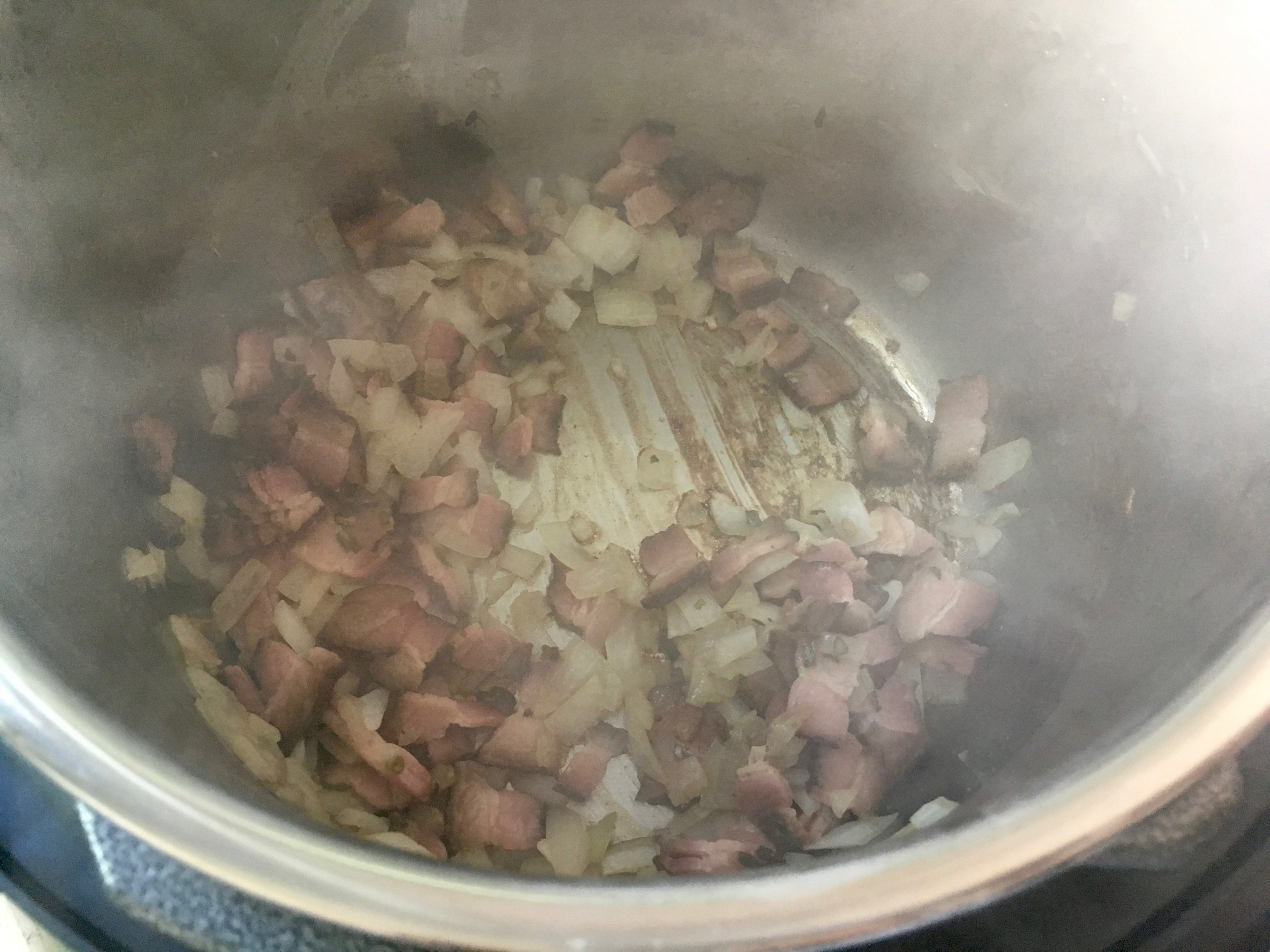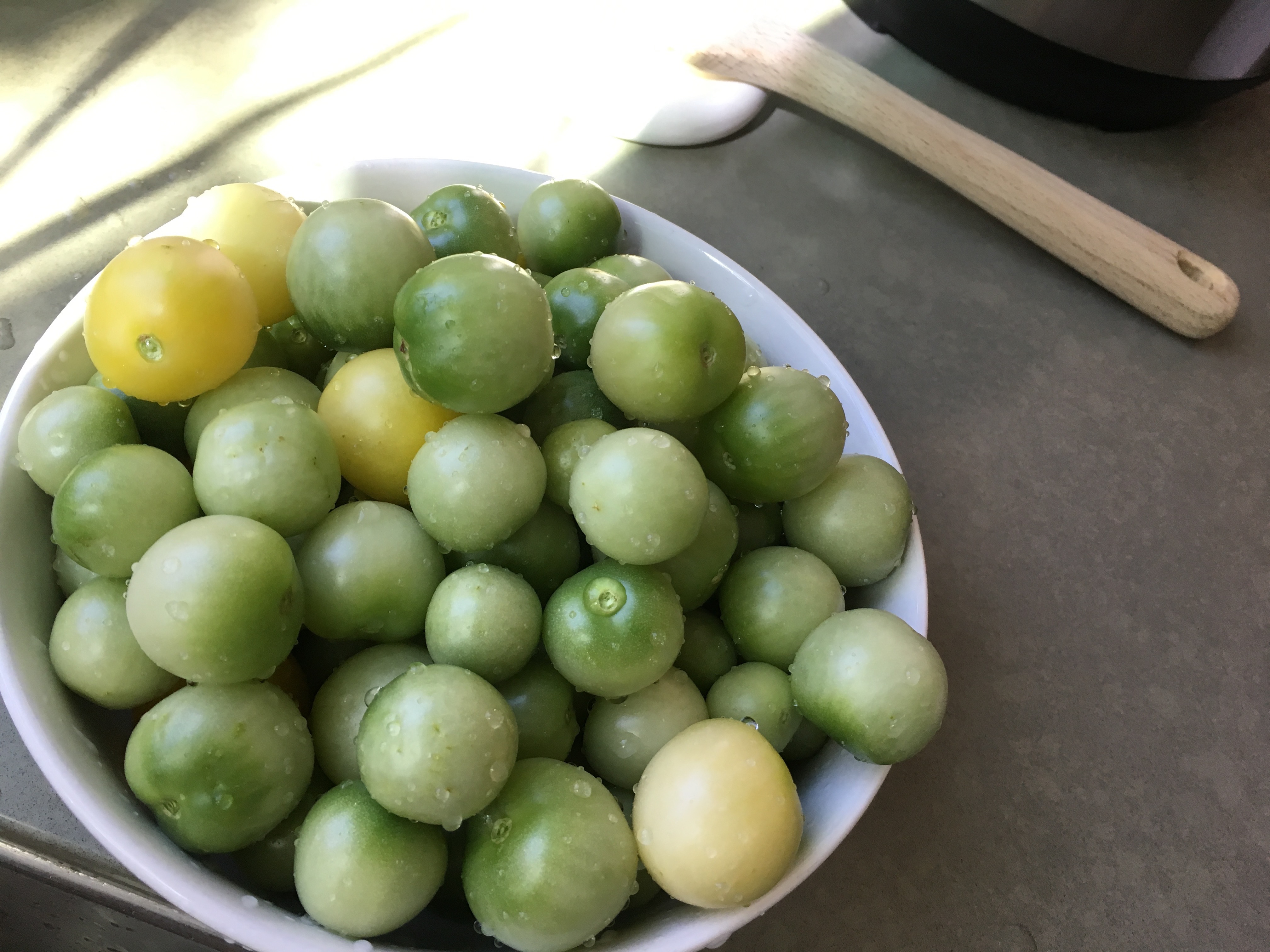 I picked out the green ones first but then added in some yellow ripe ones too, to give more flavor diversity.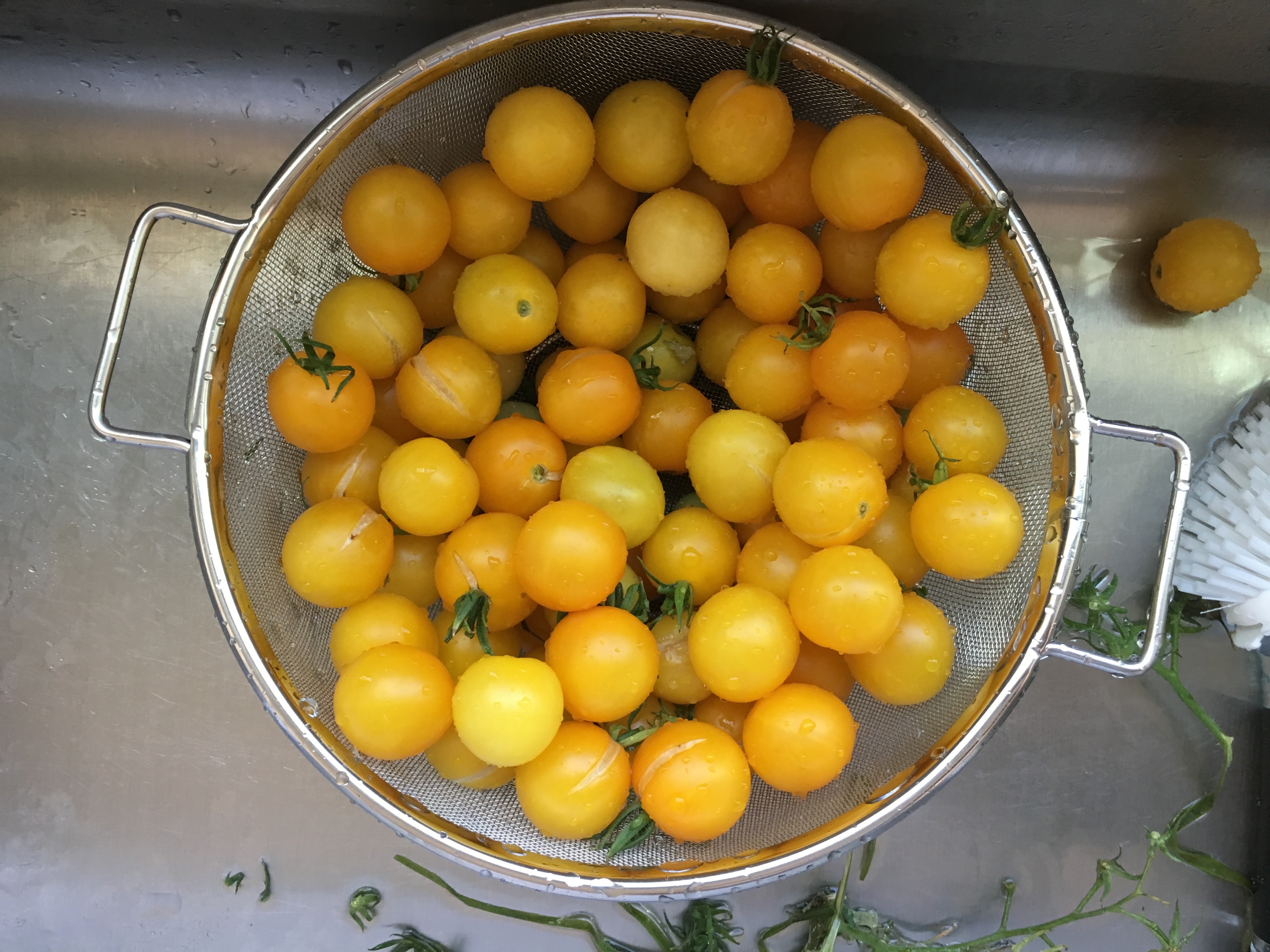 We still have a bunch remaining.
It's hard to tell their size in the photos, but I put my hand in one of the pics above for reference because they are much bigger than cherry tomatoes.  They are basically the size of golf balls.
I added water, bay leaves, and (a hefty pour of) salt and cooked them in the pressure cooker for 18 minutes with a natural release.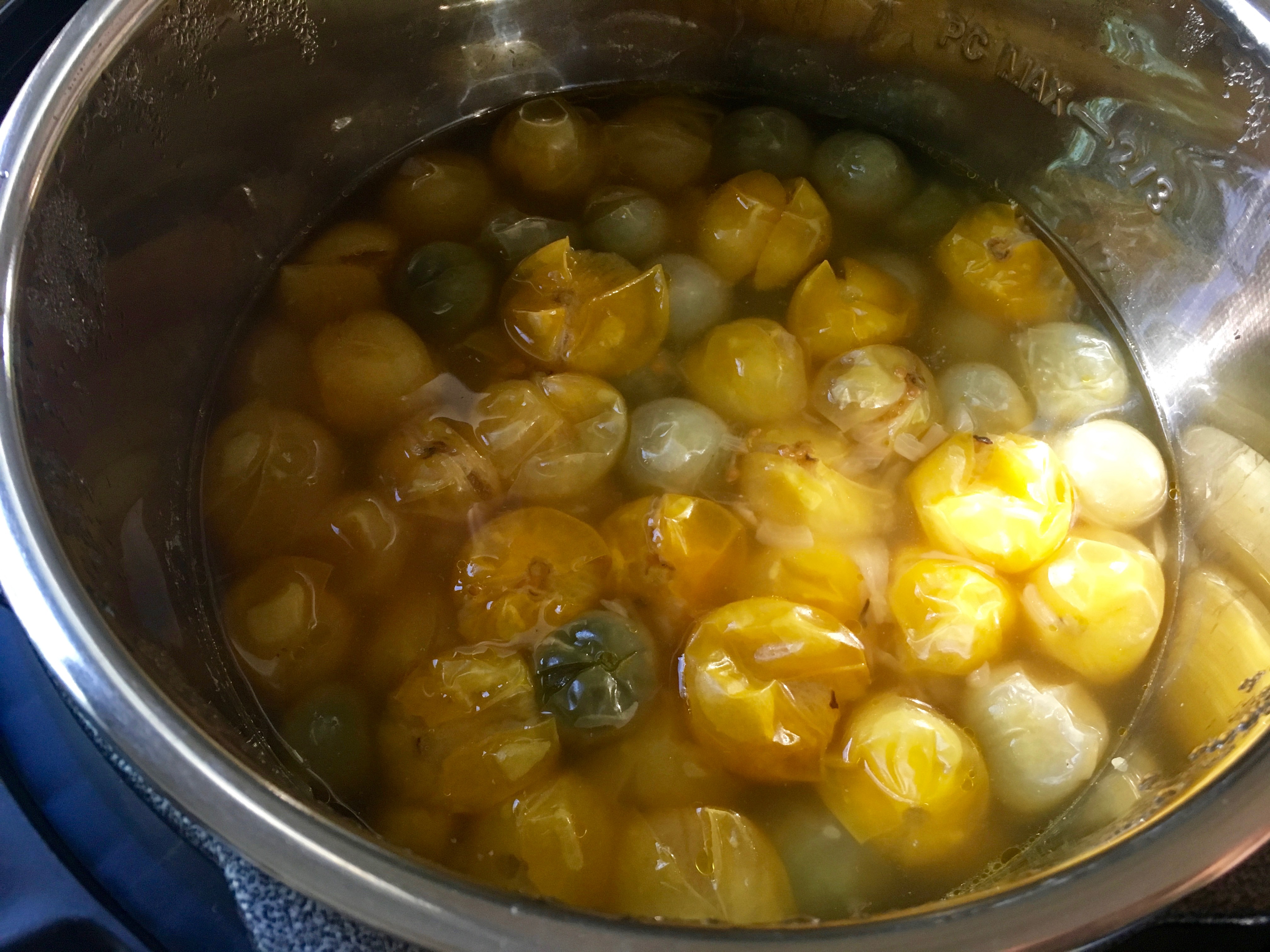 It smelled ahhhhmazing and I don't even like tomatoes!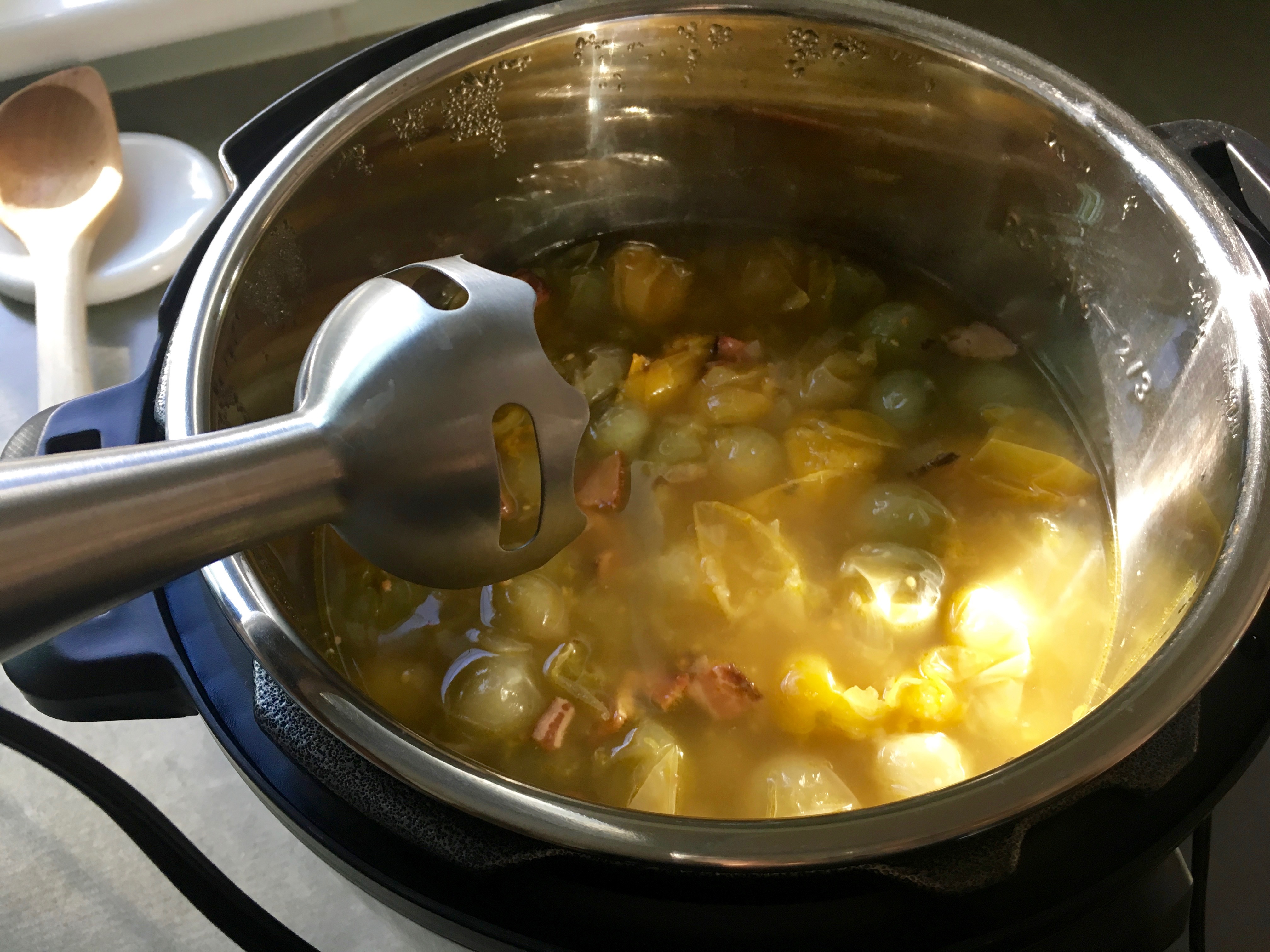 I used the immersion blender to puree it.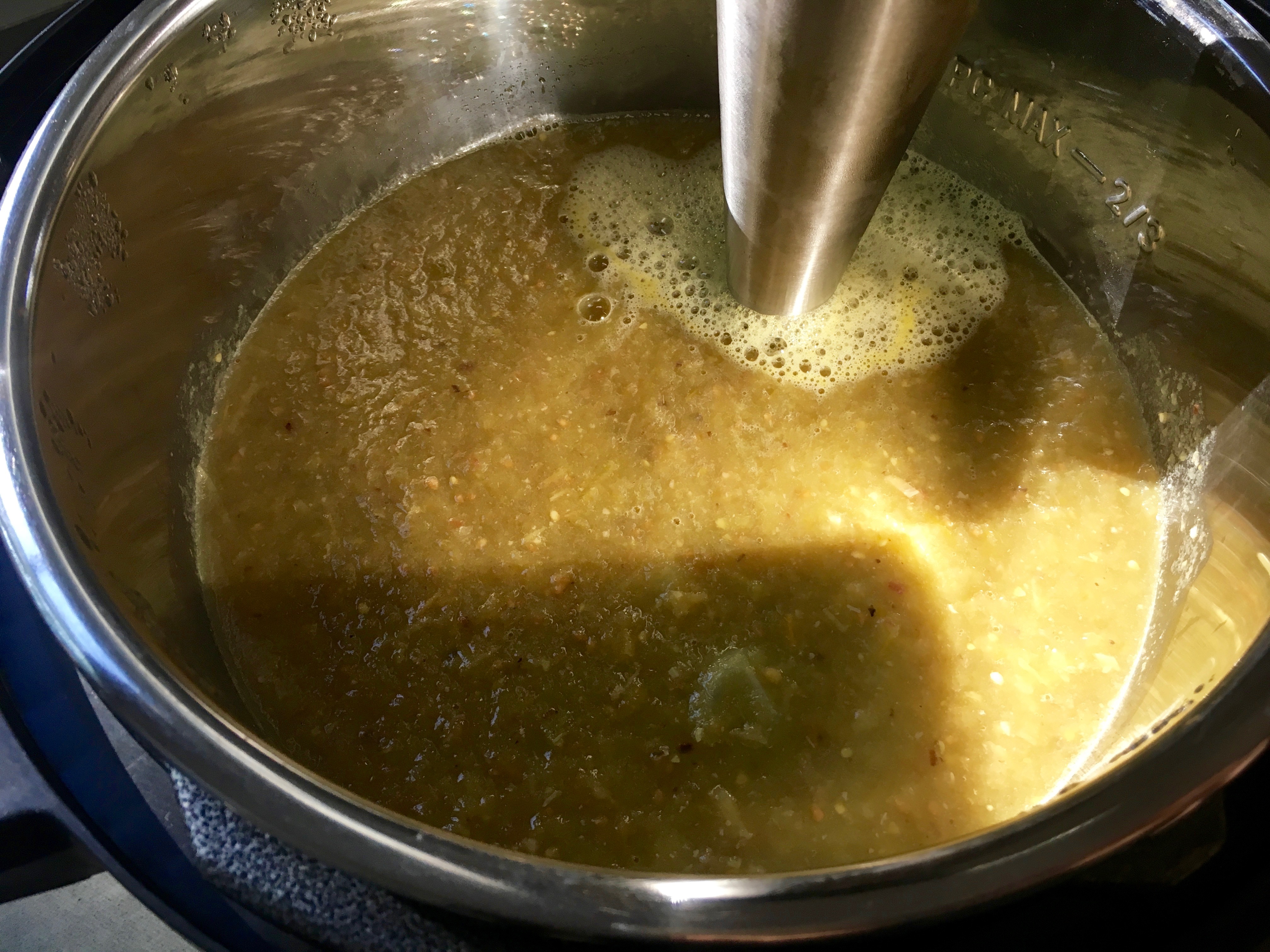 And then packaged it up for now and later.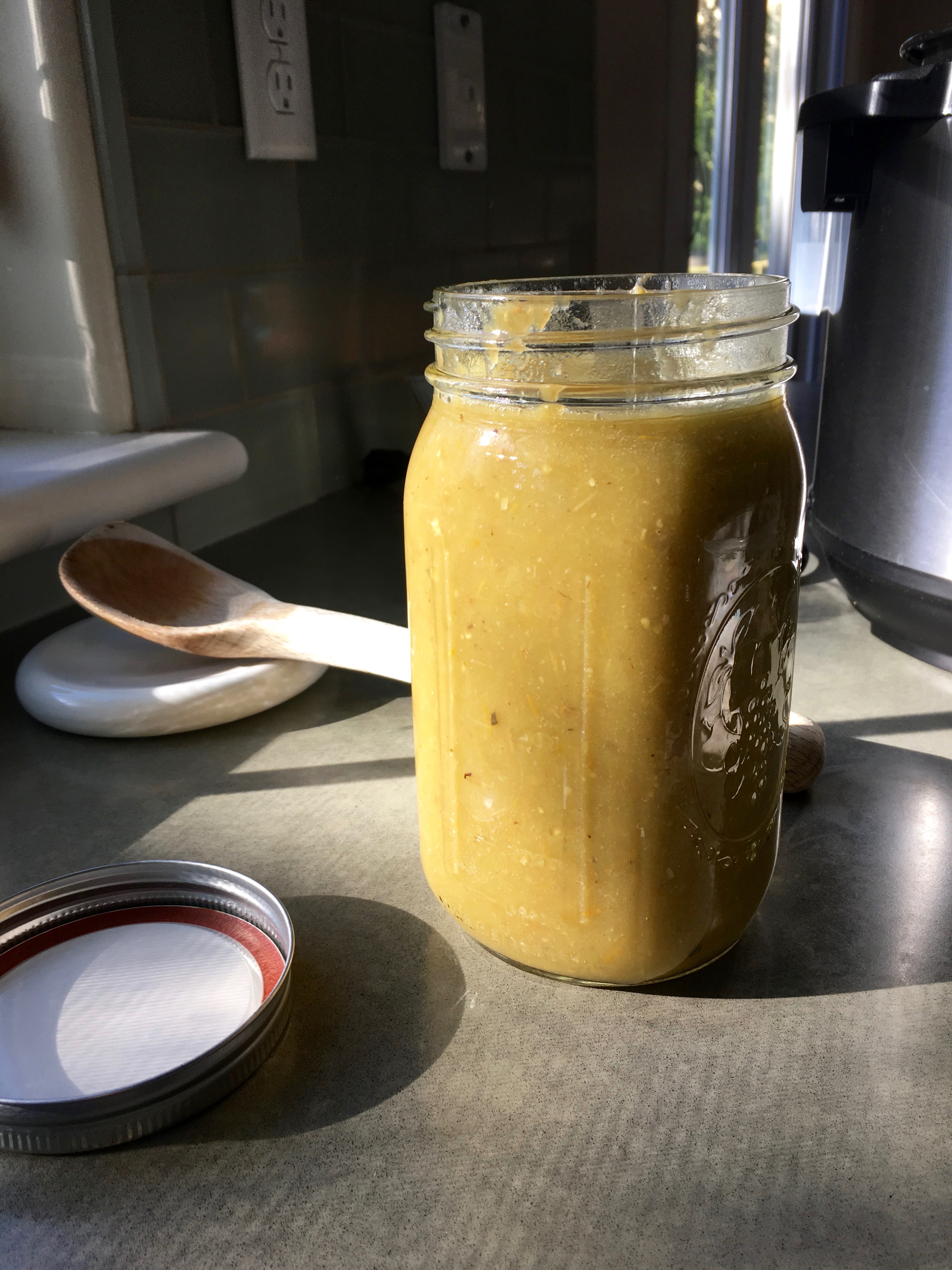 Having these jars in the freezer will be clutch in later months.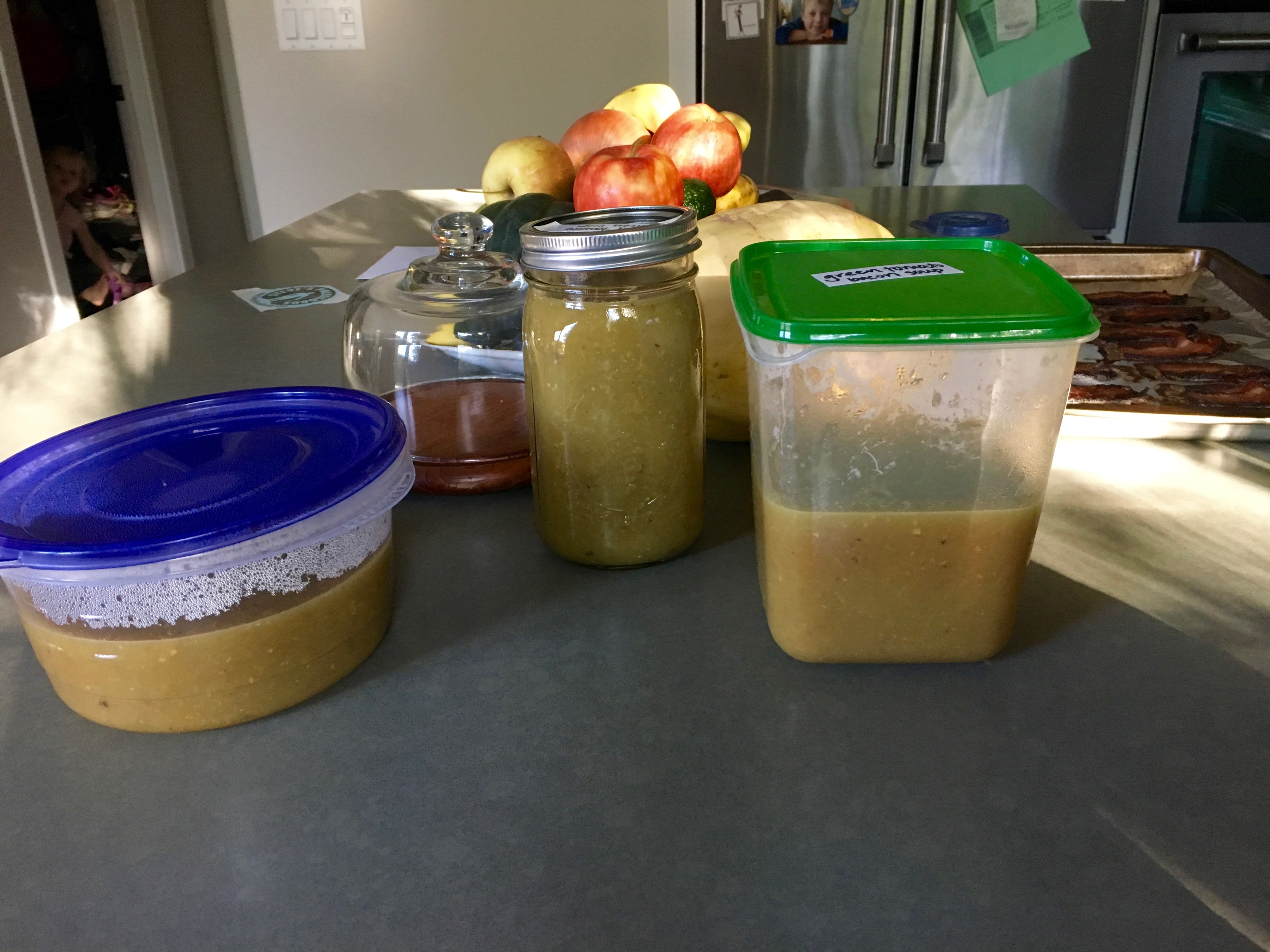 I had some extra bacon, so I baked that up for the kids' dinner.  P smelled it and came running, ha!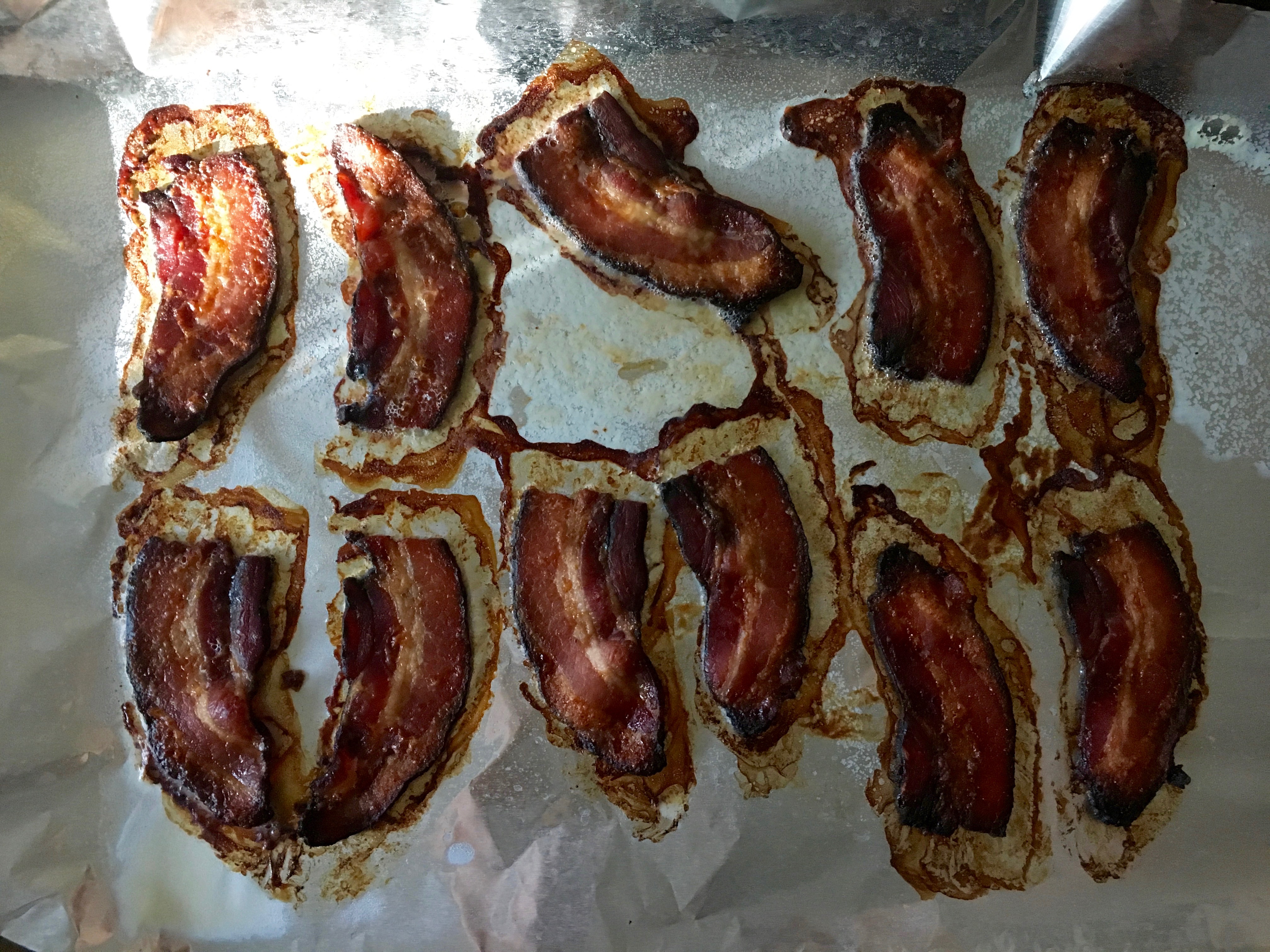 We squeezed in a grocery shopping trip that afternoon and then I bathed and fed the kids before our babysitter arrived.
And after plenty of tears from V, I just put her down to sleep before we left to go on a date.  She has to come around eventually right????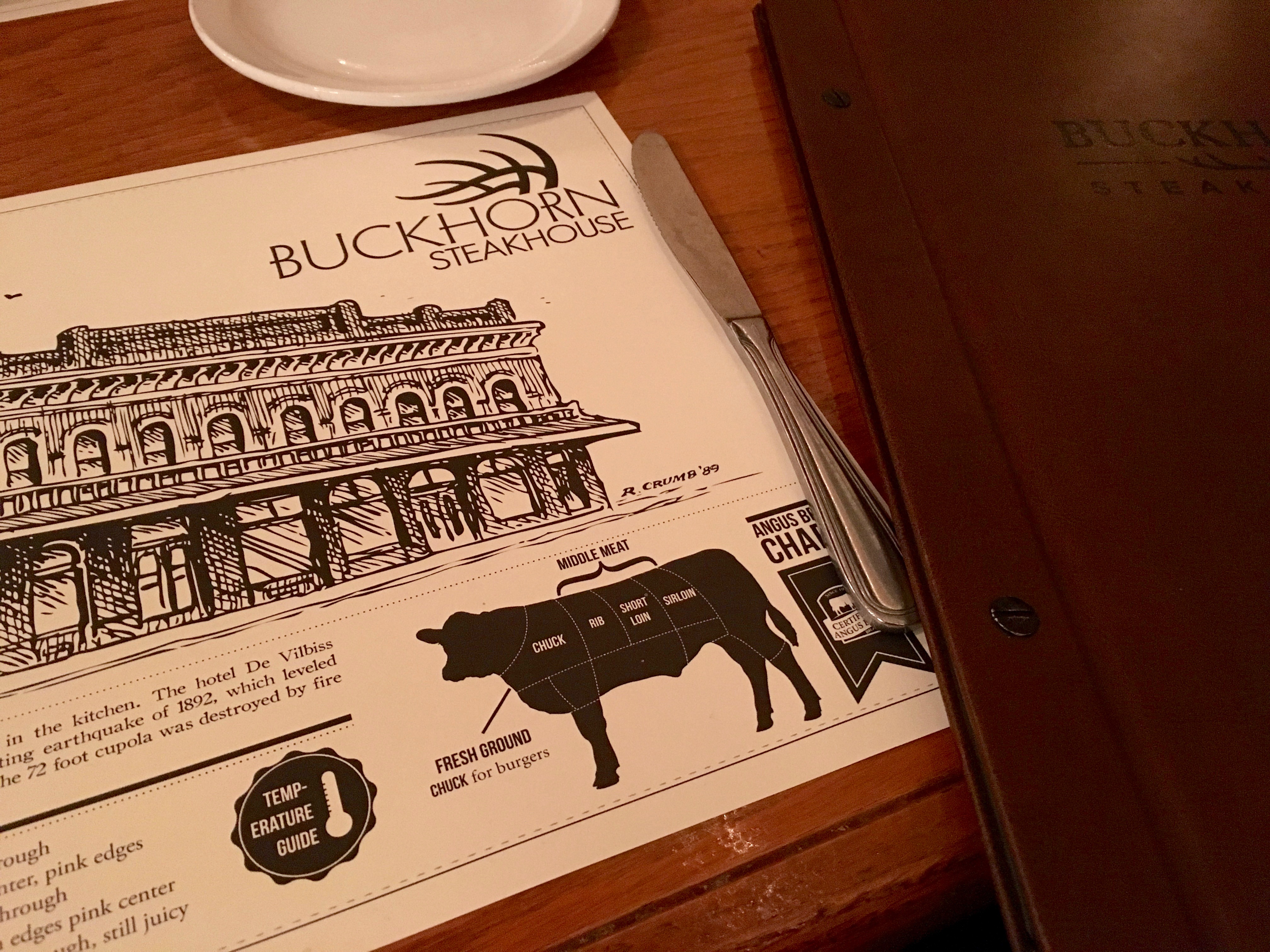 Dinner!
We went to Buckhorn in Winters, which is a landmark steakhouse in the area.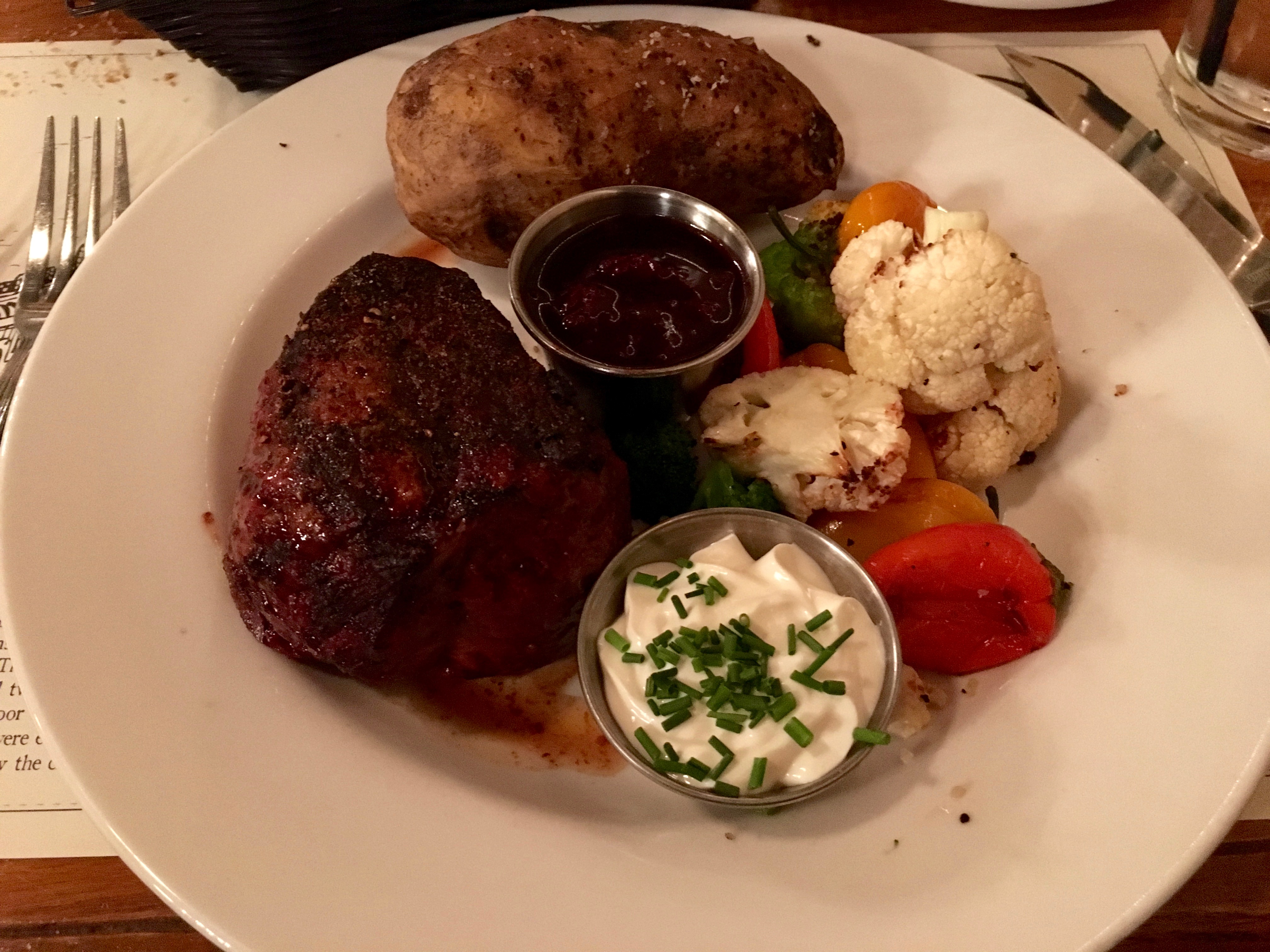 I started with a salad (that I didn't photograph) and got a baseball sirloin with a cherry port sauce, veggies, and a baked potato as my entree.  It was stellar.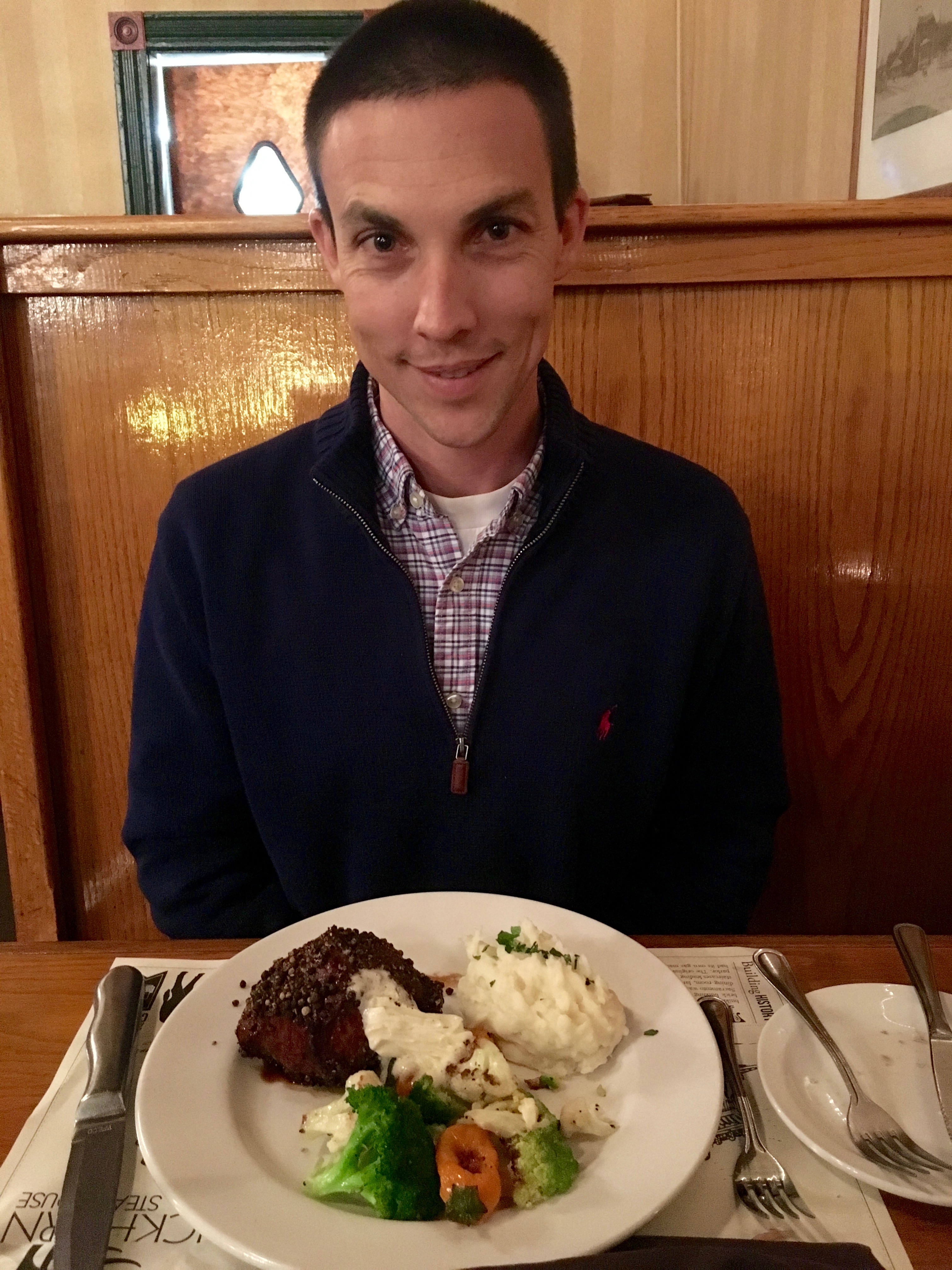 My handsome date ordered the peppercorn sirloin with mashed potatoes and veggies.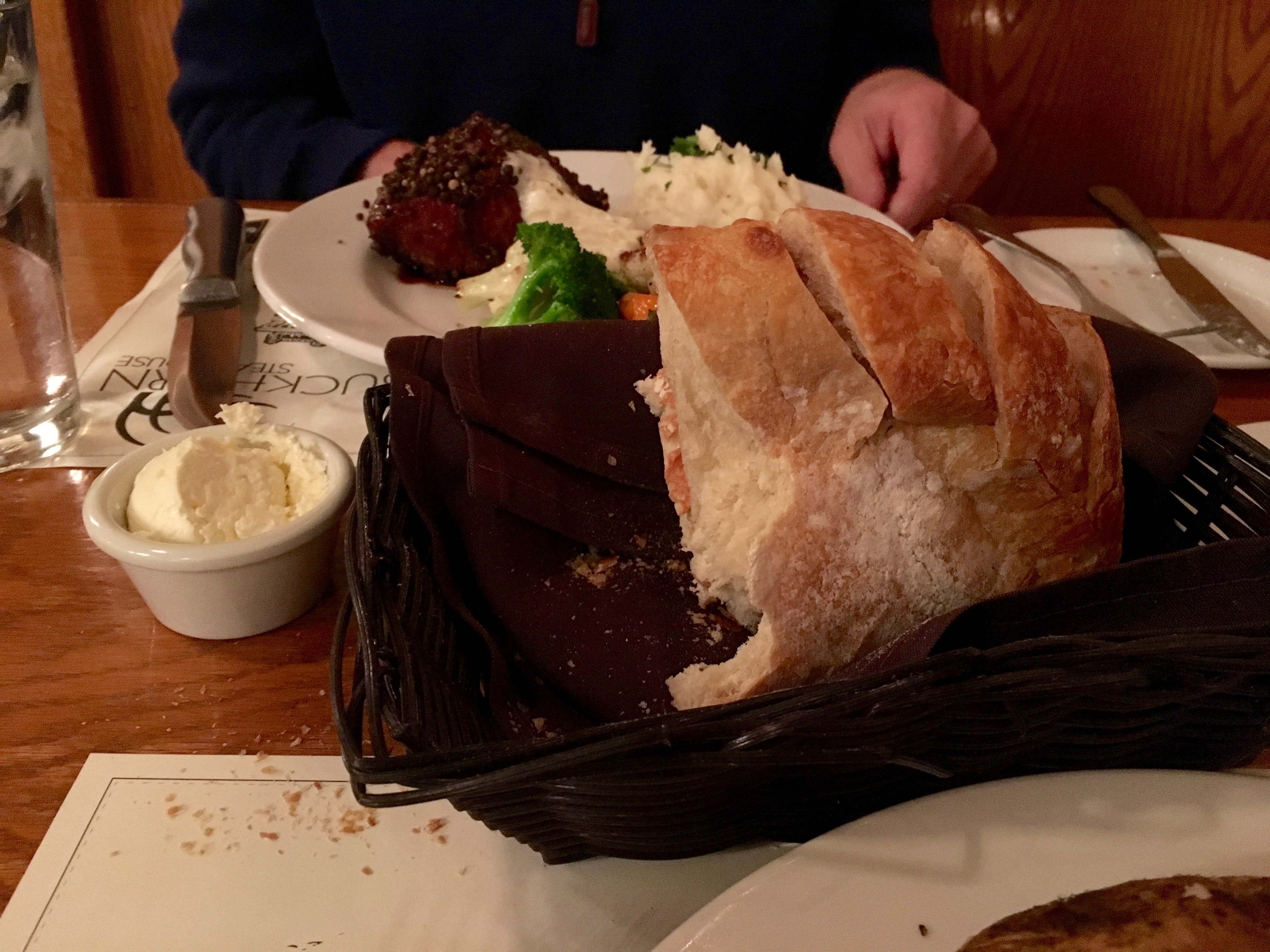 Look at that loaf of French bread!!  We took the uneaten portion home, of course, and I am probably going to gluten up my life for it.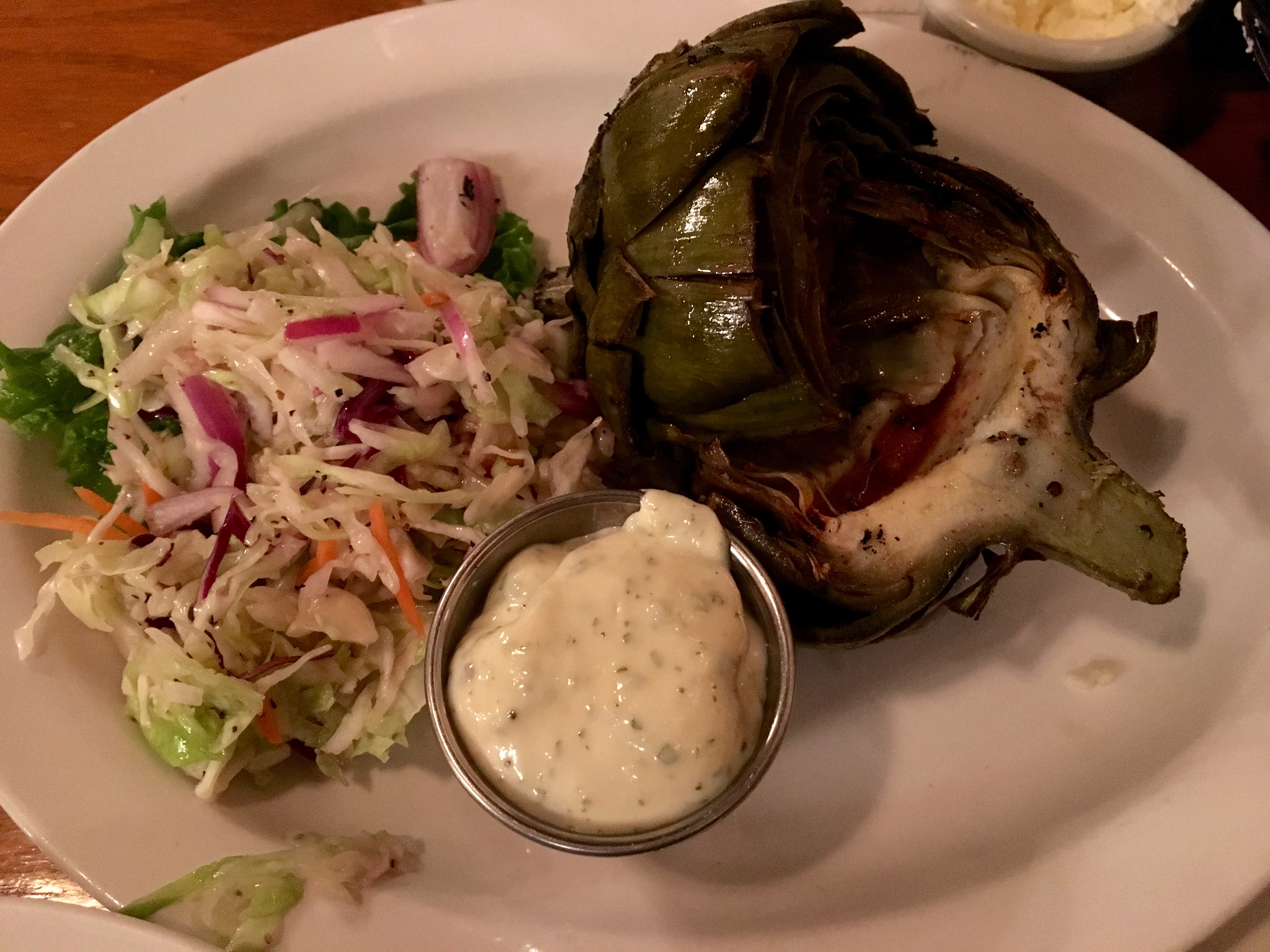 Oh!  I also got the grilled artichoke app as a part of my dinner.  I really wanted it once I saw the tarragon aioli it came with, but sadly, it was VERY underwhelming.  It wasn't cooked through and so I basically gave up on the outer leaves and skipped straight to the heart, which was still under cooked.  I brought it home though, and will try to cook it more to make it edible.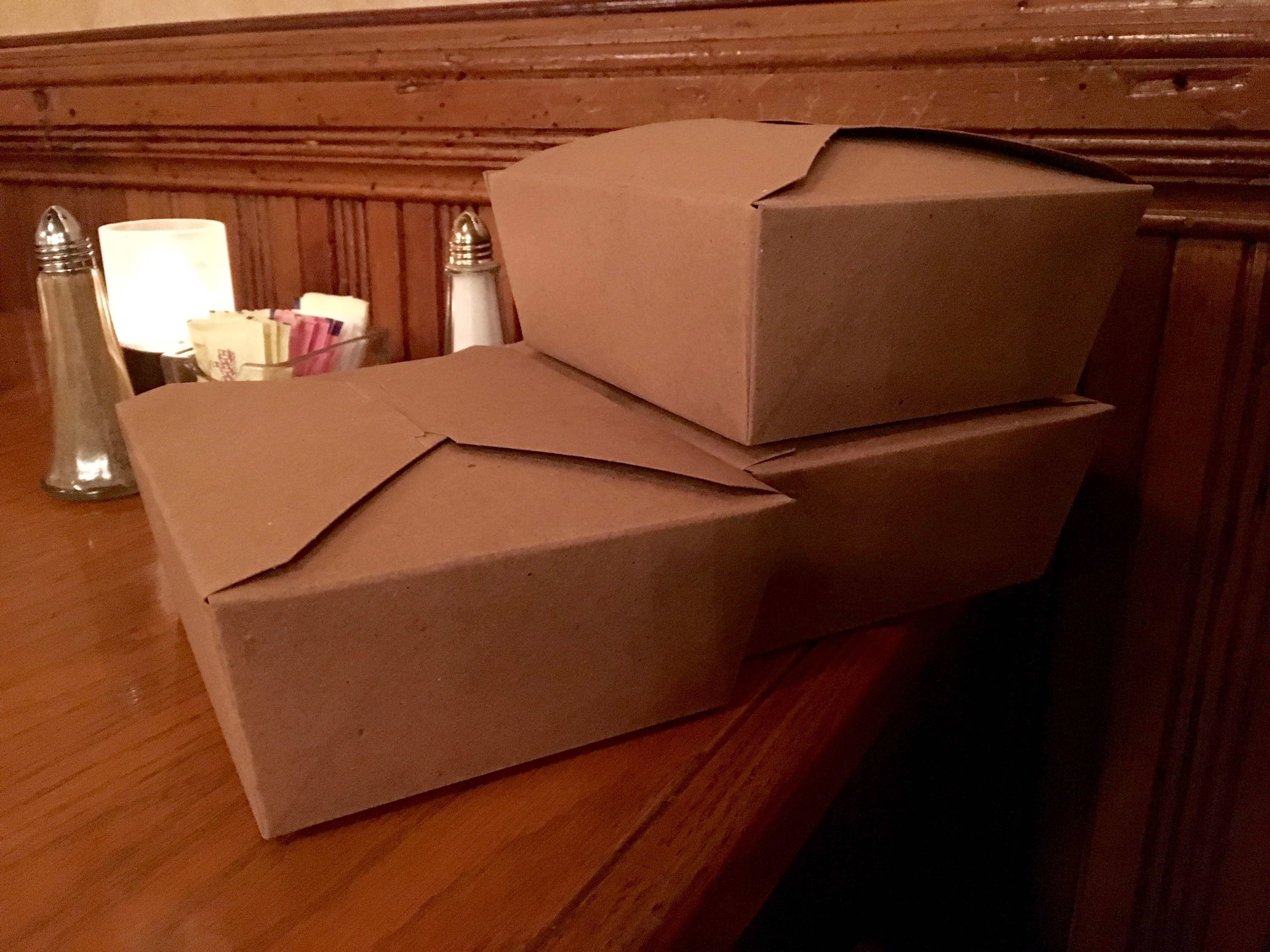 Actually I took a lot of stuff home as leftovers because I knew I wanted dessert.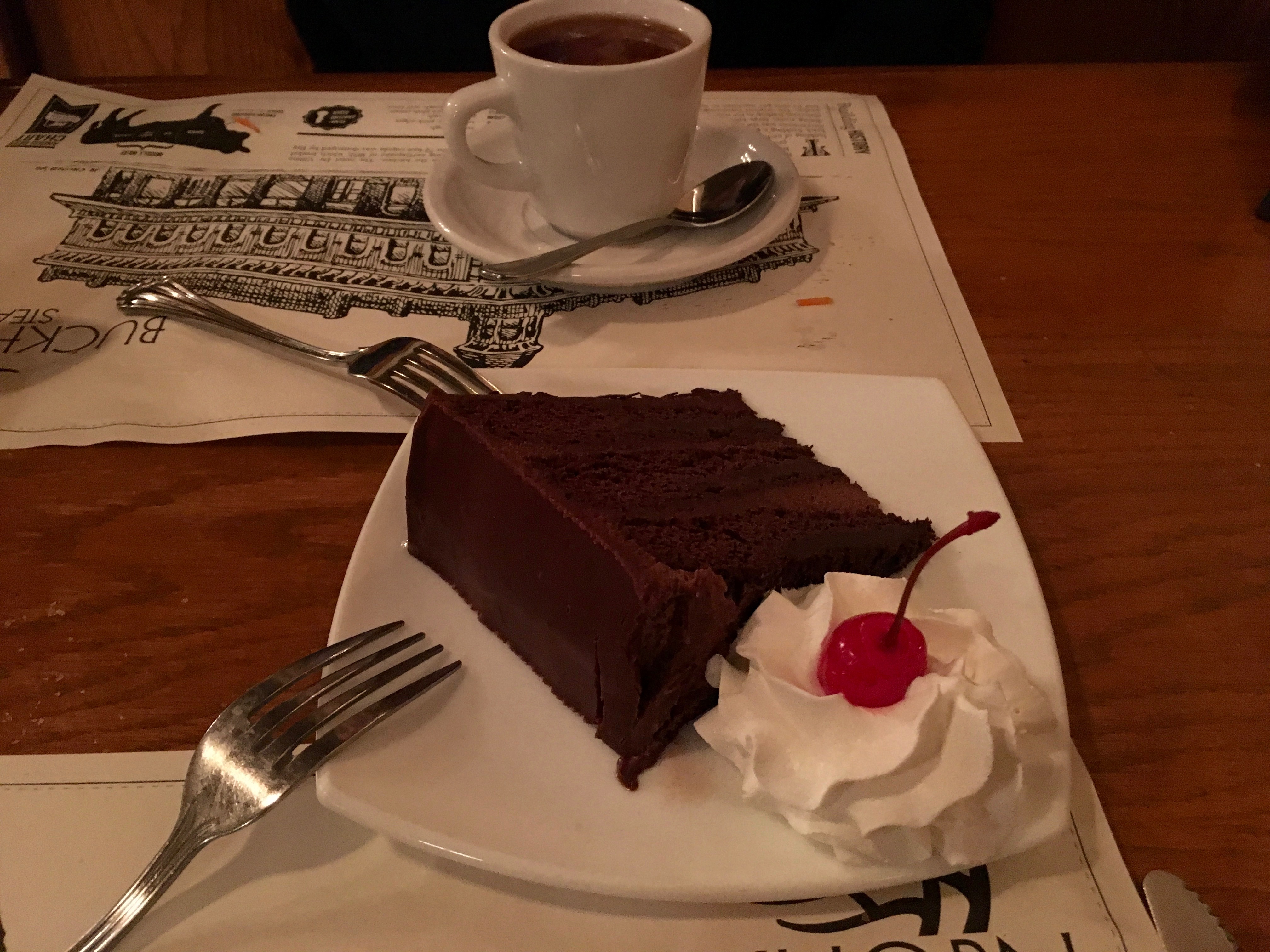 Yes please!!!  Chocolate cake to share  🙂  I'm pretending this was my birthday cake that I didn't have to make myself (because I'm totally going to make myself something else later this week).
We came home to two sleeping angels (this was the second time with this babysitter and she ROCKS) so we are determined to keep it up.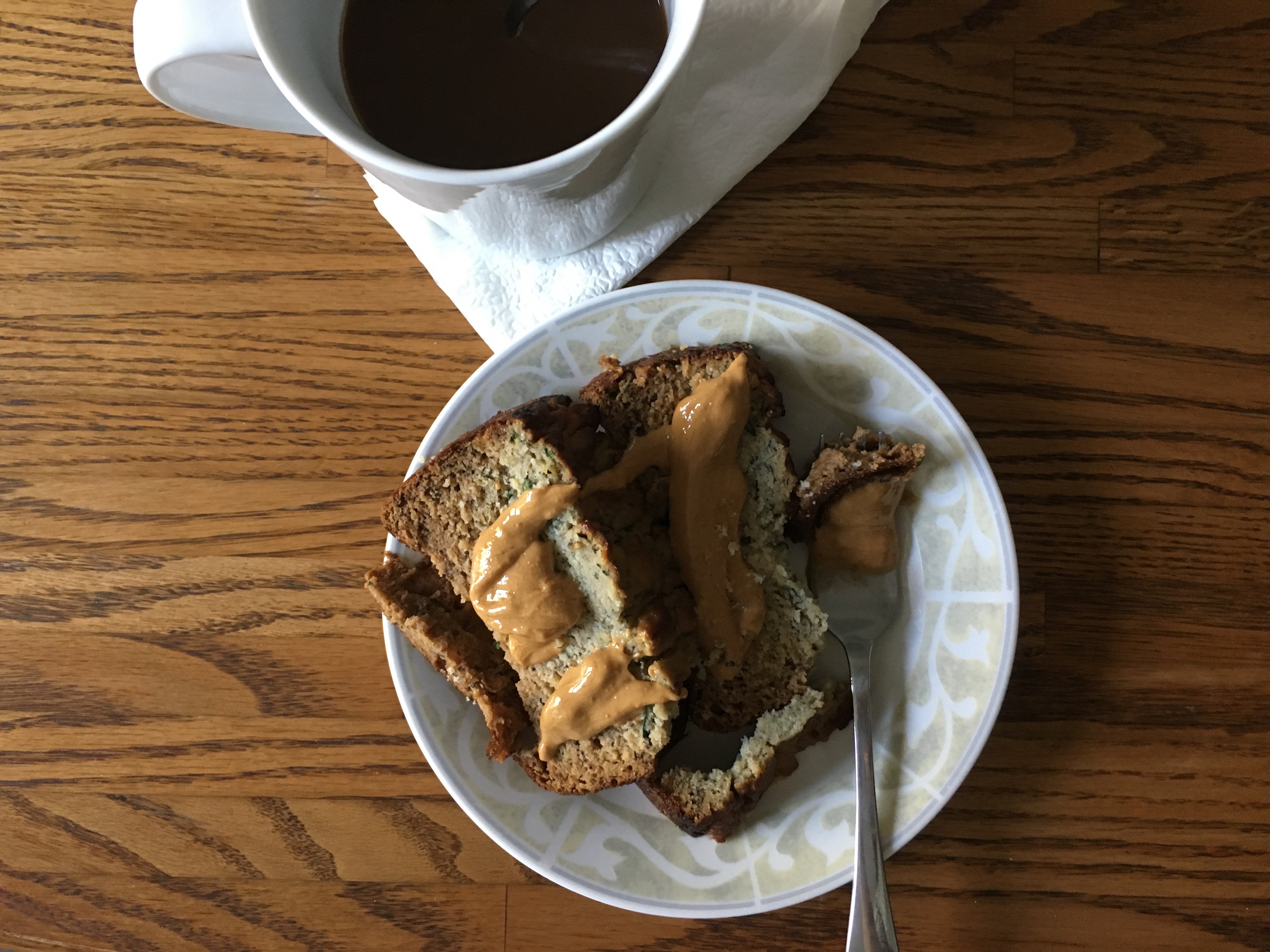 I went on a long bike ride Sunday morning because I thought we were skipping church.  P had been up a few times that night with GI stuff (it's been ongoing for the past week – UGH) and he seemed pretty miserable so I figured church wasn't in the cards.  Given that, my ride was longer than normal and I took my time showering, but once he finished breakfast he declared he felt fine and really wanted to go.  Oooookay then!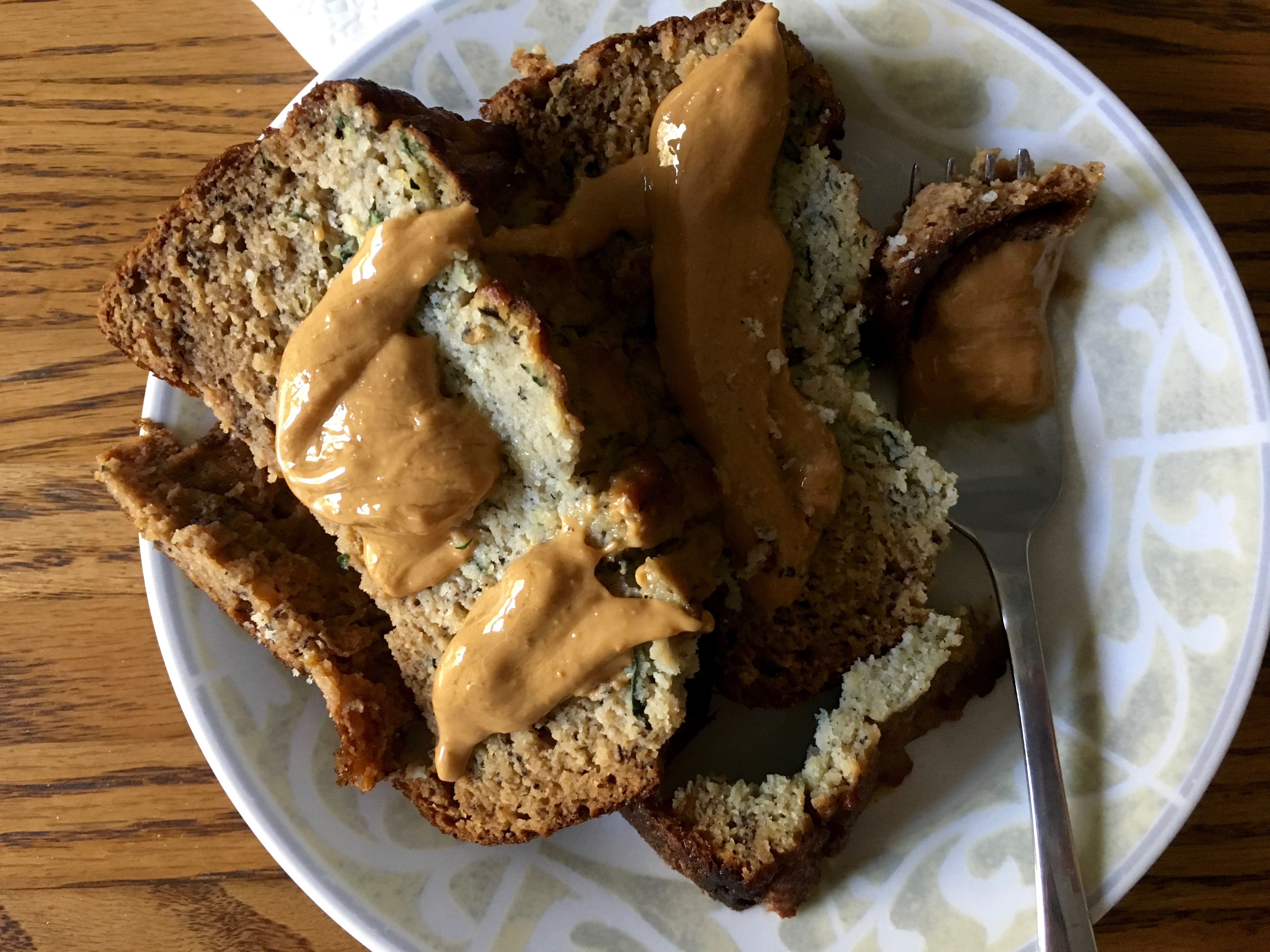 I ate super fast and was getting ready to go when V said she wanted to go too!  What!?!  Ooookay then!  Kyle quickly got dressed and a bit later we were all in the car ready to give Valley girl her first shot at Sunday school child care.
Guess how well it went?  You don't need to guess, I'll tell you.  Despite telling us repeatedly on the way there that she was "excited to play with the kids and toys" and "there will be no mama and dada" but "mama and dada always come back" etc etc etc, she burst into tears the second I took one step towards the door without her.  She lasted half a song before my pager started buzzing in the service for me to come retrieve her.  Oh well.  I guess we will keep trying.  I thought she was serious about being excited since she sees P get dropped off there for school and I basically have to drag her kicking and screaming out of his classroom, but apparently not.  She was super well behaved in church though!  Probably knew she better behave or she would end up back in the child care area.  😉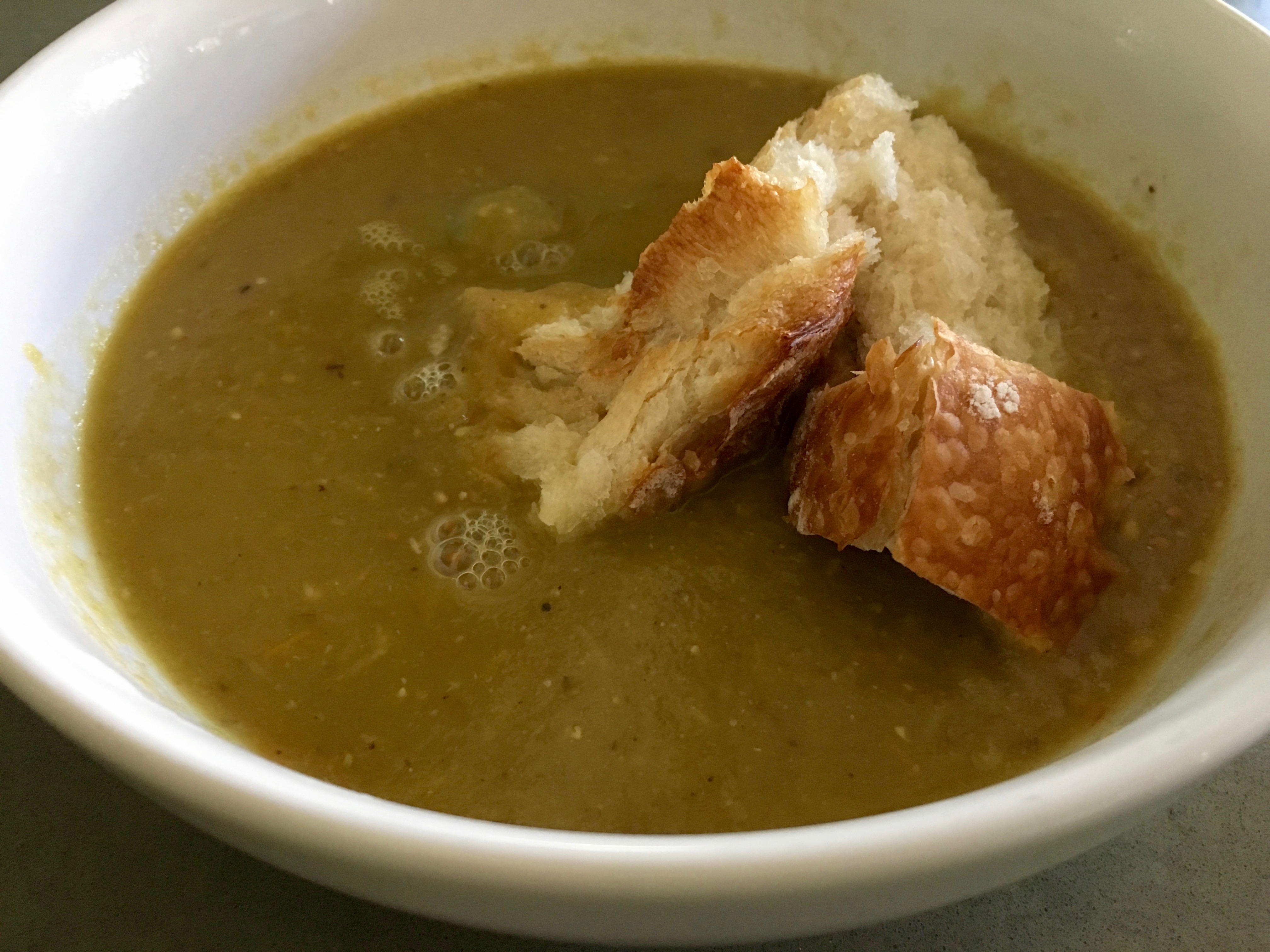 Kyle dug into the soup for lunch!  With leftover French bread.  He said it was great.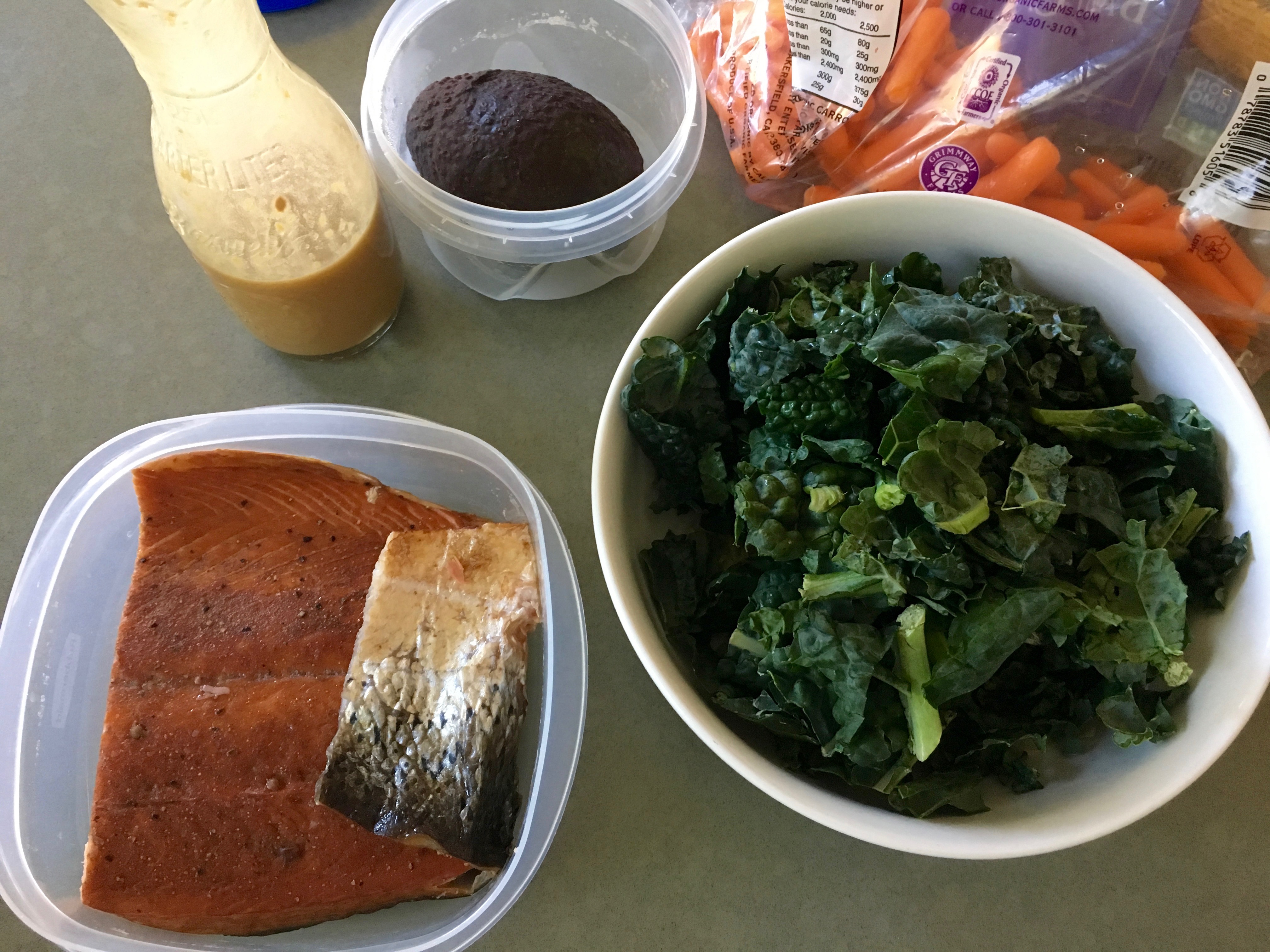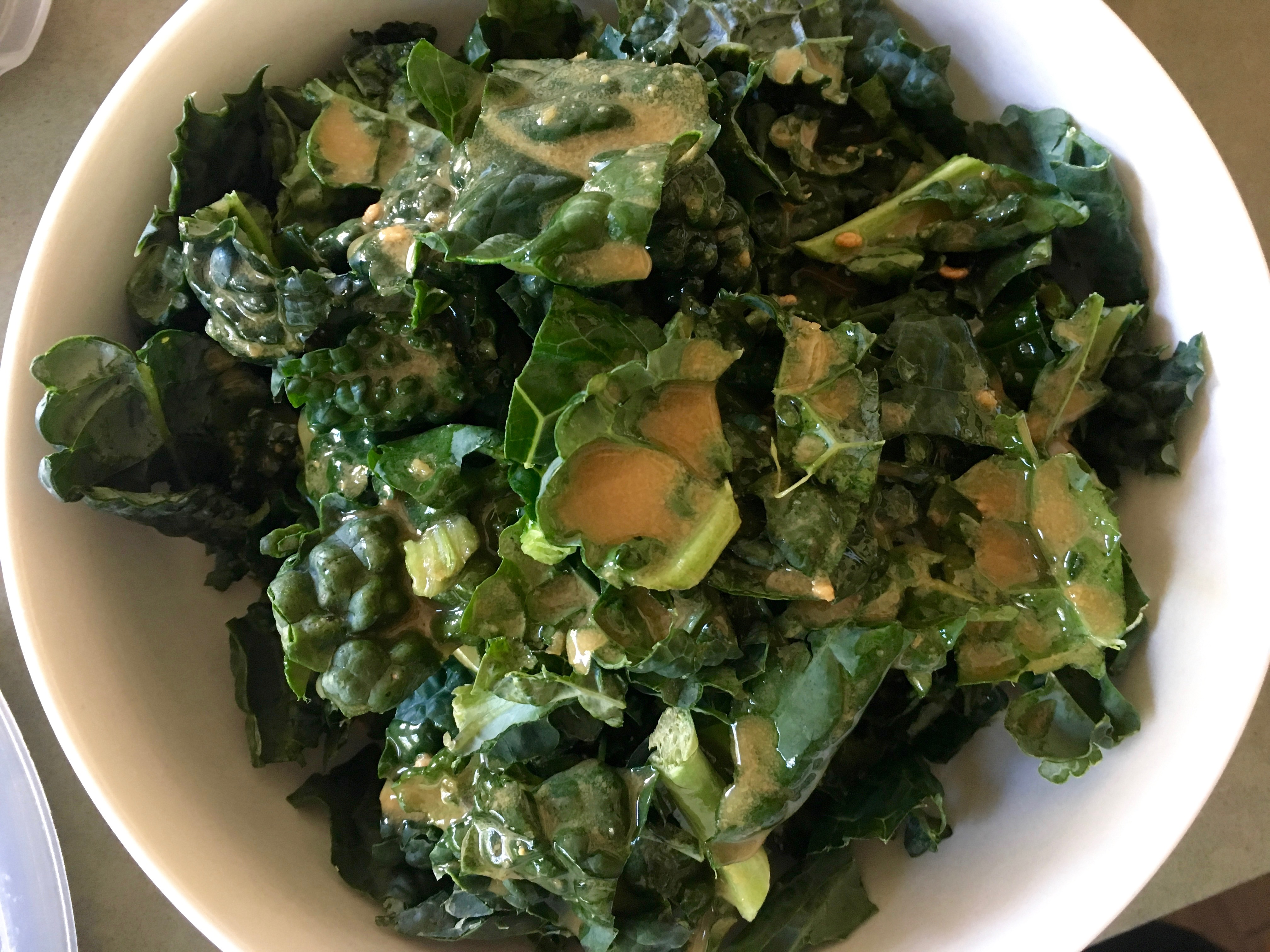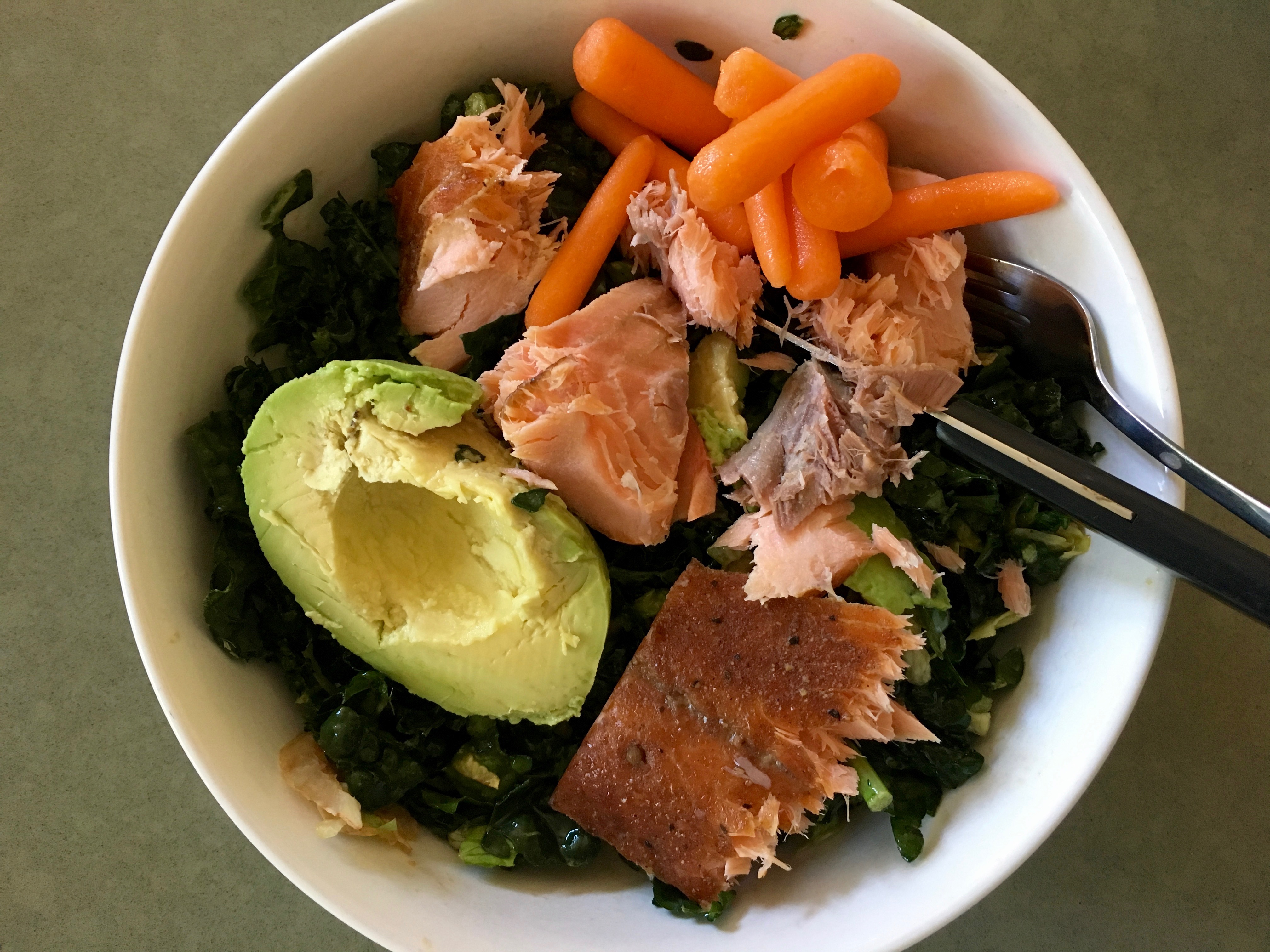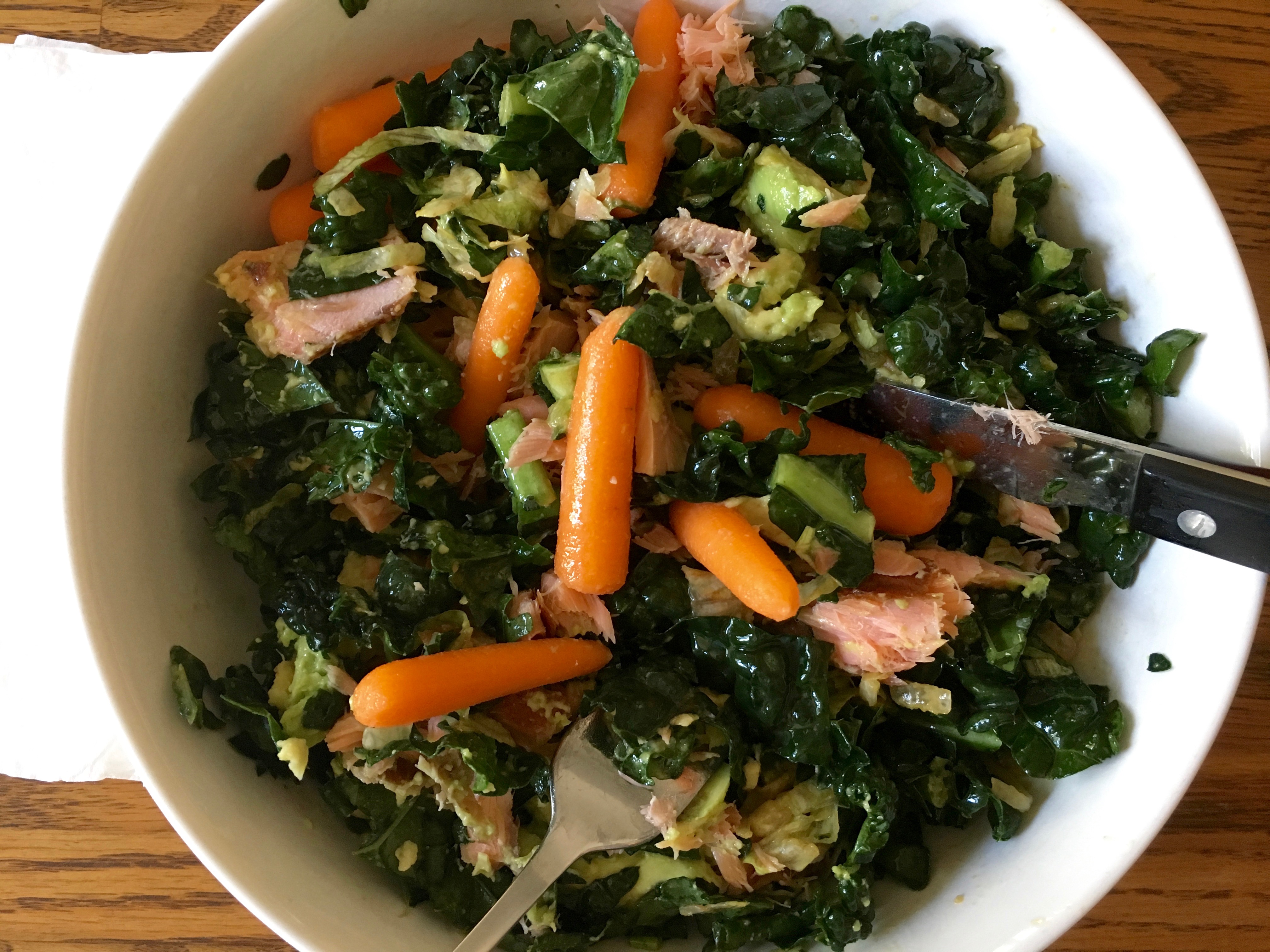 MY lunch was great too.  I used the dressing from this dish on kale and added avocado, smoked salmon (more than shown), and carrots.  All about dressings right now.  I even prepped two different ones for the week ahead – a balsamic vinaigrette and a sesame miso one.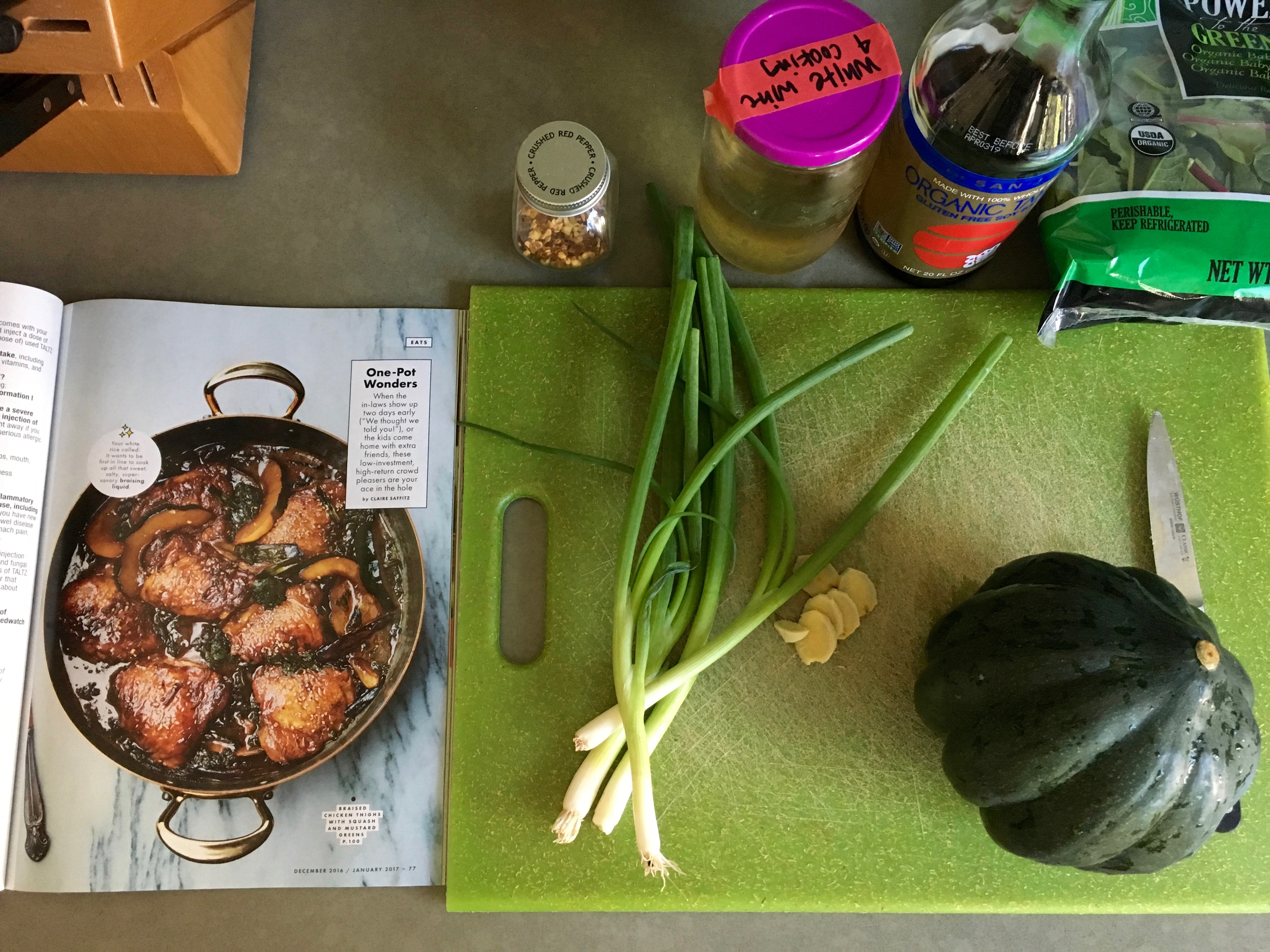 I was really excited to make this Bon Appetit dish for Sunday night dinner.  I halved it because I didn't think I needed 8 chicken thighs, but it was soooo good that next time I will make the full amount so we have leftovers.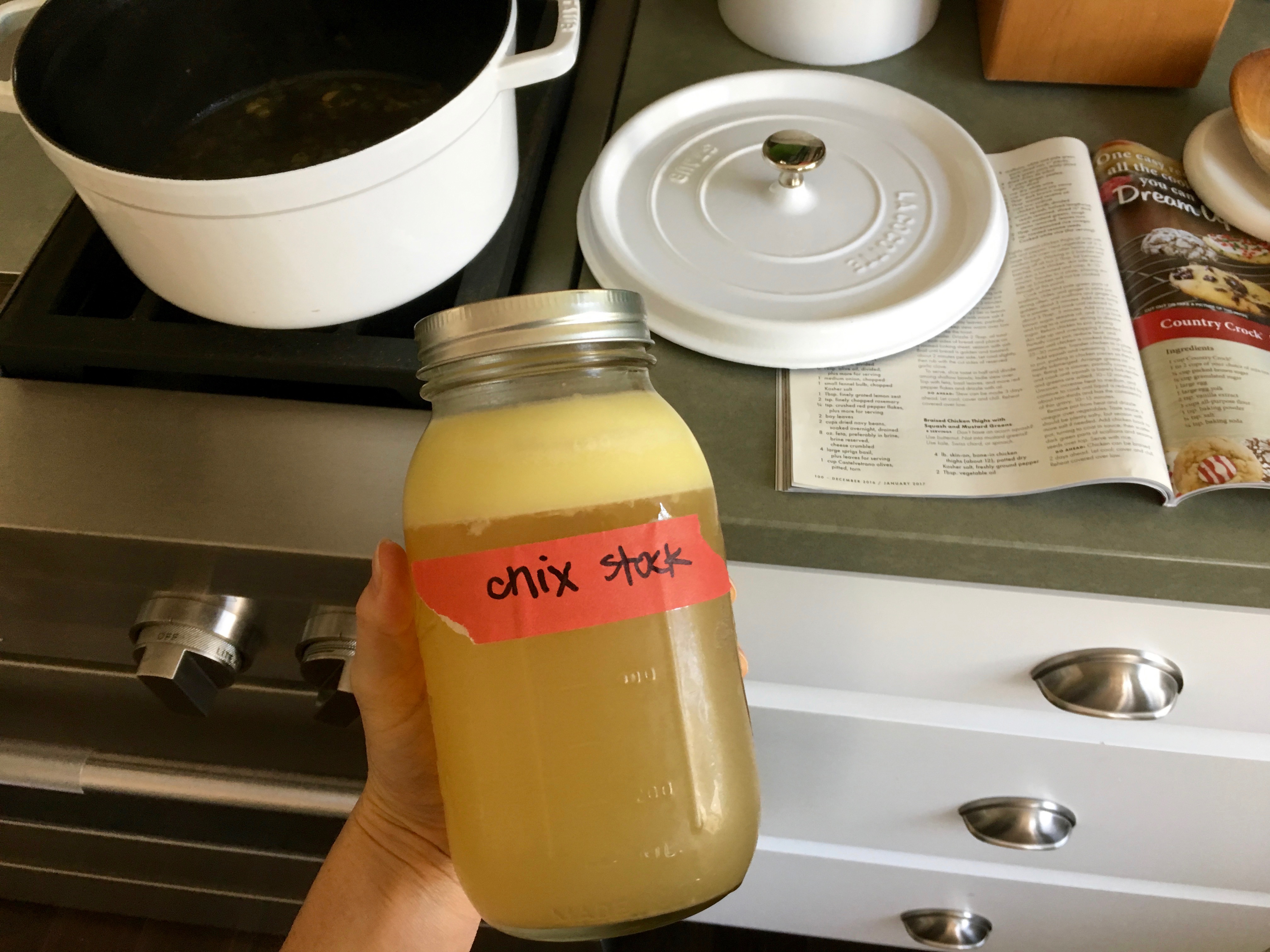 I used the stock from the whole chicken I made last week and it was mega gelatinous.  Holy moly I bet it was packed with nutrients. It certainly helped amp up the flavorful nature of this dish.  I can't even believe how good this smelled…all afternoon I was excited for dinner time.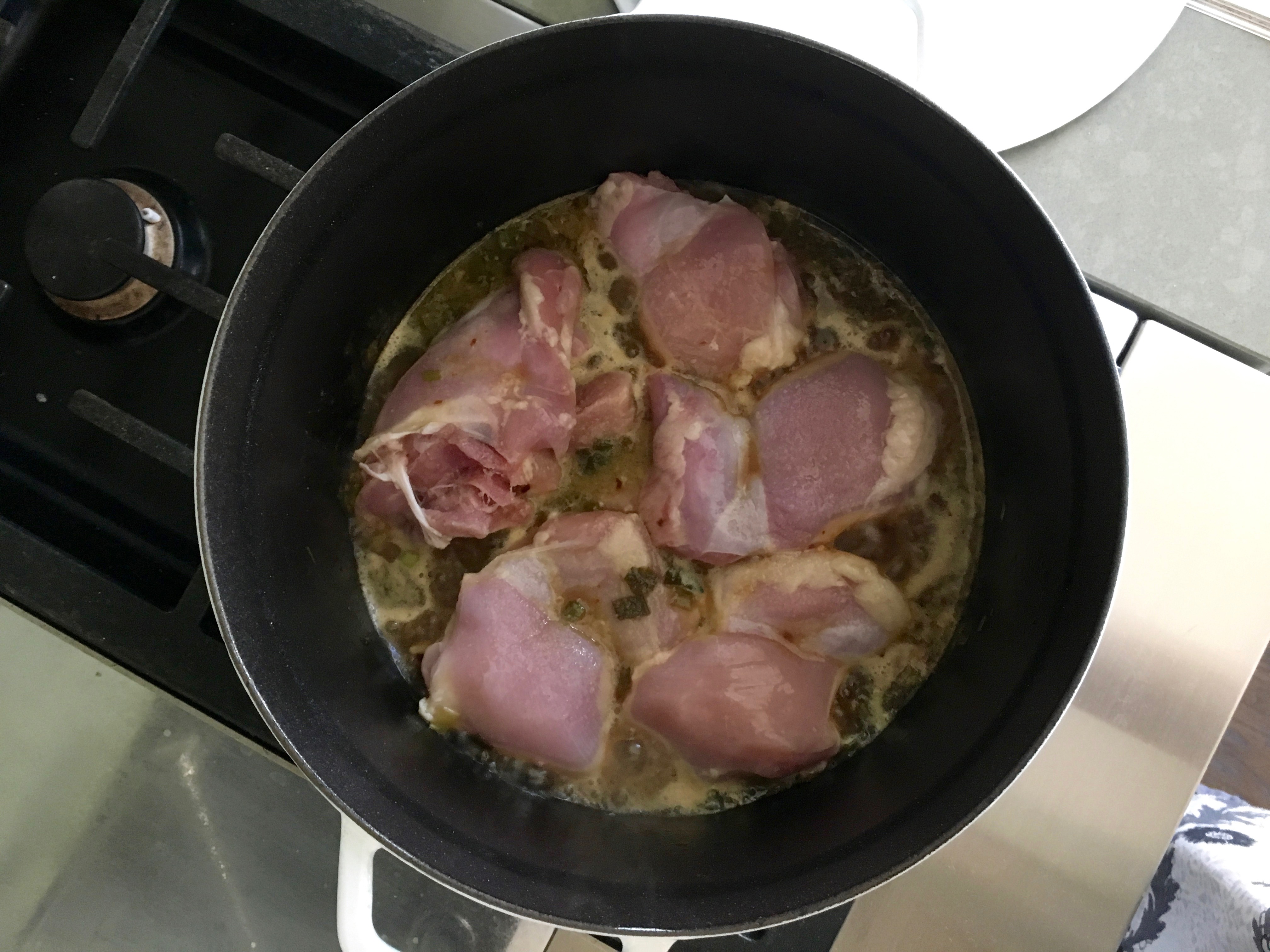 Braising away…while I try not to amputate my hand as I slice the acorn squash.  Please someone have a trick for making it easier to hack into a squash??  I feel like my knives are plenty sharp, but it makes me so nervous.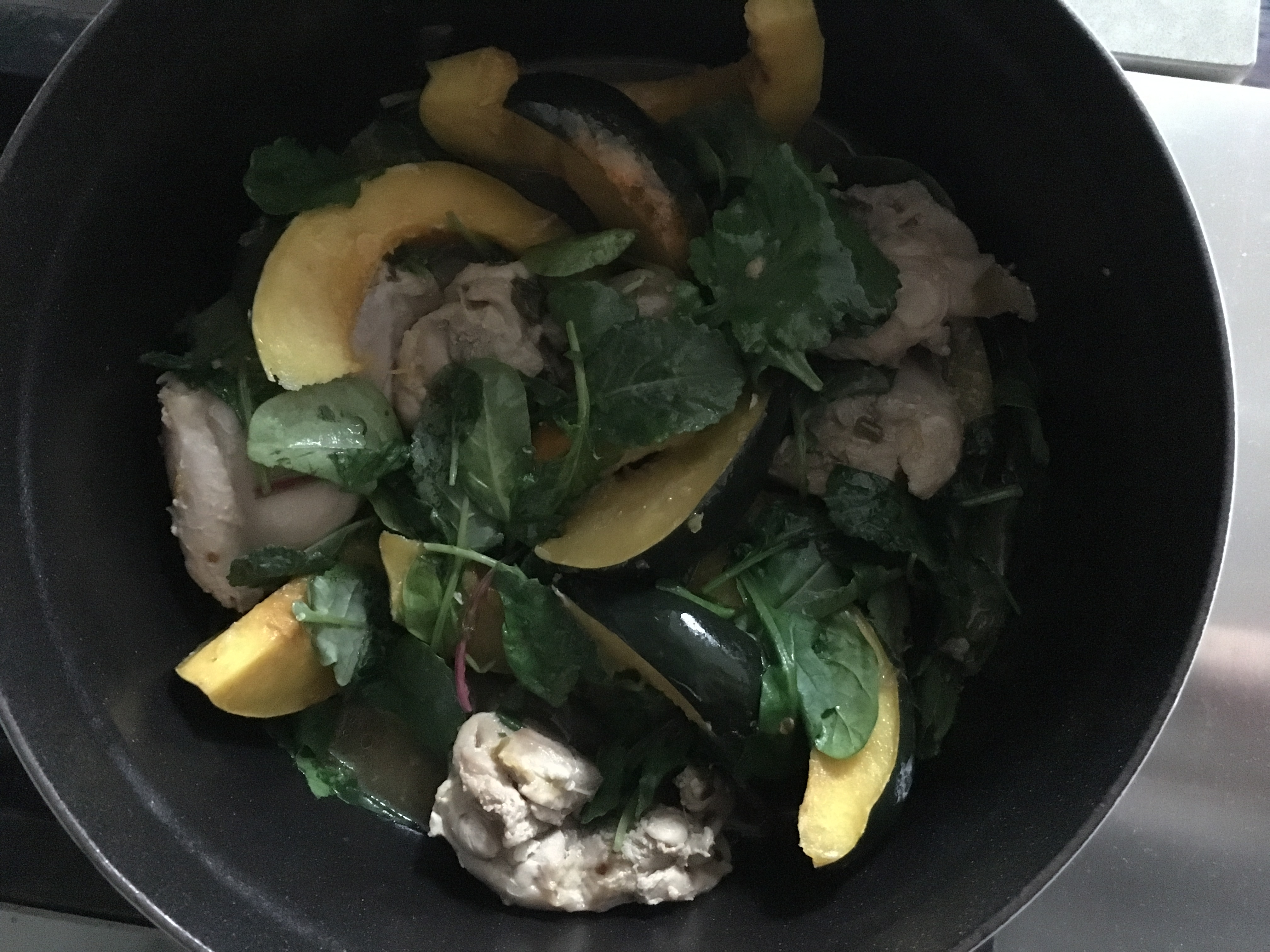 Everything all nestled in.  I added the lettuce to wilt when I re-heated the whole thing 10 minutes before serving.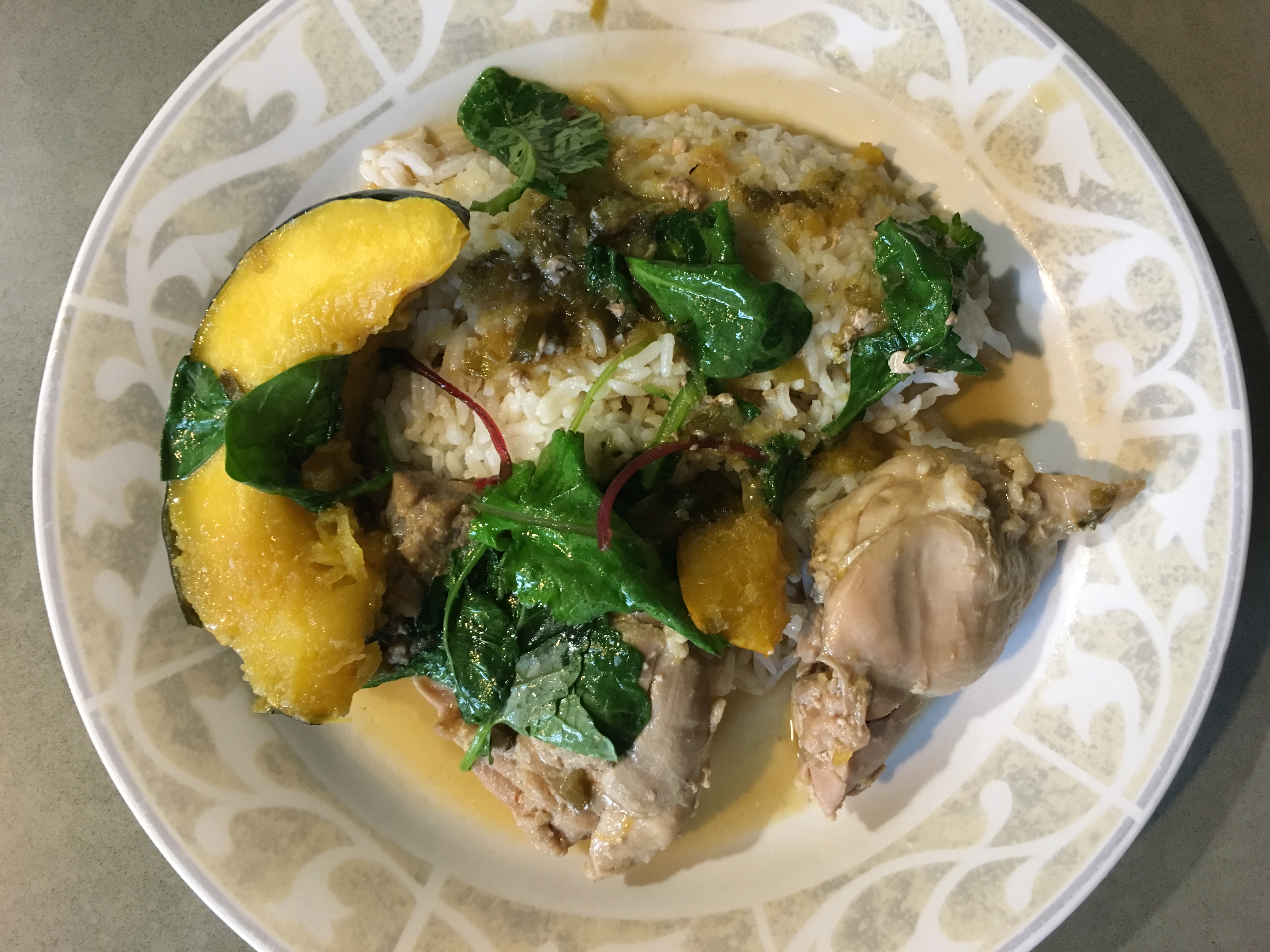 I don't know of a fancy way to present this. I suppose that's why I don't make $ off my blog.  But you guys MUST MUST MUST make this.  I loved it so much that I told Kyle I wanted to make it again for my birthday dinner (in one week).  Too soon?  Nope.  It's that good.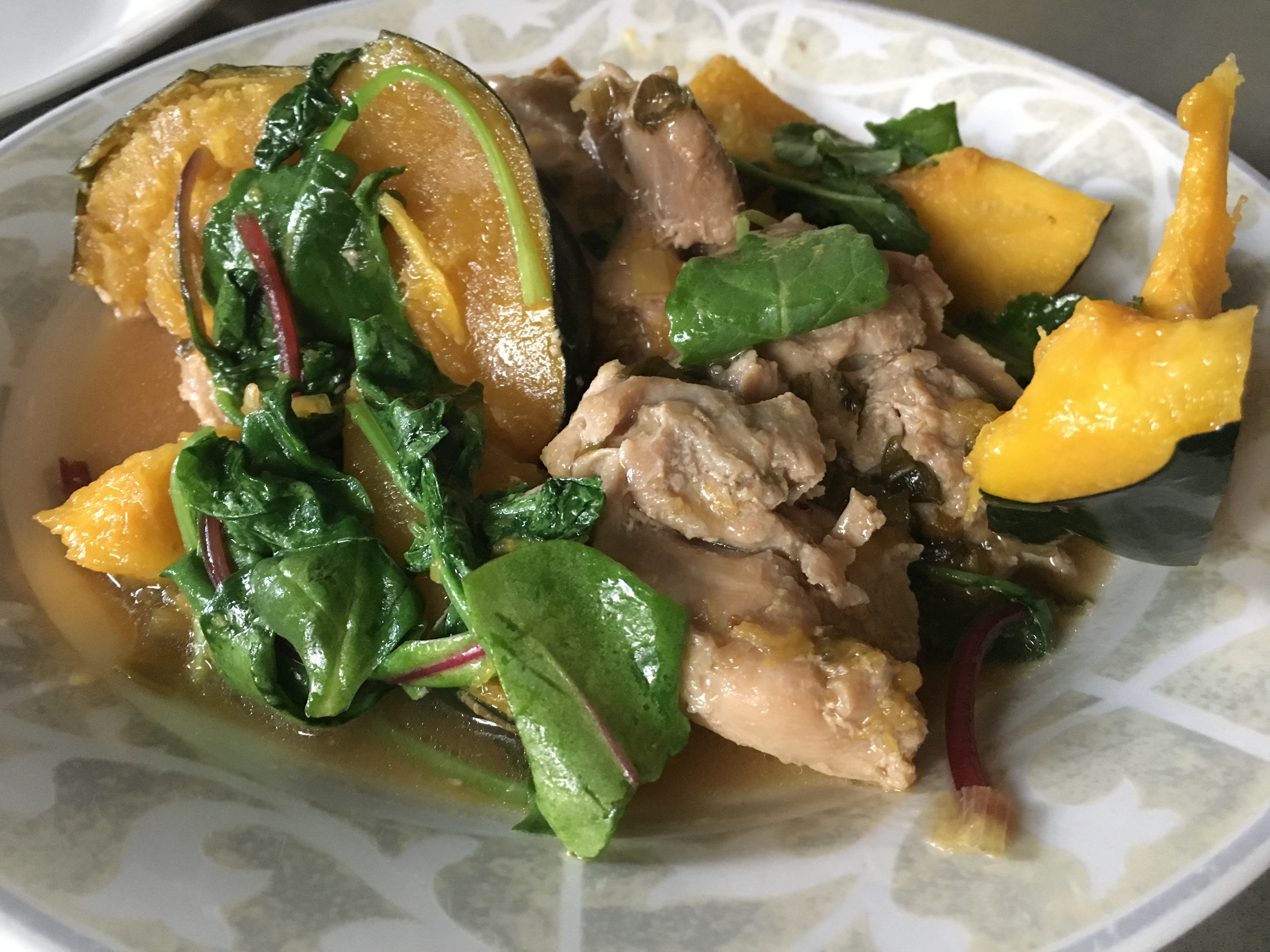 I poured the extra sauce into my mouth and will probably go to bed dreaming about it.  If you nixed the chicken and subbed in a bean (chickpea, cannellini, whatever) it would be a fantastic side dish for Thanksgiving or Christmas.  Oops, did I just jump too far ahead?  Ok, ok, let's just wrap our minds around October.
As much as I wanted dessert, I actually felt like a ginger kombucha more.  So the 'booch won.  With the end of Sunday night football.  Onto the week!