Remember when I wrote an ode to Whole Foods (and basically showed you how to blow your bank account while unemployed for the summer)?
Yeah, well, that post featured one of my all time favorite salads from WF.  The fumi tofu salad.  It's really just an Asian cabbage slaw, I suppose.  With ramen noodles.
We had lots of cabbage so why not?  I didn't feel like making tofu, so ours was a protein-less version, but adding tofu (or tempeh) would be the proper way to honor the WF gods.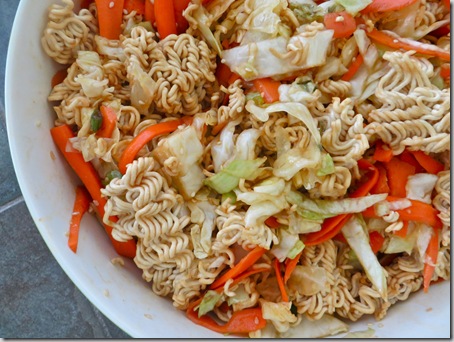 Chilled noodle salads are the epitome of summer food.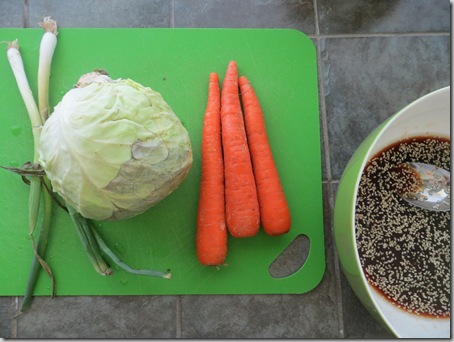 Doesn't this look healthy?  Because it's all about to change once you scroll down to the next photo.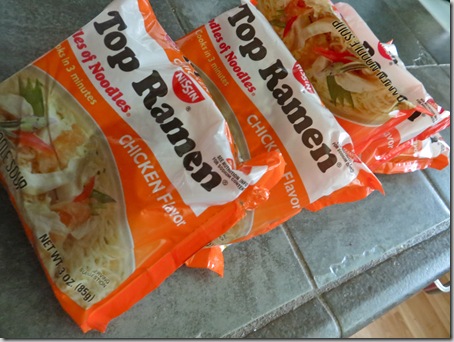 Yup.  It's your dorm room staple.  And you thought you'd never see those little flavor packets again.  Ha.
Don't worry, the recipe doesn't use the MSG stuff, so you can breathe easy and continue to read on.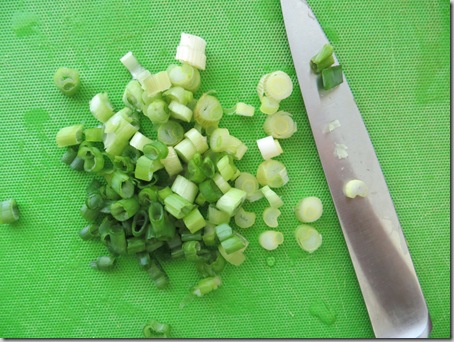 FODMAPs people, use the green parts only!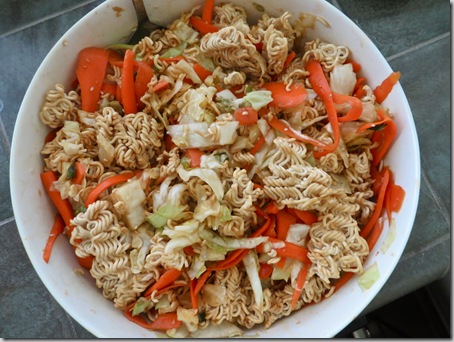 [Imitation] Whole Foods Fumi Salad [vegan] 
Salad Ingredients:
1/2 large head of green cabbage, shredded
3-4 large carrots, shredded/peeled
2-3 green onions, sliced (green parts only for FODMAPs people)
4-5 packs ramen noodles (without the seasoning packets)
1/2 cup slivered almonds
Dressing Ingredients:
1/4 c canola oil
1/4 c tamari
1/4 c hot water
2 tbsp coconut sugar
2 tbsp rice vinegar
2 tbsp sesame oil
1 tbsp sesame seeds
Directions:
Boil hot water and mix with coconut sugar until dissolved.  Then add the rest of the dressing ingredients and stir together. 
Chop and shred cabbage, carrots, and onions.  Add to dressing in a large bowl and toss.  Next crush the ramen noodles and add to the slaw.  Toss again letting dressing soak into the noodles.  They will still be crispy but will absorb the dressing and soften up over time.  Serve at whatever level of crunchiness you want.
Notes:
Depending on how much veg you want, you may alter the ratio of cabbage and carrots to ramen as you want.  Since I was making this primarily for Kyle (although I had a few bites too), I used 5 ramen packets and only half the head of cabbage.  Had I made it to suit my personal preferences, I would have used the whole head of cabbage and only 4 ramen packets.  But I like building meals with veggies at the base of the food pyramid.  Kyle prefers a more carb based approach.  Do whatever you want!
If you add tofu, you may want to double the dressing recipe and cook the tofu in half of it.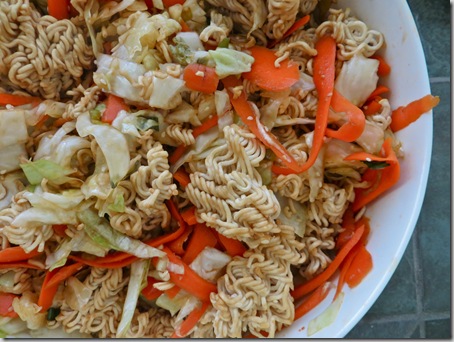 For more mock WF recipes, see my take on their vegan tempeh salad.  <—another fave prepared item