So here's the sitch.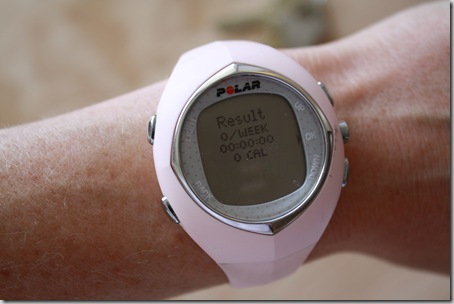 Did I mention I have a triathlon in under 30 days.  Problem?  Yes. 
It gets worse.  I got in an accident yesterday while riding my bike, which I was in denial about until I went to work today…and wound up in the ER half way through my shift.  I feel like I got hit by a bus.  I am so so sore.  It's unbelievable.  I have less than 50% range of motion in my neck and my tailbone is badly bruised.  I basically feel stiff all over. 
Anyway. 
I don't know that much "training" is going to happen now…not that I was on much of a roll before (see above workout count).  Whatever.  I'll figure it out. Feel free to shout at me now and tell me I'm crazy and I need to get my butt to the swimming pool asap.  Seriously, somebody talk some sense into me!!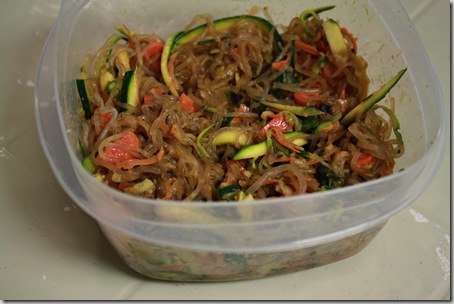 Hey hey, look who switched up the salad routine!!  I was feeling experimental, so I rummaged through the fridge and came across Sea Tangle kelp noodles.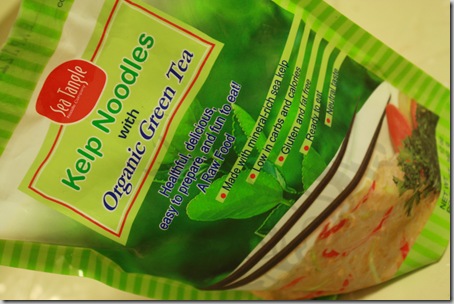 I also had zucchini nearing it's death bed, so I figured the two could be married somehow.  [Insert brainstorming session here]
2 small zucchini, shredded
6-8 baby carrots, shredded
1/2 avocado
1 package kelp noodles (I used the green tea variety, but there was no notable difference between this flavor and the plain one)
1/2 tsp powdered ginger
1 tbsp soy sauce (or Bragg's liquid aminos)
1 tsp honey mustard
1 tbsp nooch
2 tbsp water (or more/less to get sauce to desired consistency)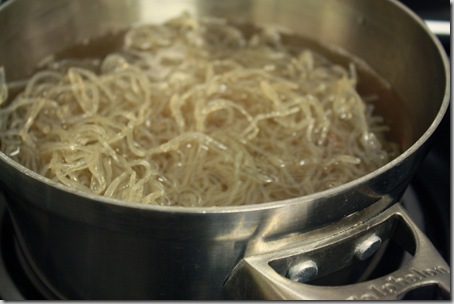 I rinsed, then lightly warmed the noodles.  Once they cooled, I drained them and mixed in the rest of the ingredients.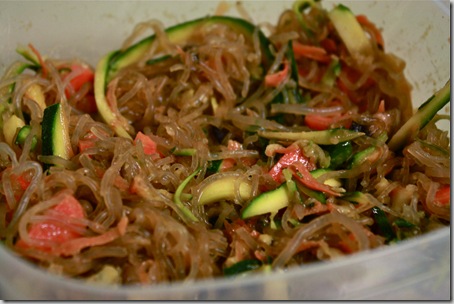 Kelp noodles with veggies and soy ginger sauce.  Yum!  I ate half this while waiting in the Emergency Room.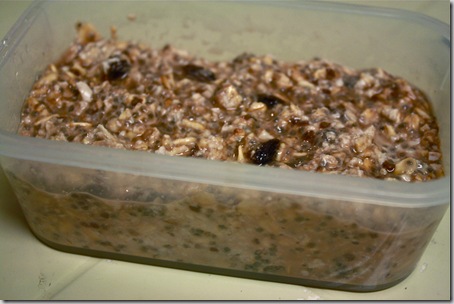 My breakfast was a bit of a change up too with whole rolled oats, chia seeds, raisins, cocoa powder and silken tofu.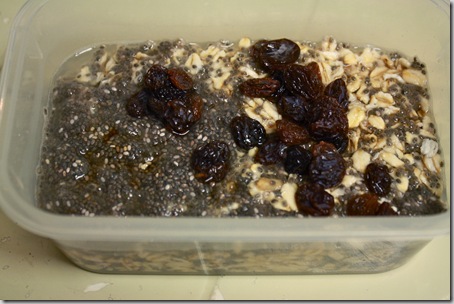 First I let the oats, chia seeds and raisins plump in warm water.  Once the seeds had gelled I stirred them up and added in the cocoa 'fu.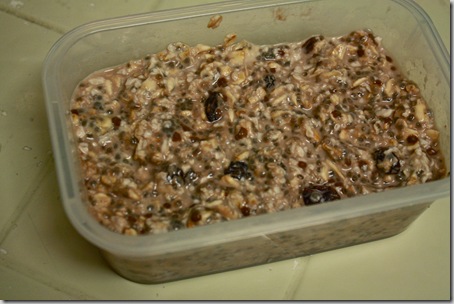 100% pure love.  Try not to sing Crystal Waters when you hear that.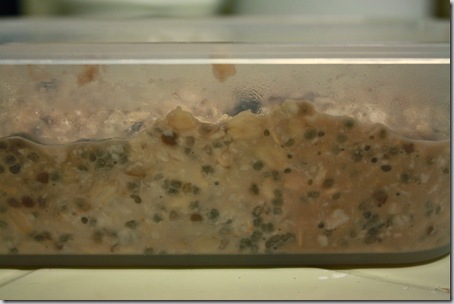 This breakfast had serious staying power thanks to the balanced macronutrient ratio. 
Raisins = immediate sugar (in a natural form).  These perked me up right away.
Whole grain oats = complex carbs.  Their slower release gave me good even energy levels over the morning.
Tofu = protein
Chia seeds = good fats
Both of these ingredients slowed breakfast's passage through my system. 
Cocoa = delicious chocolate flavor.  Enough said.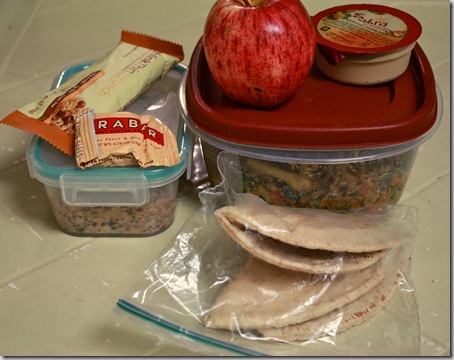 The rest of the goodies are self explanatory.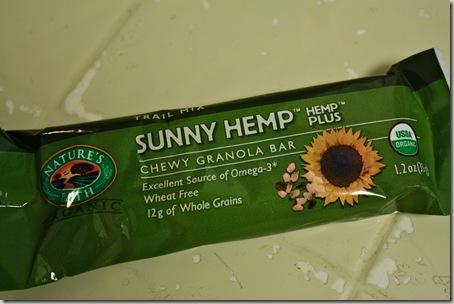 On account of my aching body, I did some yoga before work (rather than my usual Jillian routine).  I only had a single cuppa joe, too. 
My car breakfast was a new-to-me bar by Nature's Path.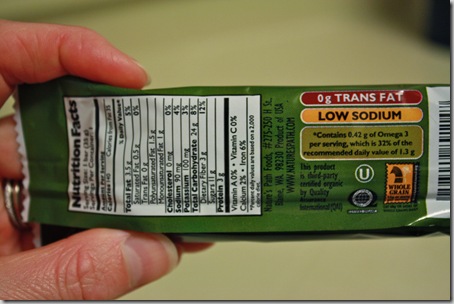 The Sunny Hemp Chewy Granola bar is much better than I thought it would be, but not much in terms of a breakfast. 
Staying power = nada. 
Taste = like a combo of a Quaker's chewy granola bar but with a more healthy (less sugary) flavor.
The sunflower seeds, flax, and hemp made the bar worth re-purchasing in my opinion.  Other reasons for a thumbs up include the organic ingredients and eco-friendly box.  Nutritionally, I really think these are pretty decent.  Nature's Path has really never disappointed me.  I hadn't tried many of their products beyond their cereals, but now I'm going to explore more.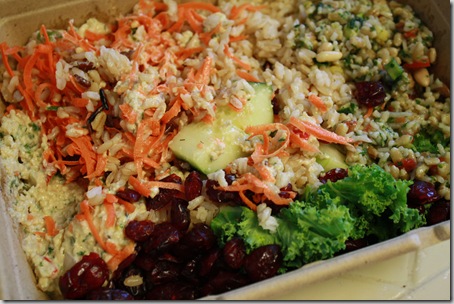 Oh, hello Whole Foods hot bar.  You really know how to lift a girl's spirits when she's down.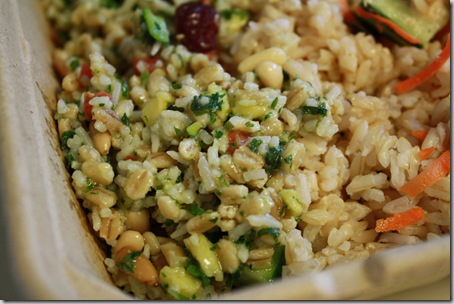 There were two standout parts of this particular $30 meal.  First, the barley/rice/wheat berry salad with pinenuts.  I was iffy because of the parsley, but I looooved it.  The pinenuts were soft from being marinated in the dressing, which is another reason I enjoyed them (normally, I'm not a fan).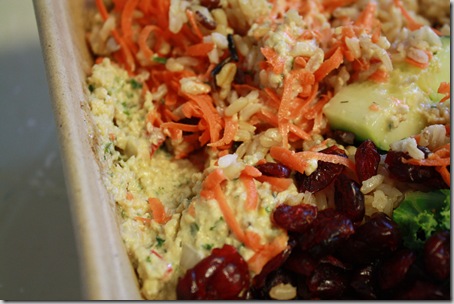 Second, the tempeh salad (like a tofu salad but better).  OMG so good.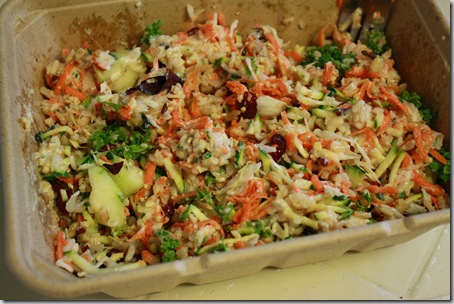 Copious amounts of brown rice and veggies had their own place, too.  And then everything got all mixed together…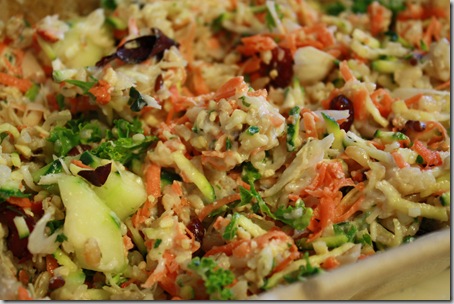 Yes.
And in case you were worried that all my food product taste trials were successes, here are a few recent misses…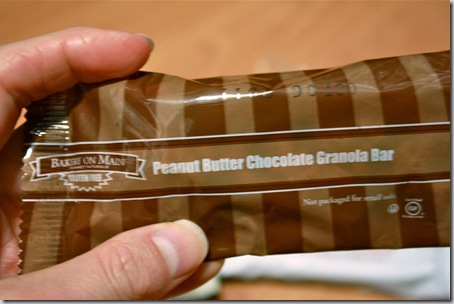 Bakery on Main Peanut Butter Chocolate Granola Bar – sounds like it should be nothing short of spectacular, but in reality it was hard, small, and not very good.  It was a non-chewy oat bar studded with chocolate chips.  But I didn't like it.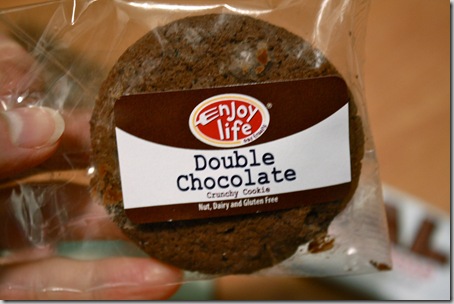 Enjoy Life Double Chocolate Crunchy Cookie – too crunchy.  It was hard enough to be a cracker!  I like my cookies soft and gooey.  FYI, they do make soft baked cookies, so clearly those are where I need to focus my attention.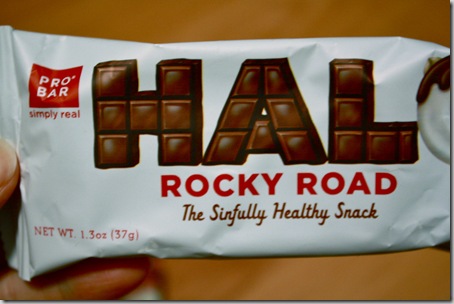 ProBar HALO Rocky Road – lacking in flavor all around.  There were visible chunks of nuts in the bar, but no marshmallow.  And the nuts weren't integrated into the chocolate bar at all.  It just wasn't yummy.  And I was surprised because it's hard to mess up chocolate and nuts.  The other HALO flavors are all winners though, in case you were wondering.