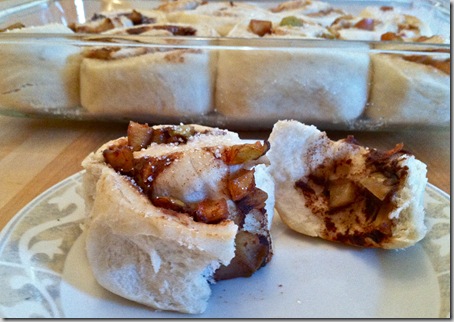 This is the kind of recipe that gets attention with photos alone.  So I'm gonna be brief with the text and just get to it.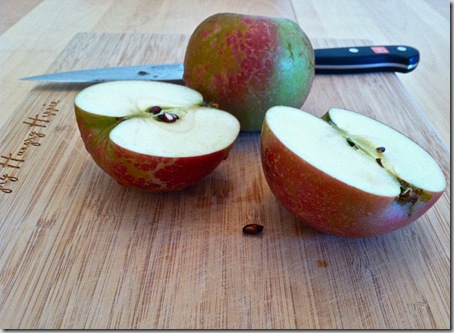 Apple Cinnamon Rolls with Peanut Butter Chocolate Filling [vegan]
Ingredients:
Basic Dough (I used this recipe)
1 1/2 cup warm water
1 tbsp sugar
2 1/4 tsp active yeast (1 packet)
4 1/2 cup all purpose flour
2 tbsp oil
2 tsp salt
Filling
two medium apples
1-2 tbsp coconut oil (or vegan butter)
1/2 -1 tsp cinnamon
1-2 tbsp maple syrup
peanut butter
chocolate hazelnut butter (I used rawtella brand)
Vanilla Icing (optional)
2 cups powdered sugar
2 tablespoons non-hydrogenated margarine
2 teaspoons vanilla
1/4 cup non-dairy milk
Directions:
1. For the dough, add warm water, sugar and yeast to a big mixing bowl.  Let the yeast proof for a few minutes.  Once it's frothy, add flour, salt, and oil.  Knead until you have cramps in your fingers (and then knead some more).  The shaggy dough will form a pliable dough.  After several minutes of working the dough, grease the inside of a large mixing bowl (with oil or cooking spray) and leave the dough ball in it. 
Keep in a warm area to rise for 1- 2 hours.  [I put it next on the open oven door after pre-heating the oven to warm and then turning it off]  Once the dough has doubled from it's original size, punch it down and re-knead it into a ball for it's second rising.  [At this point, I covered it in saran wrap and put it in the fridge overnight for use the next day, but if you want to use it right away, let it rise again for at least an hour]
2. For the filling, dice apples and sauté with coconut oil/vegan butter, cinnamon, and maple syrup until apples have softened and the syrup has reduced.  Set aside.
3. Roll out the dough on a floured surface until you have a large rectangular area.  Lather on peanut butter and/or vegan nutella.  Feel free to do half and half (like I did) or both.  The thicker the layer the better since the dough will get big when it cooks and you want to make sure your ratio of filling to bread is adequate.  Next add the sautéed apples, scattering evenly over the dough.
Roll the dough (along the longer side) to make a log shaped roll.  Then slice into individual sections with a knife (about 1-1 1/2 inches apart) and place in a greased 9×11 pan. 
4. Bake for ~20-25 minutes at 350 degrees, until light golden brown.
5. For the icing, beat the powdered sugar, margarine, and vanilla with an electric mixer until the margarine is distributed into the sugar (it will be crumbly).  Then slowly drizzle in the non-dairy milk and beat until the icing is smooth (~2 minutes).  After the rolls have cooled slightly, slather on icing and serve.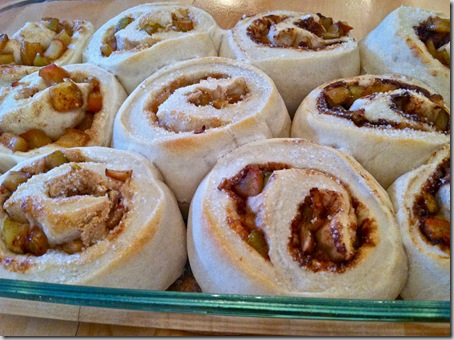 And now, for the photo tutorial portion…
Dough rising.
Apples sautéing.
Dough and nut butter fillings.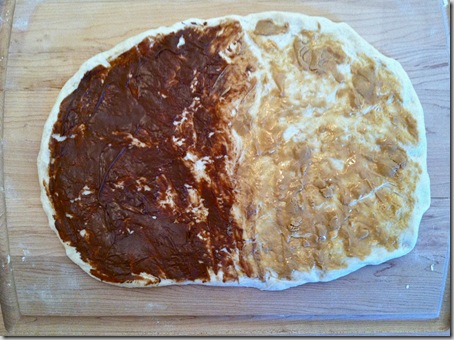 Good vs. evil.  Chocolate vs. peanut butter.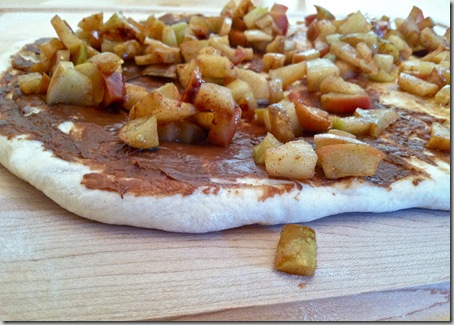 Plus the apples.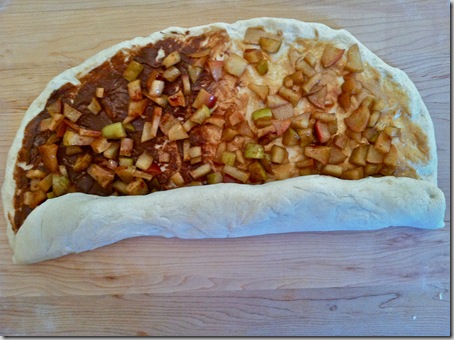 Rolling.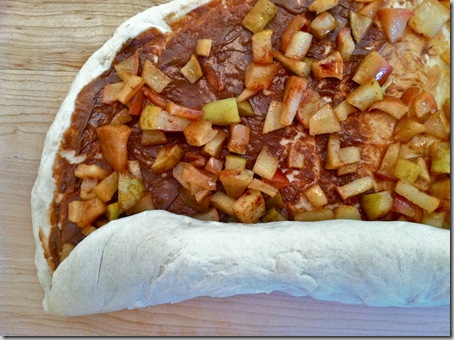 Dark side.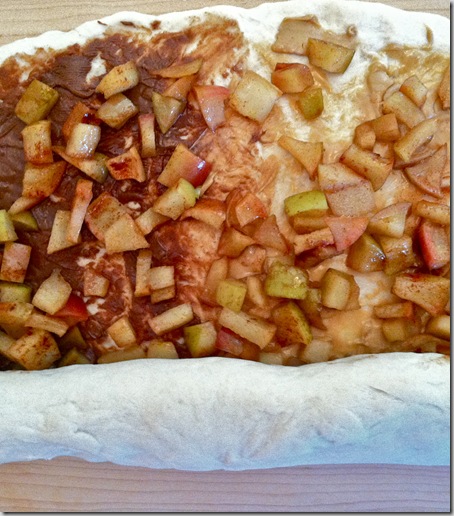 The divide.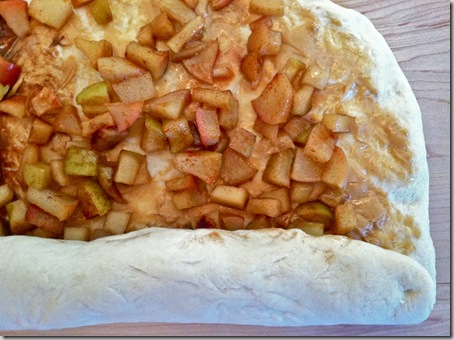 The PB side.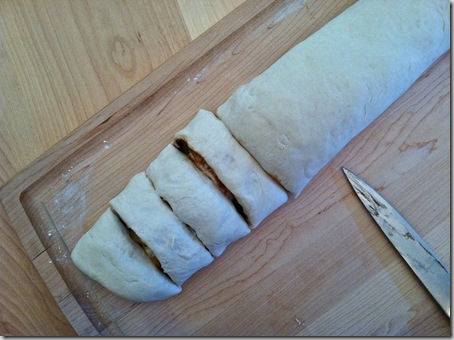 Cutting the rolls.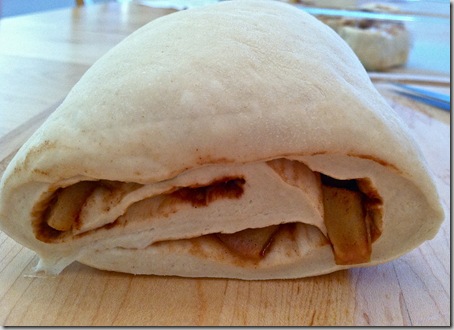 Swirl cross section.
Packed into the pan.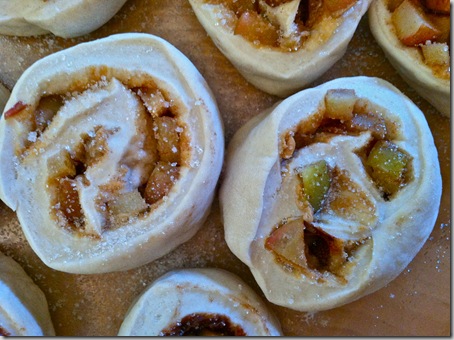 With cane sugar sprinkled on top.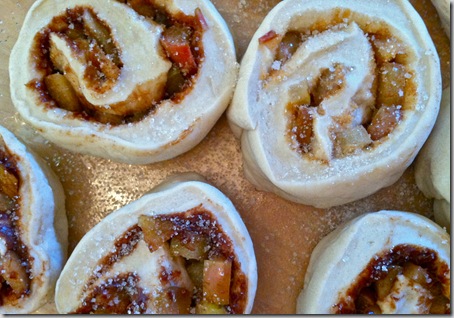 I only added the sugar because I wasn't planning on making an icing.  If you're gong to make the vanilla icing, you don't need to sprinkle sugar on top.  Although I won't blame you if you end up doing both.  🙂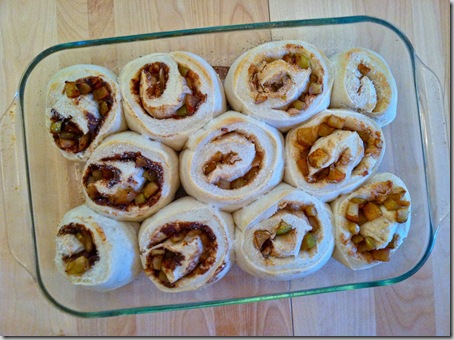 All puffed up.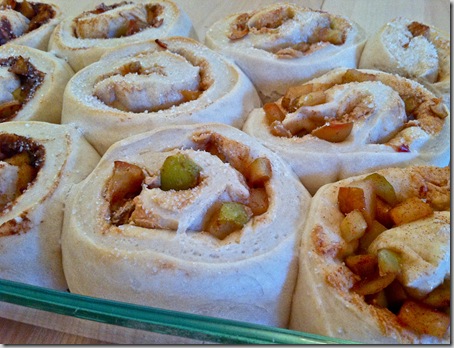 Left: peanut butter
Right: chocolate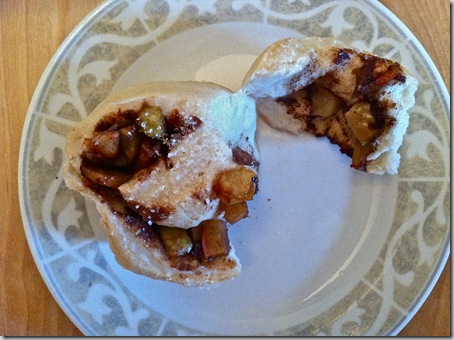 The real decision is which to try first?????
I went with the chocolate.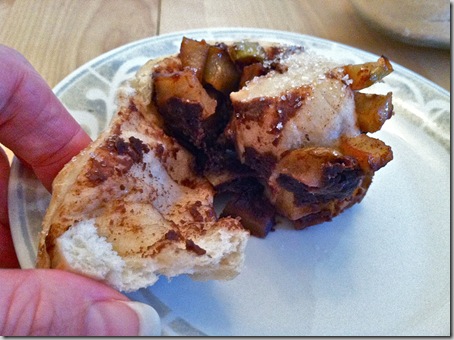 But the next morning, I made sure to even things out with a peanut butter roll.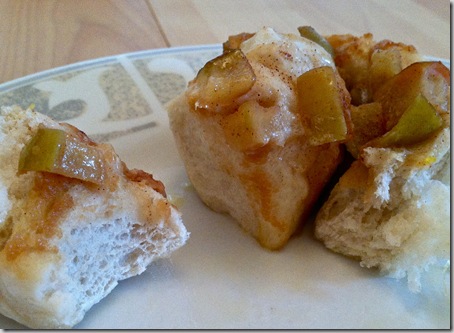 Enjoy!