I realize this post is hardly timely.  We didn't get back from the city until Monday evening and then I worked two nights in a row though…sooo…what can you do?  Truthfully, my weekend recaps are my own selfish way of documenting our memories forever and ever.  If others enjoy them, great! 
So let's back track to Saturday.  I was recovering from a few night shifts so we kept the day mellow.  I ate at odd times and didn't get close to capturing everything I ate on film.  Did you know sleep deprivation can make you eat up to 20% more than your normal caloric intake?  It doesn't surprise me at all.  Thanks to the combo of being up all night and breast feeding I feel like I'm a bottomless pit. 
Anyway, I may as well skip ahead to Sunday because that's when the fun started.  I went to bed super early to attempt to catch up on sleep (I'd been awake for over 36 hours at that point) but still woke up at 7 am on Sunday.  Time to get the party started! 
After a cup of coffee and finalized packing, we all loaded into the car to drive to San Francisco for the day/night.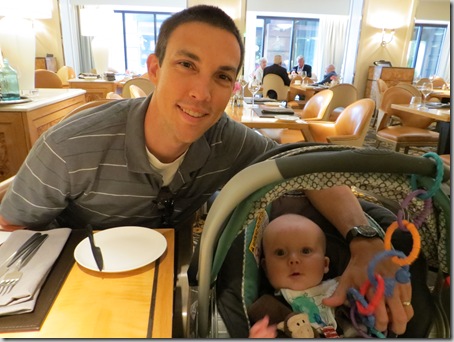 Why?  To celebrate 3 years of marriage!  [Also, why not?] 
We started with brunch at Brasserie S&P, located in the Mandarin Oriental Hotel in downtown SF.  I got the crab benedict, Kyle got the fried egg sandwich (with the bacon on the side).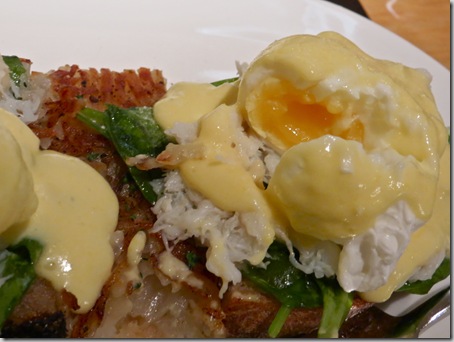 Pretty sure I won this round.  That hash in between the two open faced pieces of toast was like a sheet of tater tots.  Who doesn't like tater tots?  College dorm cafeteria flash back!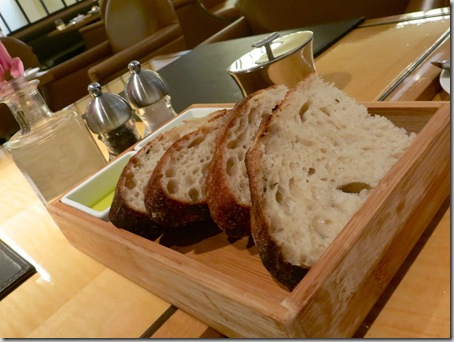 We also shared fresh bread dipped in olive oil and a pot of decaf (Kyle's going caffeine free and his detox is brutal right now – headaches aplenty).  FYI, Brasserie S&P has both soy and almond milk available, which is awesome, but the waitress brought me soy when I requested almond.  Oh well. 
After brunch we made our way down to the Exploratorium at Pier 15.  They just recently moved into their new location (with much more space) and I've been looking forward to geeking out ever since.
Science is cool!
Obviously P is on the young end of the spectrum, but it was still fun seeing him take everything in.  He's probably gonna be a huge nerd just like his parents.
PACMAN!  Kyle was one day behind in wearing his matching shirt… [wait for pics from Monday]
An hour or two into our fun we stepped out so I could nurse P (they had rocking chairs looking out onto the water…so nice) but got our hands stamped so we could come back…because I was also feeling thirsty/snacky.  Rather than get something at the Exploratorium cafe (which I later found to be really impressive) we walked down to Pier 3 to Plant Cafe Organic.  I got a trilogy Kombucha (they were out of their tap Kombucha) and Kyle got a strawberry almond milk date smoothie.  I had a sip and it was fantastic.
Afterwards we went back to the Exploratorium.  Once we saw as much as we could, we decided to head to the hotel to check in.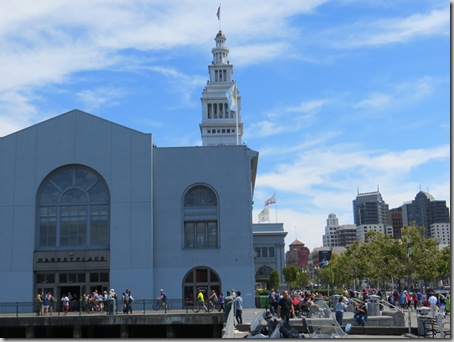 But not before a stroll through the Ferry Building…
My sneaky sneaky husband had a vegan and gluten free cake to pick up as a surprise for me! 
I had no idea he was paying attention when I mentioned Mariposa as our brunch spot for the next morning, but apparently he was more than aware of their awesome (allergen free) creations. 
We were on the 25th floor of the Westin, but who cares about the view when there's football on tv!!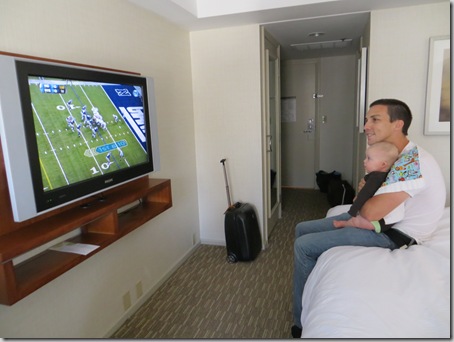 More anniversary surprises from Kyle's parents 🙂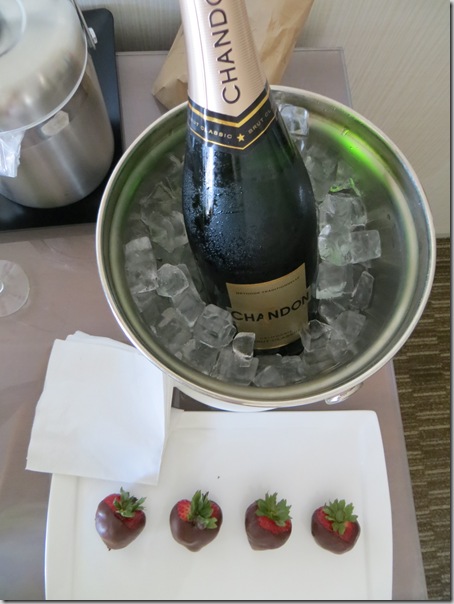 We dug into the chocolate covered strawberries immediately, but saved the champs for after dinner. 
We played around in the room for a while and then got changed for dinner.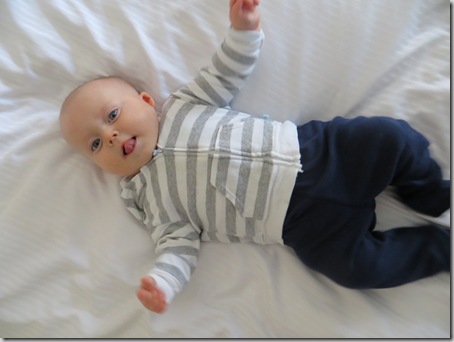 Gotta take advantage of the non-90 degree weather to put him in his adorable little hoodies. 
Dinner was at Triptych, a short walk from the hotel.  They have numerous vegan, vegetarian, and gluten free options (all noted on the menu). 
Kyle started with the wedge salad, I got the crab cakes. 
Even though I wasn't super excited when they arrived (fried food, meh) they were deeeelicious and didn't feel heavy and gross like fried food normally does. 
Kyle got the butternut squash ravioli, I got the special of the day (salmon wrapped in a corn husk with fresh organic summer vegetables).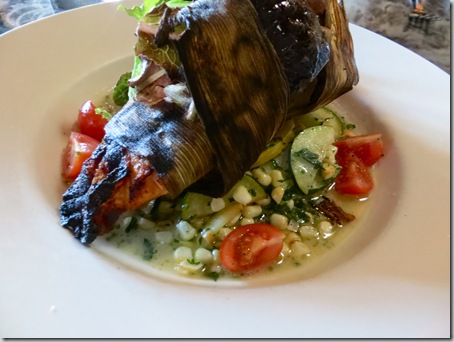 Holy moly.
I was on the fence because their vegan options all sounded so good, but this was amazing.  The fish was cooked perfectly, and the vegetables were bursting with fresh flavor.  It was exceptional. 
We both left completely satisfied.  Fortunately, the walk home helped our stomachs out because we needed to make room for cake!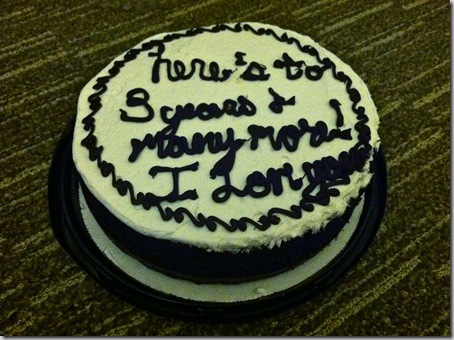 But before we got to that, we had to do P's bedtime routine.
We didn't get a separate room or suite or anything, so we were really just hoping for the best in terms of him sleeping while we stayed up.
The room ended up having a closet door that could be left open partially blocking off the front entry way, so we put his pack n play there.  As per usual, he got a bath, a bedtime story, and then I nursed him until he dozed off.  I put him in the pack n play and he went right to sleep. 
We waited a few minutes for him to be really asleep before we turned on the tv.  Movies cost $16 though!?!!?  WTF!  That's kinda insane. 
We thought we were so crafty remembering to pop the champagne befpre putting P down, but then we realized we didn't have any silverware or way to cut the cake.  Womp womp.
Kyle managed to creep past the pack n play and slide out the front door to go get stuff in the lobby.  Meanwhile I snuck into the bathroom (also located an inch from P's crib) to shower.  The kid was sure tuckered out from our adventures because he didn't even budge an inch with all our comings and goings.
Cake!!!  OMG.  This cake.
I can't believe how good it was.  Yum yum yum.  Kyle's mind was also blown and he straight up admitted he wasn't sure how good it would be.  Even if it weren't free of wheat/gluten, dairy and/or eggs I'd say it was great…no qualifiers necessary.  This cake was the real deal.  And I'm not usually a frosting girl!  We both licked our plates and went back for seconds.
And afterwards I still felt light as a feather!  No GI issues whatsoever! 
After a glass or two of bubbly it was time for bed.  Long day…zzz…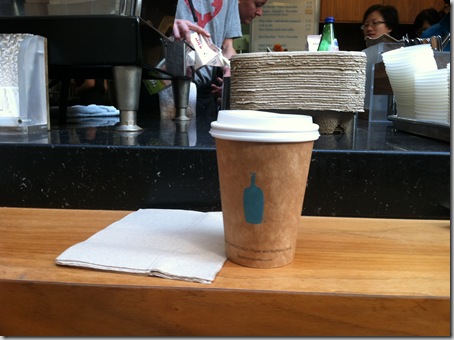 Monday morning we walked back to the Ferry Building – this time for the oh so essential Blue Bottle coffee.  Every time I wait in that line I think it's ridiculous and every time I taste my first sip I remember it's not ridiculous at all.  Their java is the. dang. best.  Kyle and I each exclaimed such at least 10 times while drinking it.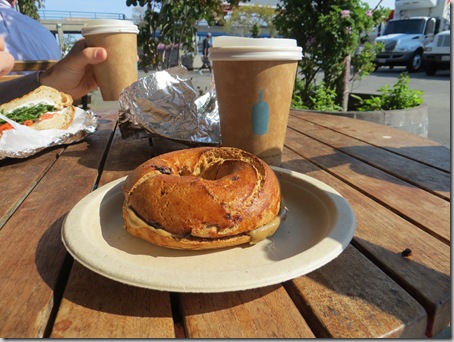 For food we went back to Mariposa.  They have a lot more than cake to offer.  Not that eating cake for breakfast would be a crime.
I couldn't decide between sweet or savory (actually I really wanted to try everything in front of me – gluten free focaccia, rolls, bagels, pretzels, etc!!) so I got a couple of things.  ADD ordering at it's finest.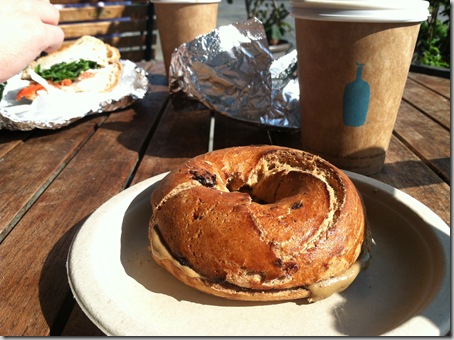 A toasted bagel for now.
And a cinnamon roll for later.
Kyle got the breakfast sandwich on a (gluten free) roll with smoked salmon, cream cheese, arugula, and onions [hold the cucumber, obvi]. 
It's the order I would have gotten myself had the cream cheese been dairy free.  Looks pretty phenom.  He said he wished it had an egg on it, but they don't have a kitchen.  Aside from that he said it was awesome. 
I have to agree.  Mariposa makes the most unbelievable GF breads!  Nobody would ever guess they didn't have wheat.  I wish I lived near them to try all their products, but I think it's probably better for my wallet that I don't.  It's already a challenge when I go to the Co-op because they carry a few of their treats…just not the bread items.  Hooray for local places doing yummy things.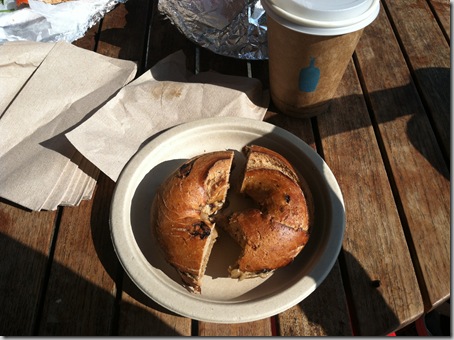 In the end, my simple cinnamon raisin bagel was actually the perfect order.  Warm and crispy and doughy with melty sunbutter.  Mmmm…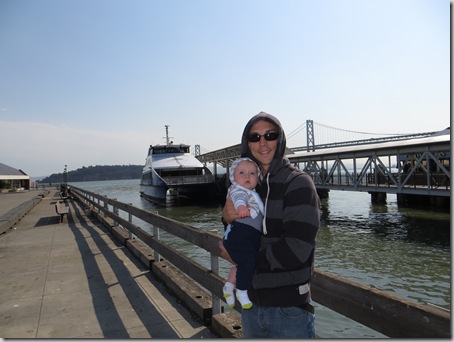 Look at all the stripes.  🙂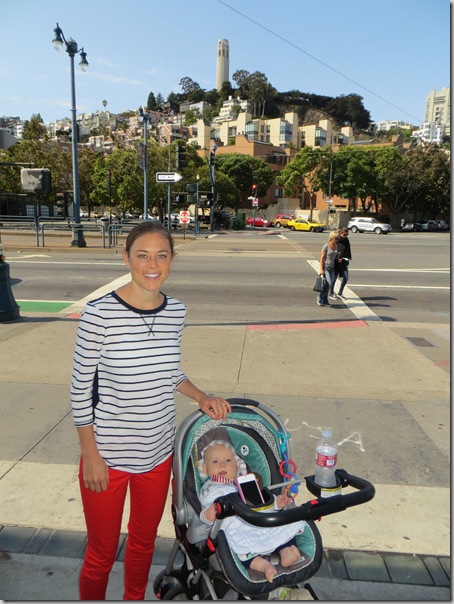 After breakfast we walked along the Piers heading up toward Fisherman's Wharf and Pier 39…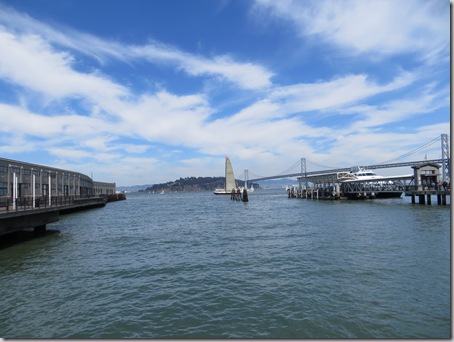 We stopped along the way so I could nurse P.  Just found a random bench – not a bad view huh?
The weather could not have been more gorgeous, too.  SF is rarely so warm and sunny and perfect, but on this particular weekend the sky was clear (fog free!) and there wasn't even much of a breeze.  Warm and lovely with scenic beauty as far as the eye could see.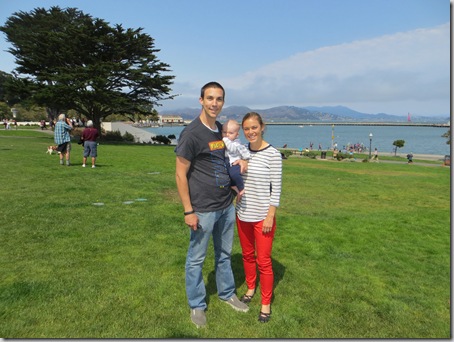 We made it to Ghirardelli square where I changed P's diaper and we took some family photos.  Can you believe it, I actually managed to NOT buy chocolate!?!  It's only because I already had a big stash back home (and a cinnamon roll tucked away for later).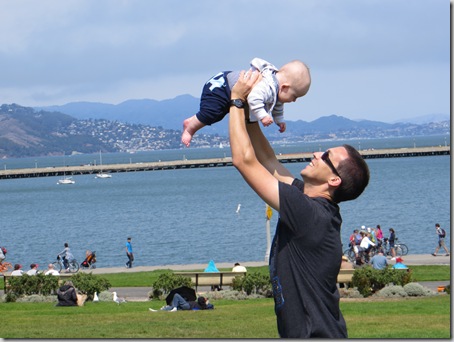 Gah!  The cuteness!  My loves.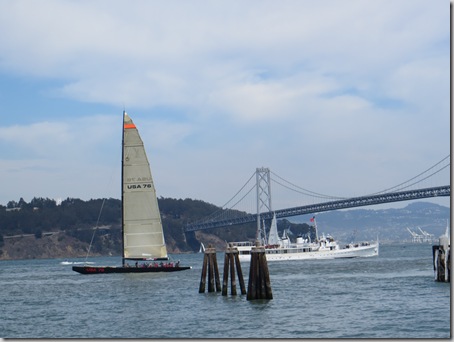 We met up with a friend for a little bit (random timing that worked in our favor), but eventually headed back so that we'd be able to watch the America's Cup races.
The time trials have been going on for the past month and it's really getting down to the wire now.  The winner of these last two teams (New Zealand vs. Italy) races against the US in the finals.  We soaked up the fancy country club ambiance (holy rich people and their yachts!) and then saw the kiwis race across the finish line.  They go fast!!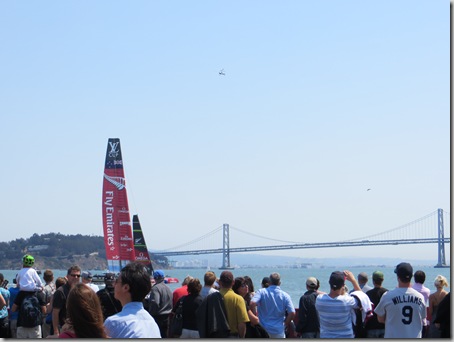 Then we decided it was time for lunch.  :)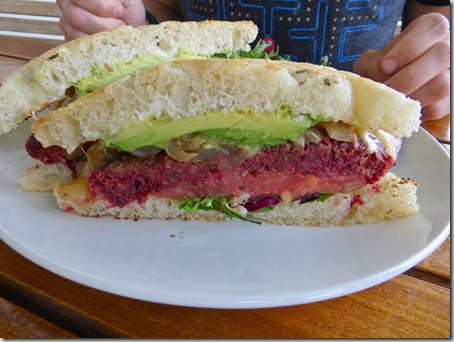 Where else would we go for our last meal in the city? 
Plant Cafe, duh. Kyle got the plant burger with cheese and avocado and I got the kale salad with tempeh.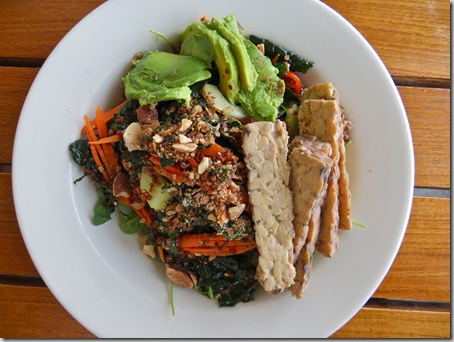 Neither of these orders were first timers for us, but you don't mess with perfection, right? 
We also split a kale, almond butter, and banana smoothie ("split" in quotations since Kyle hogged 80% of it). 
After lunch we went back to the hotel, packed up, and headed home.  I had a chocolate chip cookie from Mariposa while Kyle drove.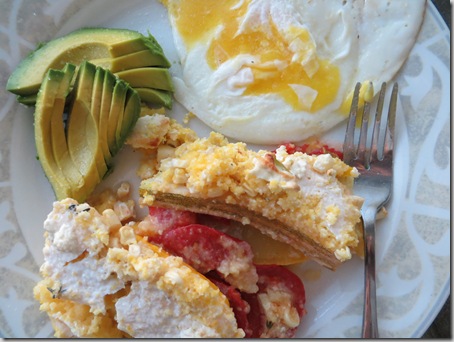 Fortunately I had a veggie casserole in the fridge so I didn't have to do any cooking for dinner.  Aside from frying an egg to pair with it and adding avo (always).
P was seconds shy of a meltdown from all the activity and lack of napping, but we got him down just in time to enjoy a few moments to ourselves. 
I had two huge slices of leftover cake for dessert.  To 3 happy years!!
Elise August 23, 2013 avocado, big salad, eggs, fish, goat cheese, kale, mariposa, nutbutter, nutmilk, plant cafe organic, potatoes, salmon, squash, sunbutter, tempeh, vegan cake, vegan cookies, veggie burger Read more >