I really really really wanted stuffed shells for dinner.  I saw Jenna's post when I was planning dinner, which is when the craving hit.  We were already planning on having lasagna, so I had everything on hand…minus the shells.
I went to 3 grocery stores.  No shells.  Anywhere.  Ugh.  After obsessing over it all day, I had no interest in anything else.  Finally I found manicotti pasta.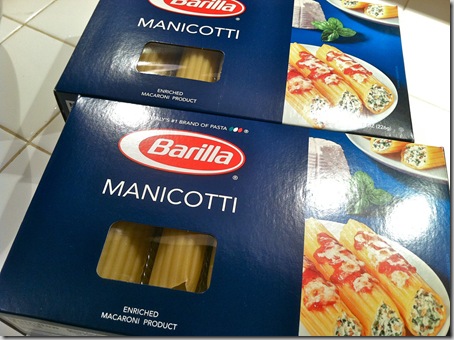 A mediocre substitute, but oh well.
There were 14 shells in total, but the stuffing was only enough for 13, so now I have one random shell saved in the pantry for who knows when.
I used this recipe for tofu "ricotta" to which I added (thawed) frozen spinach, fresh basil, fresh parsley, and plain Greek yogurt.  Sorry for the lack of measurements.  I just did it until the texture was right.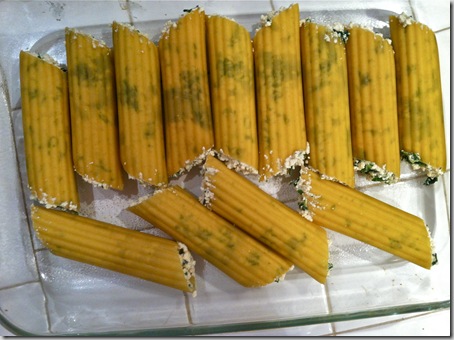 Then I got to stuffing.
Now I know why my mom always assigned this task to me and my sisters.  It.  Is.  Tedious.
Ugh.  Kyle just stood there watching me, too.  It didn't help that my stomach was growling the entire time.  And I was still gross from a 6 mile walk on the beach (don't worry, I took a shower while the manicotti was in the oven).
[Note: it didn't take that long to stuff, maybe 20 minutes, I'm just being dramatic because at the time my appetite was a hangry beast]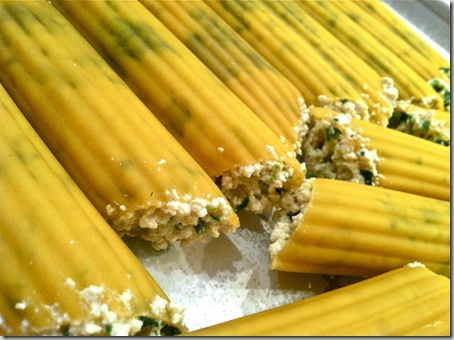 So once they were stuffed, I poured a little water over them, making sure to get the shells all wet.
This is how my mom told me to do it (since you can't really precook manicotti because that would make them impossible to stuff).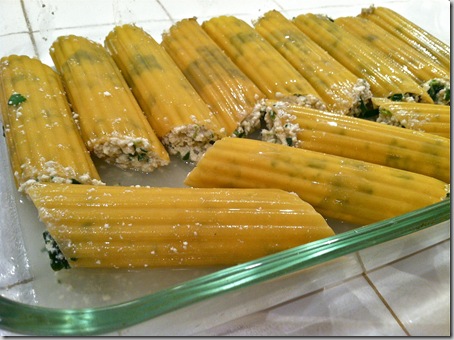 See?  There was ~1 cm of water at the bottom.  The pasta soaks it up as it bakes.  But of course I still added the marinara on top.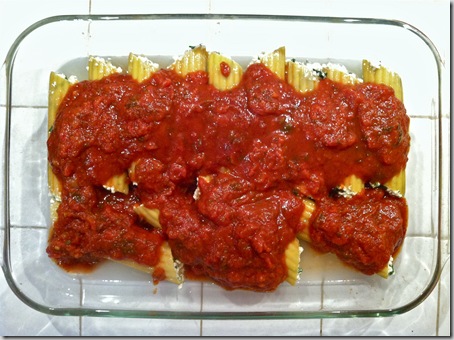 1 whole jar, poured over the manicotti, spread to coat everything.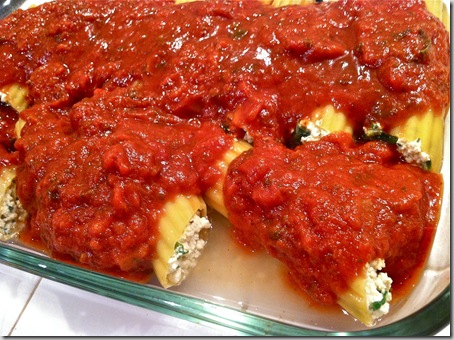 And into the oven it went.  For 40 minutes at 375 degrees.
While I showered, Kyle set the table.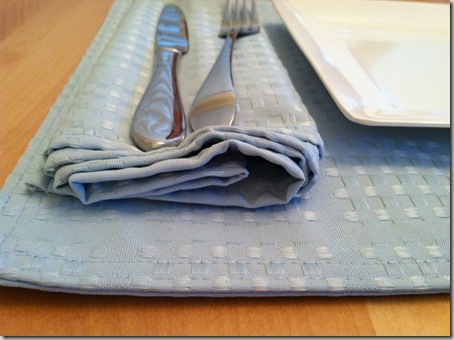 Watch out – we are getting fancy up in here!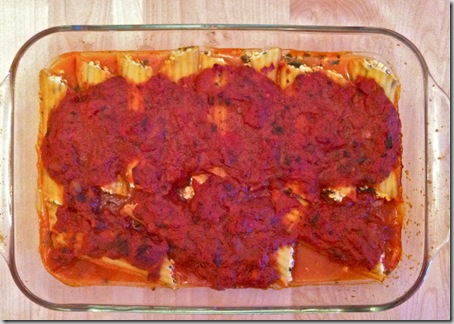 Voila!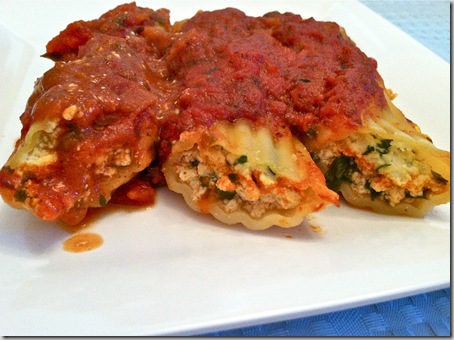 I started with three shells, but it was SOOOO good, I couldn't possibly stop there.  I had 1 more.  And then another 1 more.
I really wish I had doubled this because we were supposed to have leftovers for the work week.
We had four leftover, which I tupperwared up before we could change our minds and have third helpings.  And then Kyle got out some bread and wiped the pyrex clean.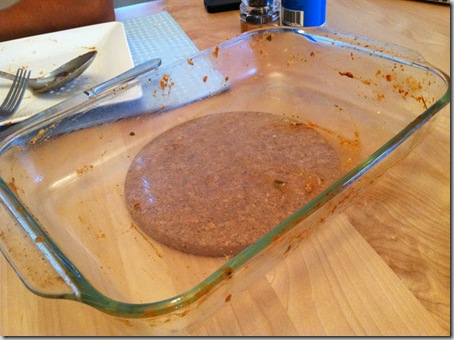 He wants a dog to clean up scraps, but I don't think he realizes that it would be competition for him.
Here's your shopping list for this dish:
1 jar organic marinara sauce
14 manicotti shells
1 package extra firm tofu
tahini
nutritional yeast
organic spinach (fresh or frozen is fine)
basil
parsley
onion powder
garlic powder
plain yogurt (I used Greek, but sub based on what your dietary preferences are)
Enjoy!