Did anyone else see this recipe on the back of this month's Whole Foods coupon booklet?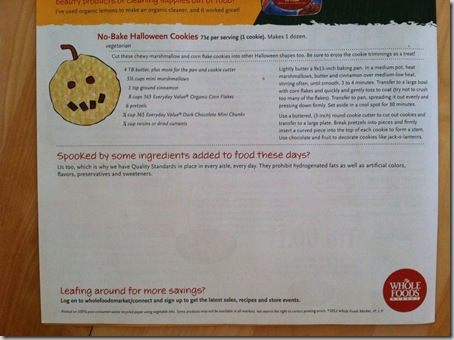 These appealed to me for a few reasons:
1. They are no-bake (aka quick and effortless)
2. They are seasonal (always a plus)
3. They call for marshmallows (I've had smores on the brain for a few months) 4. They use ingredients I had on hand (sorta)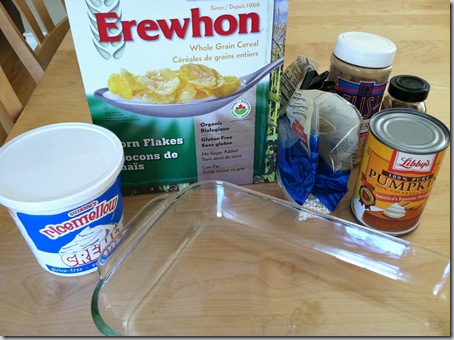 I made a lot of substitutions.  Like adding pumpkin puree (for more orange and nutrition).  And using more than one cereal (GF cornflakes by Erewhon and puffed millet by Arrowhead Mills).  And nixing the butter (a mistake I wouldn't recommend). 
I also used this vegan, gluten free, non GMO ricemellow creme by Suzanne's Specialties.  I'm a big fan of this stuff, both plain and in recipes.  And in smores.  Anyway, it's sweet enough that you don't need any sugar in the bars plus it's nearly melted already, which cuts down on the "cooking" time even more.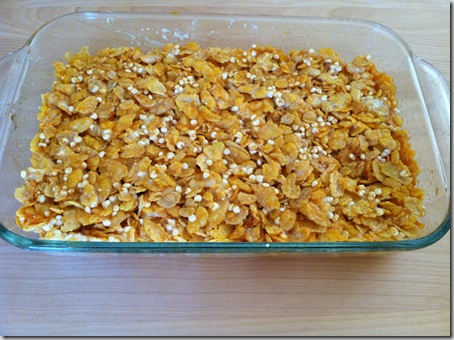 I didn't even use a separate bowl.  I lazily mixed everything together in this pyrex pan (that I first sprayed with non-stick). 
Here's what I put into the bars…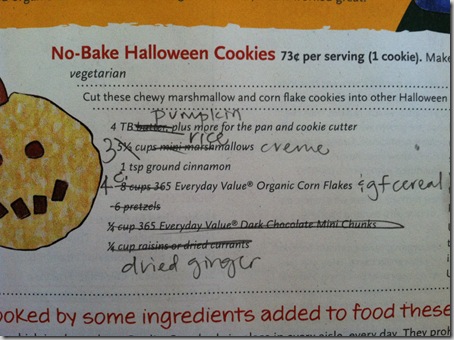 In case you can't read that, it's:
4 tbsp pumpkin puree
3 cups ricemellow creme
1 tsp ground cinnamon
4 cups cereal (I used mostly corn flakes with ~ 1/4 cup puffed millet)
pinch of dried ginger
3 tbsp coconut oil/vegan butter (I didn't use this, but I wish I had since I know it would help the bars hold together better)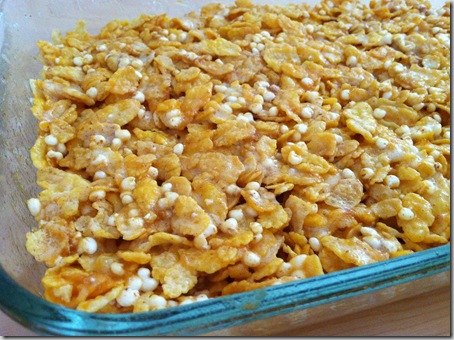 I added everything to the pan, microwaved it for 30 seconds, stirred it until it was nice and mixed with sticky ricemellow coating it all. 
Then I pressed it down into the pan and let it set in the fridge for an hour or so. 
While it didn't cut into a bar very neatly (as I was hoping it would), it tasted delish.  I think if I had used the butter I could have rolled them into cute little balls and they'd look like real pumpkins, maybe with some carob chip or raisin decorations like facial features.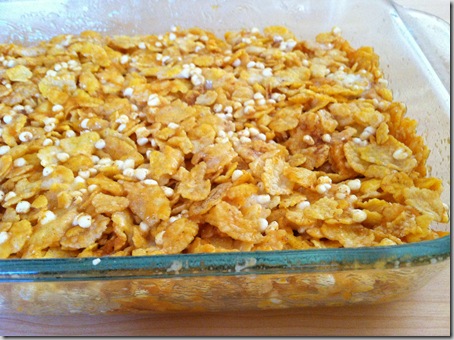 Tweaks I want to try: adding in peanut butter/almond butter/coconut butter/sunflower butter, making it with molasses and candied ginger, using other cereals, etc.