A few weeks ago, I had this big 'ol squash just burning a hole in my pocket (countertop?).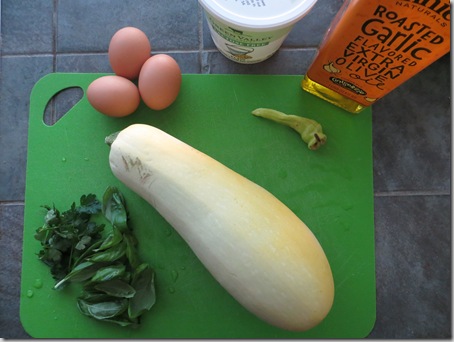 I love how everyone seems to have the "problem" of an abundance of zucchini during the summer months…I bet google's search for zucchini recipes is at an all time high right now.
I don't have any growing in my own garden, but Kyle's work shop is basically a warehouse surrounded by a bunch of farm land so it's pretty much my personal U-pick right now.  Since Kyle hates zucchini (weirdo) it was especially nice of him to bring me home this summer squash.  Then I got gifted 2 more massive ones from a coworker's garden.  It's raining squash!  So yeah, I've been doing lots of my own recipe googling.
Summer Squash Frittata [vegetarian, FODMAPs friendly, gluten free]
Ingredients:
2 small zucchinis, thinly sliced (or 1 large zucchini)
6 oz plain lactose free yogurt (I used Green Valley organic)
4 eggs
2 tbsp garlic infused olive oil
1 serrano pepper, de-seeded and minced
handful fresh parsley, finely chopped
handful fresh basil, finely chopped
salt & pepper (to taste)
Directions:
Using an oven safe pan, sauté zucchini in oil, stirring as needed, until squash has cooked and looks almost translucent.  Add peppers and turn to low heat.
Meanwhile whip the eggs and combine with yogurt and fresh chopped herbs, salt & pepper.
Pour the egg yogurt mixture over the zucchini, spreading it out with a spoon so that it evenly covers the entire top of the squash.
Turn the oven's heat down to the lowest setting (no stirring, no touching) until the edges have fully cooked and the center is nearly set (~15 minutes).  Then transfer to the oven at 450 degrees F for ~7-10 minutes or until the top has fully cooked.  Feel free to broil for the last few minutes to get a nice golden top.
PACMAN frittata.   🙂
Here's the zoomed in series of each step along the way.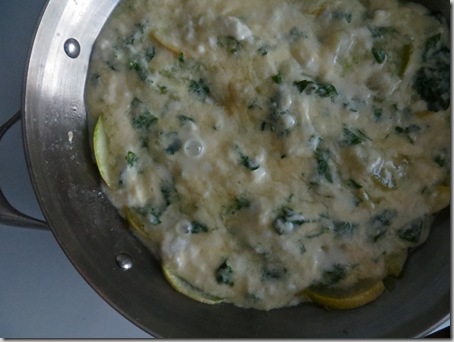 Just poured in.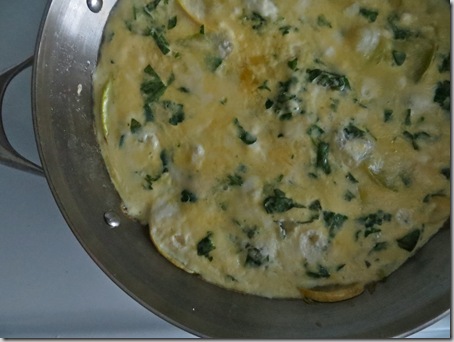 Just before the oven.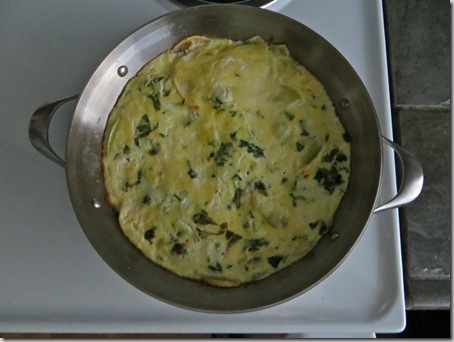 All done!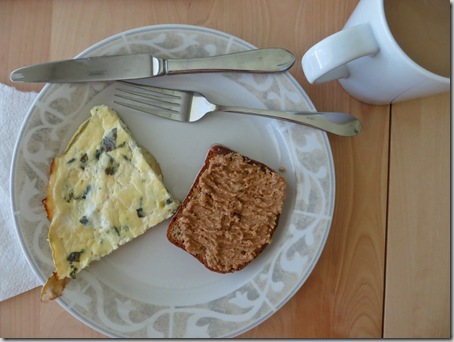 This was a yummy one!  Creamy and tangy thanks to the plain yogurt.  And how good does it feel starting the day out with a meal packed with veggies?  I mean if that doesn't set you off on the right foot, what else is there?
Notes: Any squash will do, or you could try adding/swapping in other veggies, like spinach, kale, corn, or tomatoes.
Truth be told, I'm not sure if this was a zucchini or some other kind of squash.  I guess it doesn't matter.  At least I know it's organic, unlike the weird devil eggs that popped up in our yard in Santa Monica.  I never did figure out what those things were…
[Reading back on posts from a year ago makes me wonder how I ever lived without this guy.]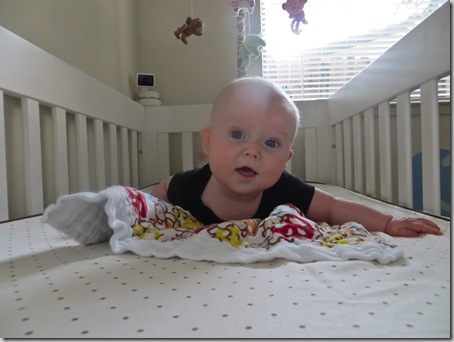 And since I'm on a recipe posting roll…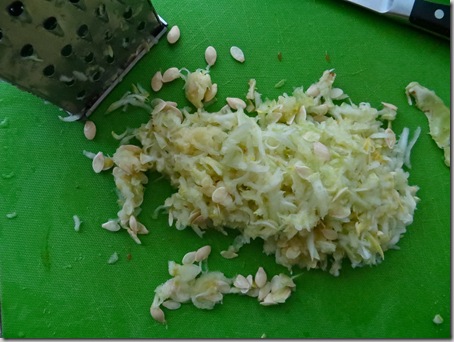 I may as well share what I did with the other zucchinis!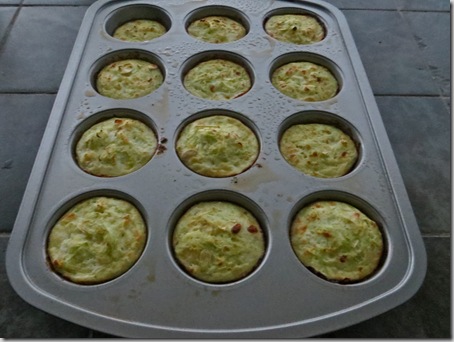 Two ingredient Zucchini Muffins [vegetarian, FODMAPs friendly, grain free, lactose/dairy free, gluten free]
Ingredients:
2 1/2 – 3 cups squash, shredded / grated
4 eggs
salt [just a pinch]
Directions:
Combine squash and eggs.  Pour into greased muffin tin.
Bake for 30 minutes at 350 degrees F.  Broil for the last 2-4 minutes for a golden top.
Notes: These are super basic and that's on purpose.  This way you can make them sweet or savory as you eat them…serve with a smear of nut butter, or a roasted cherry tomato compote, or some goat cheese, or nothing at all!
They're a perfectly portable snack.  Or you could slap a few between some slices of bread and call it lunch.  Whatever!
I'm envisioning so many ways to tweak them already…adding almond flour, some fresh herbs, a bit of nutritional yeast…I could go on and on with this brainstorming session.
Instead I'll cut it short and post a teaser of another recipe to come…