I (semi) promised my G-ma that I'd post about our baby shower (although you'll notice I made no such promise about how timely the post would be).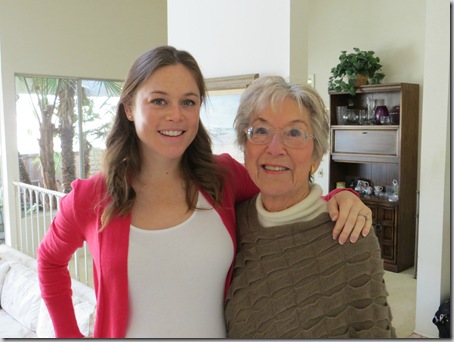 [Me + G-ma]
In truth, I didn't take my camera because I was just going to soak up all the fun and family time.  But my aunt, cousins, sister, and mom did SUCH an outstanding job with everything – from the decor to the food – that I feel compelled to share.  I'll include a vegan/gluten free dessert recipe, too (so it's worth your while to read).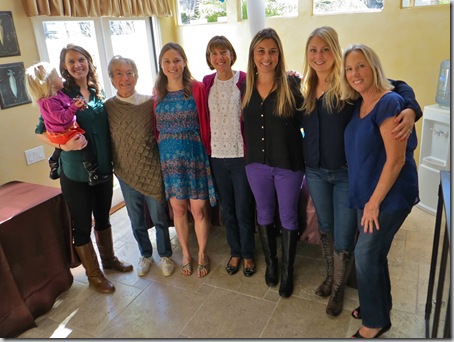 iPhone photos will have to do 🙂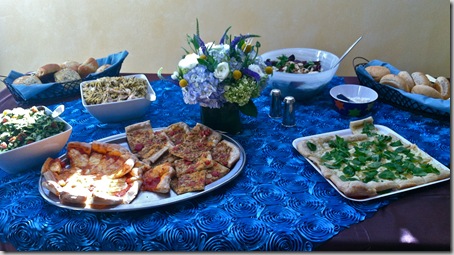 As you can see, there was a nice spread, with plenty of vegan/vegetarian options.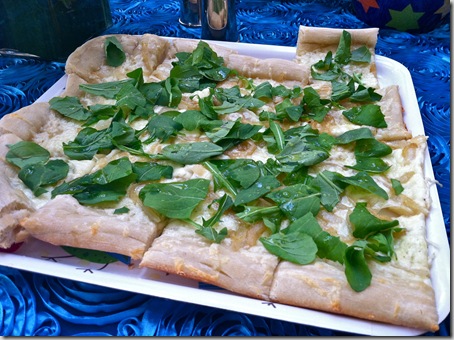 This pizza had fontina cheese, grilled onions, and arugula.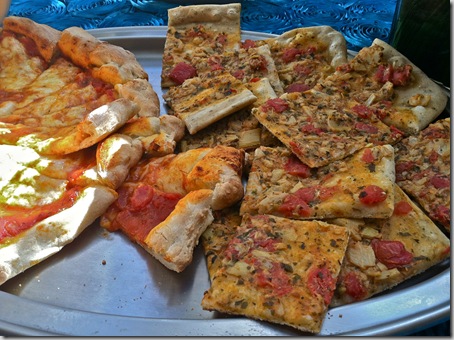 The pizza on the left was your basic mozzarella cheese pizza, while the pizza on the right was the vegan option.  My cousin used an artichoke and tomato based spread, so it was more like a flatbread.  It was really yummy, so I may have to copy her technique in the future.
Someone enjoyed slicing! [Hey Marie, who are you texting back there?]
Moving on to the pasta courses.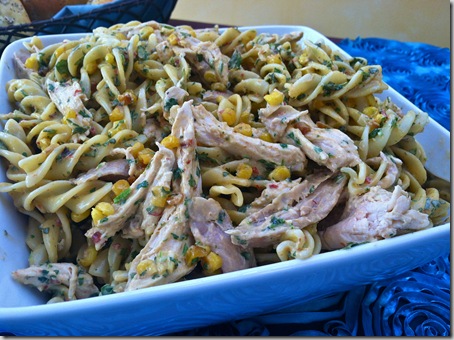 Some kind of chicken fusilli pasta salad.  I thought it looked pretty good even though it had chicken.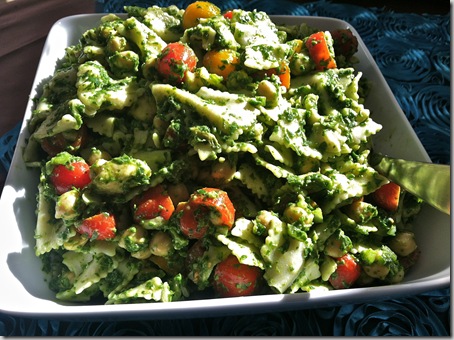 Bowtie pasta with lemon basil pesto, chickpeas, and tomatoes.  This gets a thumbs up from me!
Salad with spring greens, pears, dried currants, crushed walnuts, and Girard's white balsamic dressing (goat cheese on the side for the lactose free folk).  This was one of my favorites of the day.
Before I get to the desserts, I should probably mention the drinks and apps.
I'm skipping the alcoholic stuff that left me drooling (I am demanding someone bring me a mimosa in the recovery room after labor ok?? <—just humor me, I'm obviously not serious).
The appetizer scene was everything you'd expect.  Sabra hummus (roasted red pepper and classic) with pita chips.  Trail mix (that Ivy picked all the M&M's out of), and roasted nuts.  And veggies with ranch dip (the dairy free one was made with Follow Your Heart vegan sour cream).
As for the bevvy you see above (almost the highlight of the day, second to the amazing love and generosity of my family members), that would be a home-made ginger limeade.  My cousin gave me a verbal recipe, which included brewing chunks of fresh ginger in a pot of water, straining them, and combining the (cooled) ginger water with limeade.  She brought a few bottles and I really could have drank all of them myself.  So so good.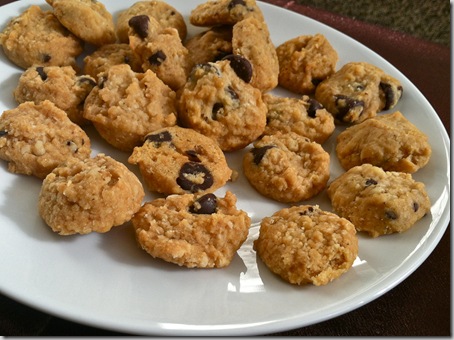 Now back to the desserts.
I didn't try any of the above (cookies, cheesecake, & peanut butter fudge), because of these vegan and gluten free brownies…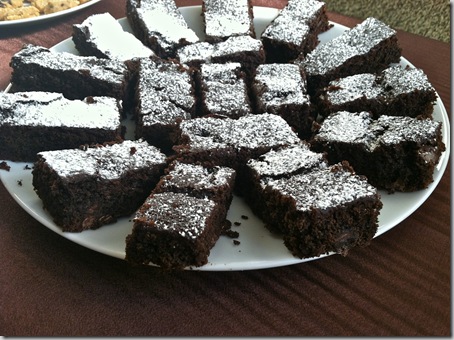 Many thanks to Gwyneth Paltrow for her Fudgy Chocolate Brownies!
The recipe is from her book My Father's Daughter: Delicious, Easy Recipes Celebrating Family & Togetherness which I've already discussed here.
Gwyneth Paltrow's Fudgy Chocolate Brownies [vegan, gluten free*]
Ingredients:
2 cups

white spelt flour

oat flour (certified GF)
1 cup cocoa powder
1 1/2 tablespoons baking powder
1 cup maple syrup
1/2 cup vegetable oil
1/2 cup

brown rice syrup

agave nectar
1/2 cup strong brewed coffee
1/2 cup

soymilk

almond milk
1 tablespoon vanilla extract
2 tablespoons oil
1 cup semisweet chocolate chips, divided
Directions:
Heat oven to 350°.
Sift flour, cocoa powder, baking powder and a pinch of salt into a bowl.
Whisk maple syrup, oil, brown rice syrup, coffee, soymilk and vanilla in another bowl.
Fold wet ingredients into dry ingredients.
Pour half the batter into a greased 9″ x 11″ baking dish; top with half the chips.
Pour remaining batter into dish and top with remaining chips.
Bake until knife comes out with crumbs adhering to it (30 minutes).  Let cool.
My mom topped them off with powdered sugar just because.
*spelt flour is not considered GF in the US, so use certified GF oat flour
I know I've already said the salad and the ginger limeade were my top choices for the day, but these were also totally fabulous too.  Slightly delicate to cut, but definitely melt in your mouth soft – almost cake-like fluffy.  I took home a few leftovers and have been enjoying them ever since.  You need milk with them because they are the kind of dessert that is so moist (cringe) that it sticks to the roof of your mouth.  I'll be sad when they're gone.
And now some extra photos from the day, just for fun.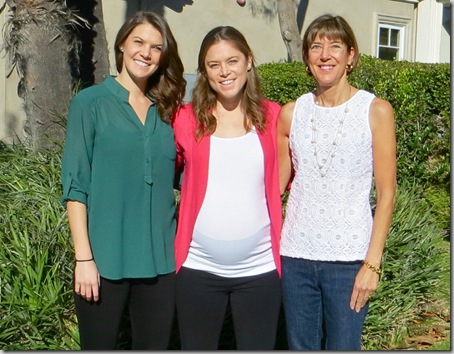 [Marie + Me + Mom, before the shower when we were at my G-ma's and I was in comfy clothes]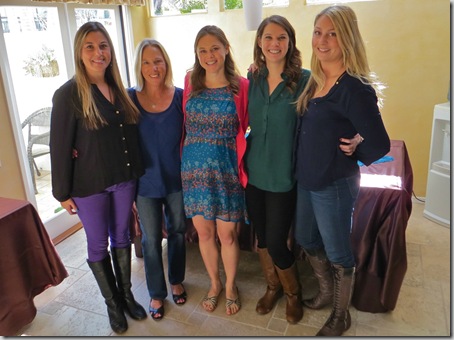 [Me + my cousins, aunt, & sister, the shower hostesses]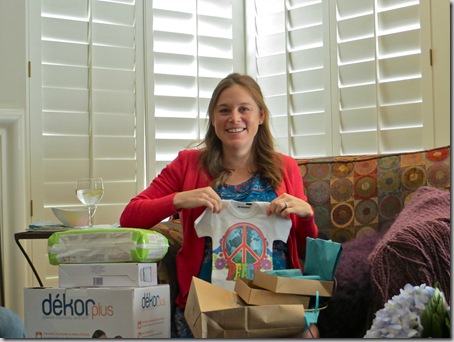 [For my baby hippie!]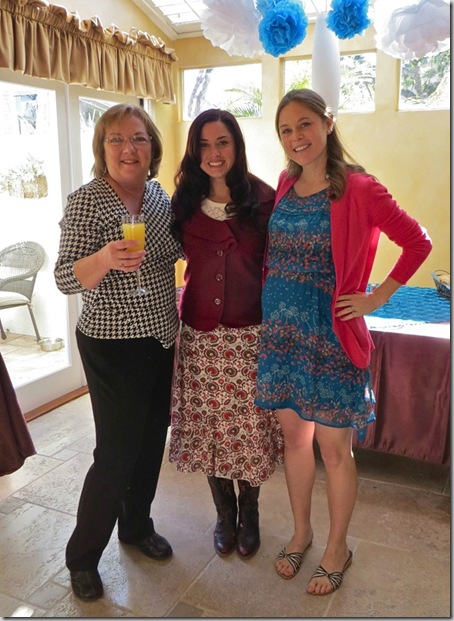 [Kyle's mom + sister]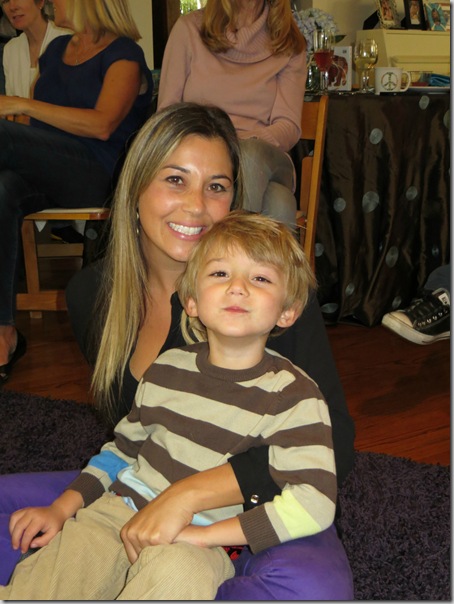 [Lesley + Finn (look how much he's grown up from his first blog appearance!)]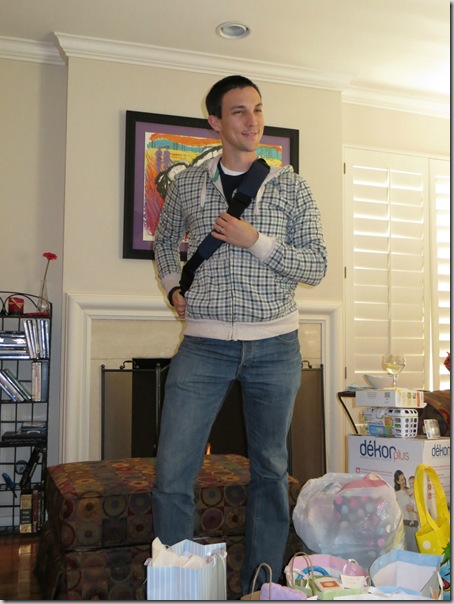 ["Modeling" the diaper dude]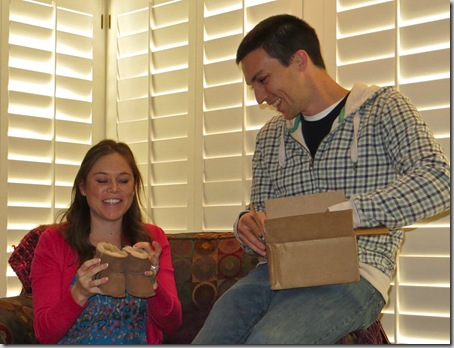 [Baby Uggs from my sister in Australia – cuteness overload!]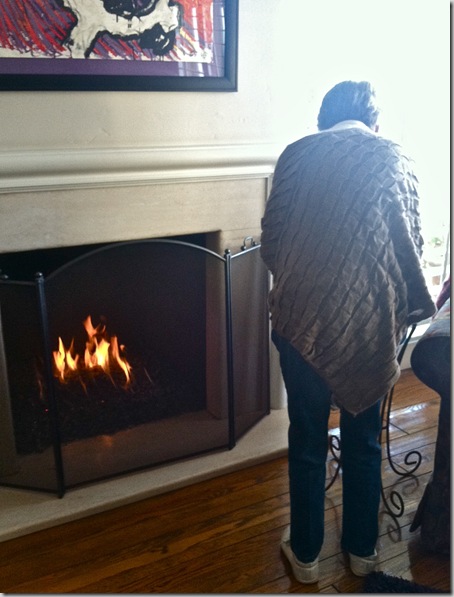 [My G-ma's reaction when I asked her to pose for a photo]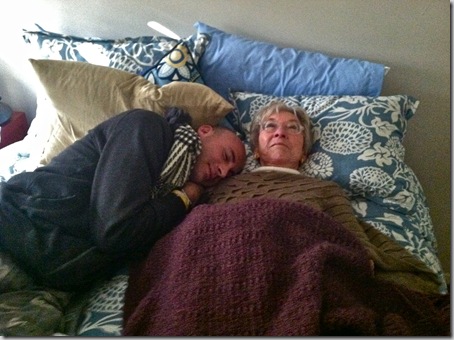 [And how I'm getting my revenge 🙂 – hope you got a restful snooze G-ma!!]
Somebody pinch me.  This is all too much.