After another LOOOOONG morning at the Natural Foods Expo, lunchtime rolled around and Kyle and I were beyond tired (read: ready to throw in the towel).  We came, we saw, we conquered, and we were exhausted. 
Rather than return for another 5 hours of crowds and chaos, we decided that we had pretty much enjoyed everything Anaheim had to offer.  Game, set, match.
With grumbling tummies (I don't know how), we said goodbye to the Convention Center and set out to find a real meal.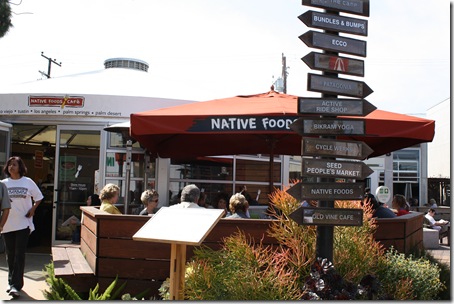 A quick search on my blackberry revealed we weren't too far away from the Costa Mesa Native Foods.  SWEET!
I ordered the Scorpion Burger.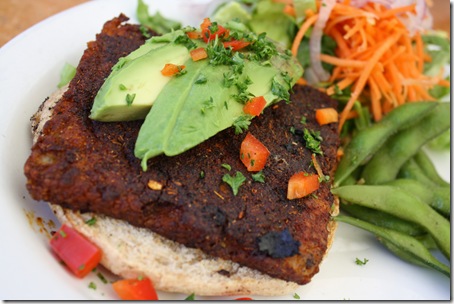 This sando is made with Chef Tanya's original homemade tempeh blackened with chipotle sauce and topped with lettuce, carrots, avocado and onions.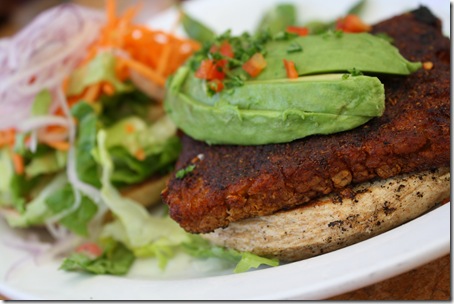 It was much spicier than I remembered, but I enjoyed the kick in the pants mouth.  Chef Tanya should really package the rub on this…it might even convince me to make my own tempeh dishes at home.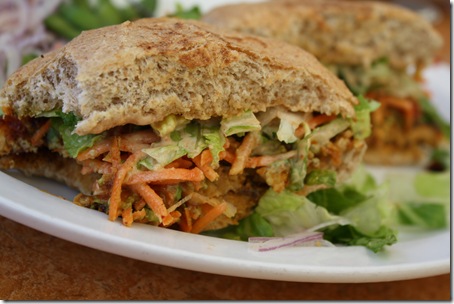 Here's a shot of my sammie doing the splits (with one bite missing).  I licked my plate (and fingers) clean.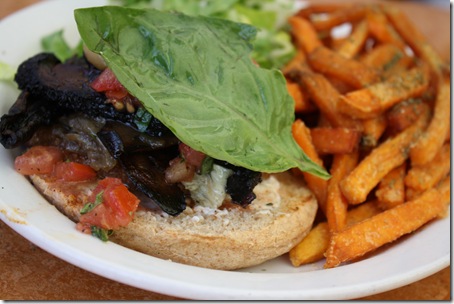 Kyle got the Portobello and Sausage Burger with juicy grilled portobellos, homemade seitan sausage, pomodoro, caramelized onions, sweet roasted garlic, creamy pumpkin seed pesto and mayo.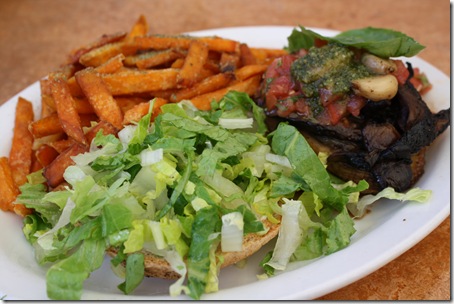 He enjoyed it very very much, along with the side of sweet potato fries.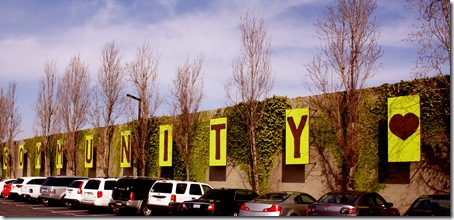 After a few minutes of browsing the cute shops surrounding the restaurant (dubbed crazy hippie spots by Kyle), we headed back to my G-ma's to pack up our stuff and head back to Santa Monica.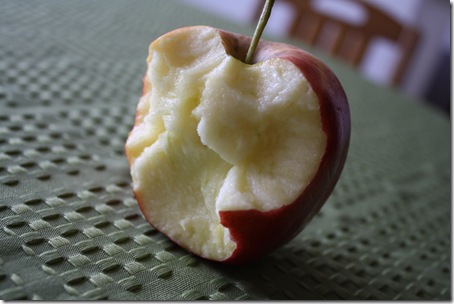 After two days straight of snacking on packaged samples, I was craving fresh fruit like nobody's business, so I practically bee-lined for the fruit basket upon entering the apartment. 
While I got to work uploading photos and unpacking, I decided to sample a new VitaTop flavor.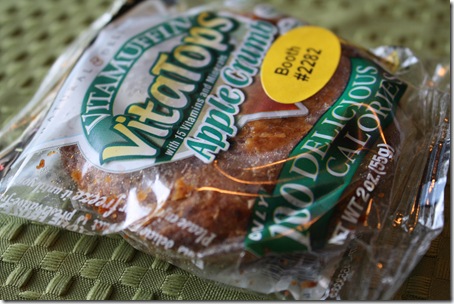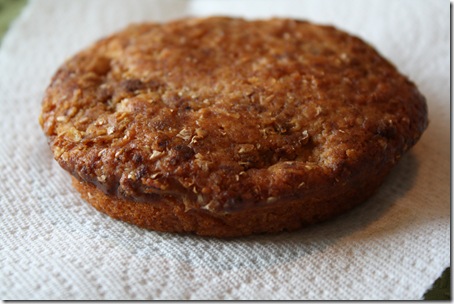 It smelled like Christmas when I opened it.  Must be the cinnamon.  My family has a tradition of making cinnamon coffee cake on Christmas morning, so it was sensory nostalgia from the get go.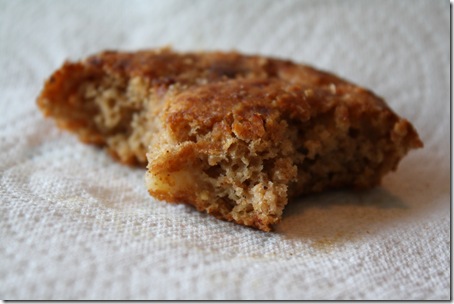 I heated it in the microwave for a few seconds to get it warm, just like real coffee cake.  Mmmm…
It wasn't quite like a true muffin top, because it was more airy and light.  Muffin tops (in my opinion) are the more dense and less bready portion of the muffin (so this was more like the muffin bottom).
The first ingredient is water (weird?), and from there on it lists whole wheat flour, apples, natural chicory fiber (inulin), applesauce, etc.  While it's not vegan (it has trace egg whites further down on the list), the ingredients are not terrible.  There are more than I typically like, but it's healthier than coffee cake if you are going to have a breakfast treat.  And while I rarely take note of calories or those kinds of stats, you should know that the entire muffin has a mere 100 calories with negligible amounts of fat.  In other words, you I could eat a dozen no problem.  I would definitely put them in the "diet" category of products (not that there's anything wrong with that, I'm just calling it like I see it).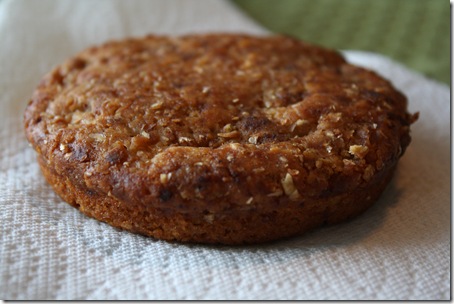 By the way does anyone else think of Seinfeld when they think of muffin tops?
So yeah, the Vita was my pre-dinner snack.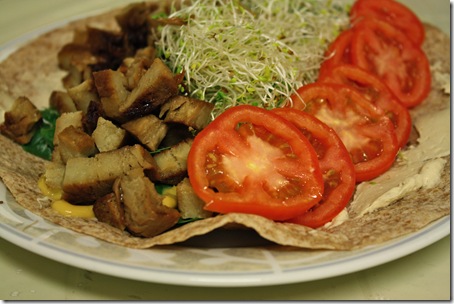 And then eventually, I made a wrap.
Ingredients:
Alvarado Street Bakery sprouted tortilla
Earthbound Farms organic spinach
organic tomatoes
organic sprouts
seitan
Pita Pal hummus
honey mustard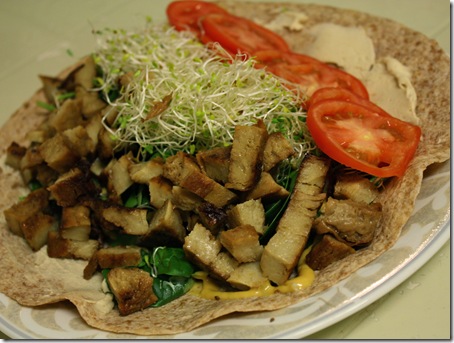 So big!  Seitan overload.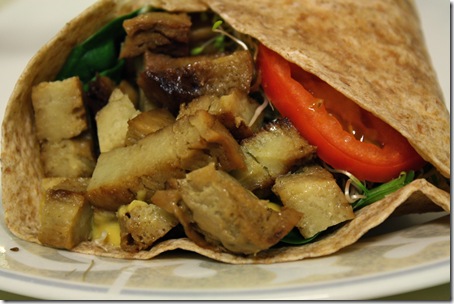 I was far too ambitious with this wrap for sure.  It ended up being a fork and knife kind of meal.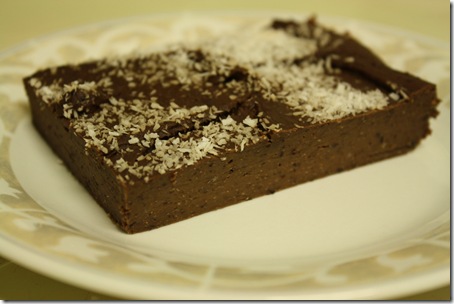 I had a big hunk of brownie for dessert – a chocolate deception brownie.  And once my stomach was satisfied, I allowed my body to succumb to the waves of somnolence that I'd been fighting all day.  Zzzzz.
Elise March 14, 2011 Alvarado Street bread, chocolate, coconut, hummus, native foods, seitan, tempeh, tortilla wrap, vegan cake, VitaTops Read more >