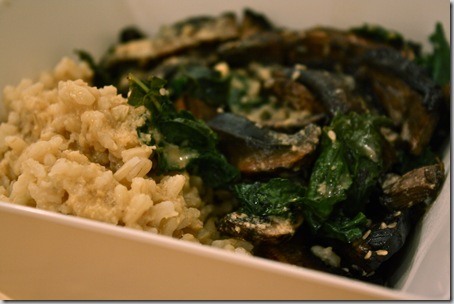 Here's the deal with that Portobello & Kale Sauté with Peanut Ginger Rice…
It was really good, but totally jacked up my GI tract.  Would I eat it again?  Ugh, I wish I could say no, but I know I will.  The leftovers are in the fridge just waiting for me to give in to my moment of weakness.  Sure I could offer them up to Kyle (he loved the meal as well and has been in a huge kale craving phase lately), but I'm kinda selfish when it comes to certain things (like leftovers).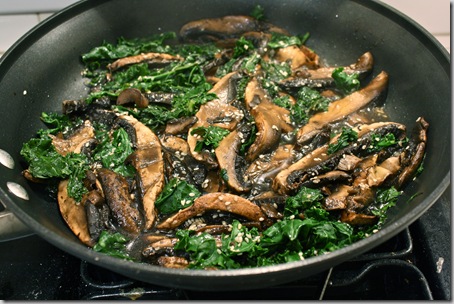 The whole thing was inspired by Kathy's spicy peanut portobella kale rice bowl.  And I didn't even set out to alter it at all, really, but then I accidentally tweaked the bejeezus out of it, as per usual, thereby transforming it into a completely different dish.  You'd think if I were going to alter it, I'd at least reduce some of the FODMAPs, but I was really in the mood for kale.  And mushrooms.  And my self control is dwindling as these last few weeks of pregnancy drag on [gotta play the pregnancy card while I still can!]. 
So anyway.  It all started with the sauce.  This peanut ginger sauce is amazing (I should have doubled the recipe…so if you make it, double it and thank me later).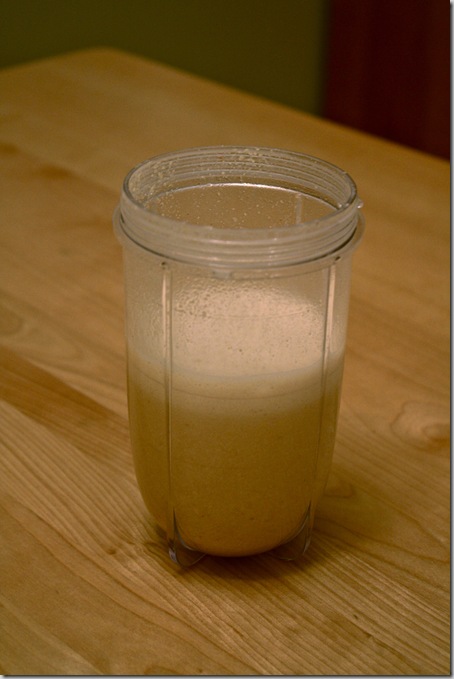 Peanut Ginger Sauce
Ingredients:
3 tbsp roasted peanuts
1/2 cup water
2 tbsp brown rice vinegar
1 tbsp tahini
1 tbsp tamari
1 tbsp ginger honey (new favorite ingredient!!!)
1 tsp olive oil
1/2 tsp garlic powder
pinch cayenne pepper
pinch salt
pinch black pepper
Directions:
Soak peanuts in water (for at least >1 hour).  Then blend the two together until they are as combined as possible (use magic bullet, blender, food processor, whatever). 
Add the rest of the ingredients and pulse again until combined.  The sauce will be runny.  Set aside until later.  Don't worry if it separates, a quick shake is all it needs.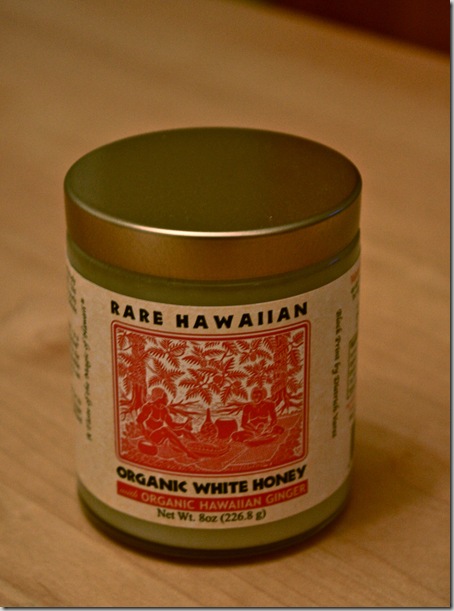 Notes:
I used unsalted roasted peanuts.  I didn't have peanut butter on hand (we're in an almond butter rotation) but you could also sub 2 tbsp creamy peanut butter. 
I also used the organic white honey with ginger you see above.  It was a gift from Hawaii from my in-laws that I only just tried.  Holy %@&* it is delicious.  Like seriously, I want to eat it straight from the jar like Pooh.  If you don't have this amazingness on your hands though, just combine ~1 tbsp plain honey, agave, maple syrup or brown rice syrup with ~1/2-1 tsp ginger powder.
After you finish the sauce, start cooking some kind of grain.  It can be whatever you want(rice, quinoa, millet, couscous, farro, etc.).  I made brown rice for Kyle (but used quinoa for mine since we already had some leftover).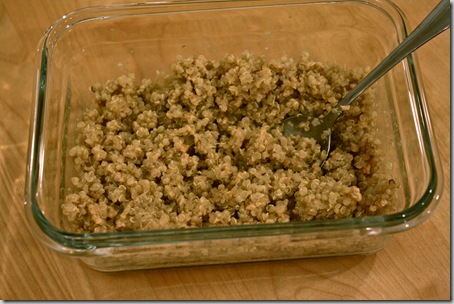 The sauce yields enough for about 3 cups of cooked grains.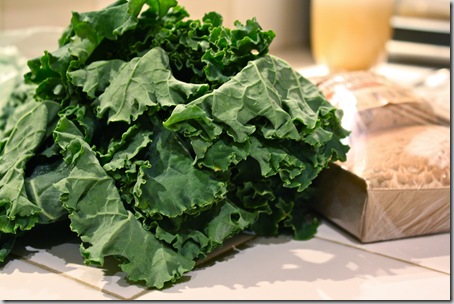 Next up is the sauté part of the dish.
Portobello & Kale Sauté
Ingredients:
1 bunch kale (I used ~3/4 of it a HUGE bunch)
4 large portobello mushrooms
1-2 tbsp olive oil
1-2 tbsp tamari
1 tsp sesame seeds
Directions:
Wash and de-stem the kale, then rip into smaller pieces.  Wash the mushrooms (you can break off or chop off the bottom of the stem if you want) and slice into strips.
Heat pan with oil, add mushrooms and let them cook a few minutes until they start to soften.  Then add the ripped up kale.  Place a lid on the top of the pan.  Once they've cooked for a bit and the kale has wilted down, add the tamari.  Stir the kale and mushroom mix so the tamari gets distributed evenly.  Leave the lid of the pan off and let the liquid reduce.  Add the sesame seeds at the end.
The final step is putting it all together.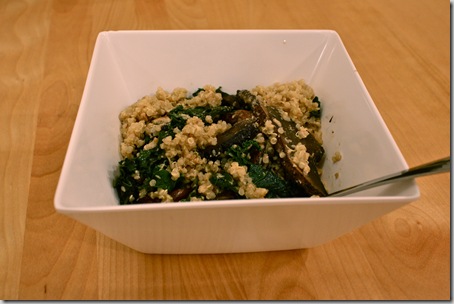 Mix most of the peanut ginger sauce into the rice (or whatever grain), reserving some to pour over the entire dish.
His brown rice on the left, my quinoa on the right.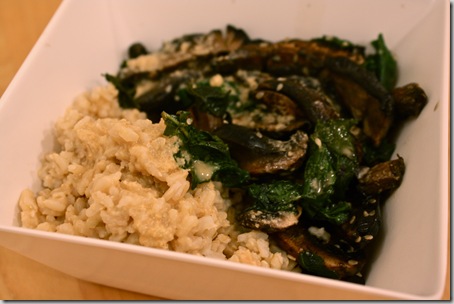 Then pile the mushroom & kale on top.  If you use a large spoon, you can get any extra tamari that's still in the pan.  Then pour the rest of the peanut ginger sauce over the whole thing and dig in.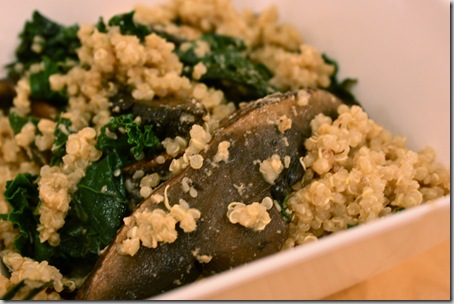 I recommend serving in a bowl so you don't lose any sauce. 🙂