Monday
Tuesday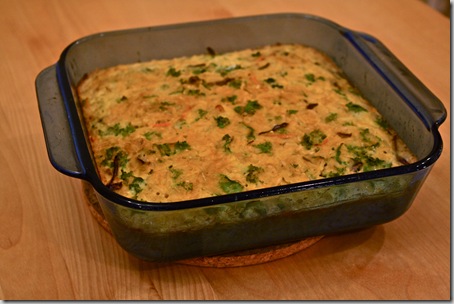 Quinoa quiche.  It's a cheap and easy staple.  Not much else to say.
I wish I could tell you this provided leftovers…but we are oinkers.
Wednesday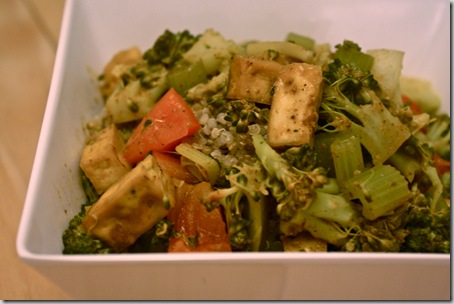 Curry stir fry with quinoa.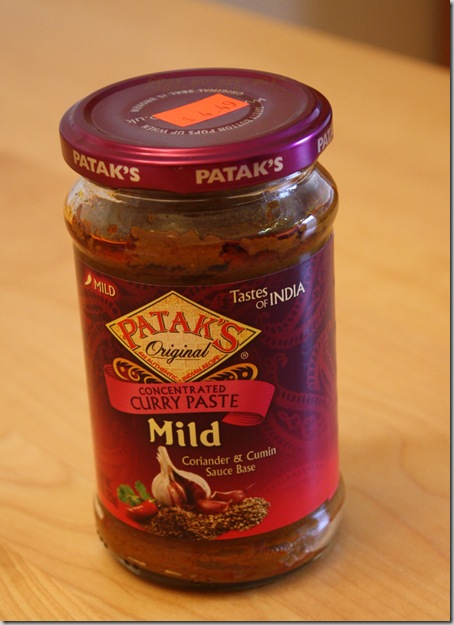 This was the star of the show.  I've been working on actually going through our pantry and (gasp) using all the stuff I've been hoarding since the 2000s.
I got this jar of Patak's mild curry paste the same time (and place) I got these noodles.  Now that I just googled the company, I see they have a ton of pastes and sauces that all look really yummy.  I have nothing but positive stuff to report about this one.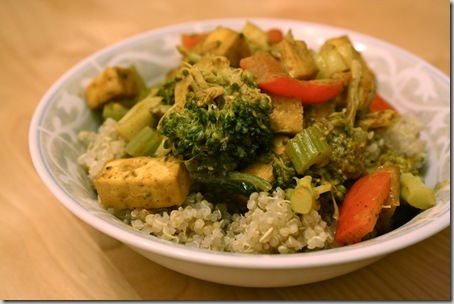 Here's what I did (so simple) to make this loveliness.
First I baked tofu that had been pressed for > 24 hours.  It was as simple as it gets (since I knew I was going to use it in a stir fry).  I cubed it, added olive oil and salt, and baked it for 35 minutes at 350 degrees.
For the veggie portion I chopped 1 red bell pepper, 2 stalks of celery, and 1 medium head of broccoli (plus most of the stem – I don't like wasting that part).  I steamed it in ~1/4 cup water first (with the lid on) and once the broccoli got wilty and the rest of the veg looked cooked, I added in the paste.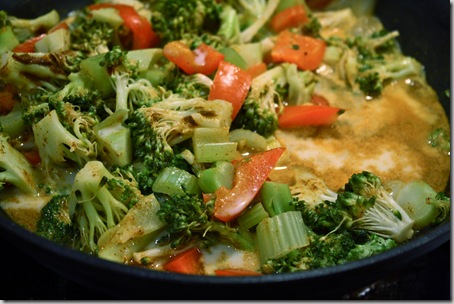 I combined ~3 tbsp of mild curry paste with ~1/2 cup plain unsweetened almond milk.  I used a spoon to combine them forming a milky curry slurry, which I then mixed throughout the stir fry.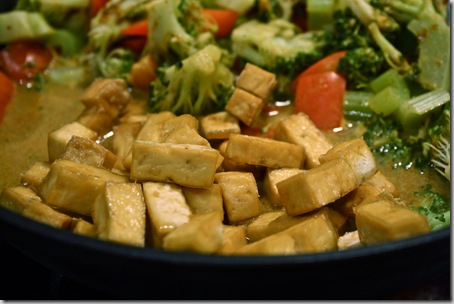 Then I added the tofu.
Once the sauce thickened and reduced a bit I served it over quinoa.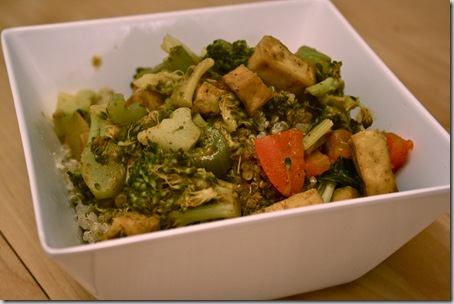 Dinner is served (as well as lunch for the next day).
Thursday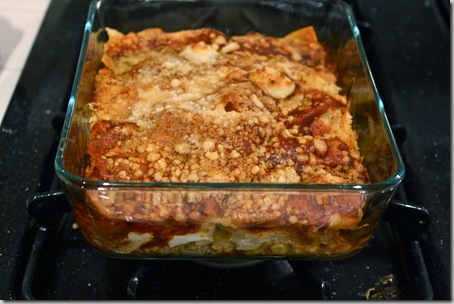 I didn't have a plan for this night's dinner, but I ended up throwing together two different meals.  I felt like crap all day and was really struggling to get something on the table, but in the end I made Kyle and enchilada casserole type thing with all sorts of odds and ends we had left in the fridge.
He declared it amazing and wanted me to remember it to add to the rotation.  Ummm, oops?  I didn't keep track of any sort of recipe whatsoever.
It was layered like so:
1) Olive oil.
2) Corn tortillas (ripped up to cover the bottom of the pan).
3) Enchilada sauce.
4) TVP (rehydrated with water and then spiced with onion powder, garlic powder, paprika, cumin, and cayenne pepper).
5) Corn.
6) Risotto mixed with plain 2% greek yogurt.
7) Corn tortilla (ripped up same as before).
8) Enchilada sauce.
9) Parmesan cheese crumbles.
I baked it for ~20 minutes at 350 degrees.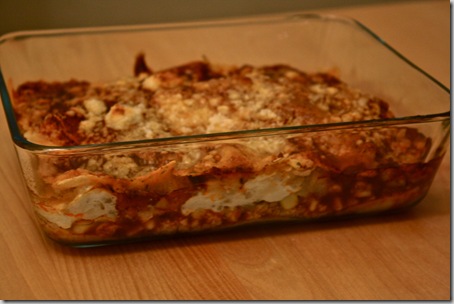 Total mish mash.  Fridge scraping at it's finest.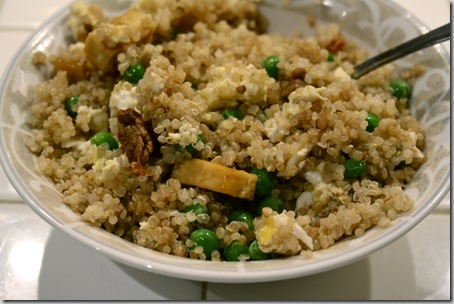 I had a hippie bowl with leftover quinoa, peas, tofu, seitan, and scrambled eggs.  With Bragg's aminos.
I should have written down the recipe for this seitan too (gosh I'm such a failure of a blogger with this post!).  I basically decreased the amount of liquid so it was more crumbly and then fried it on the stove top rather than baking it.  It was awesome, so I promise I'll sort out the actual recipe and get back to you.
Friday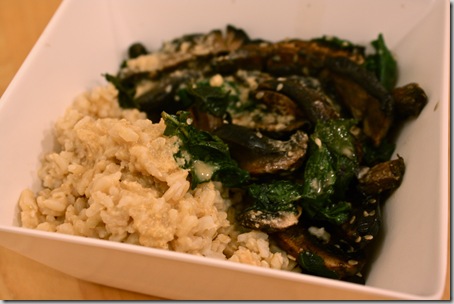 Portobello mushroom & kale sauté with peanut ginger rice.   I used Kathy's recipe as a guideline.
Honestly, the sauce alone was SO bleepin' good I could have probably paired it with anything and been in heaven.
Anyway, I want to do a separate post on this one because it deserves such.  Kyle agrees.  He loved it just as much as I did and he's not even a huge kale/mushroom fan.  It's all about the sauce I tell ya.  Get excited!