Since a lot of people have been interested in our budget friendly meal planning, here's what we had this past week.  [Spoiler alert: they're all really inexpensive dinners]
Monday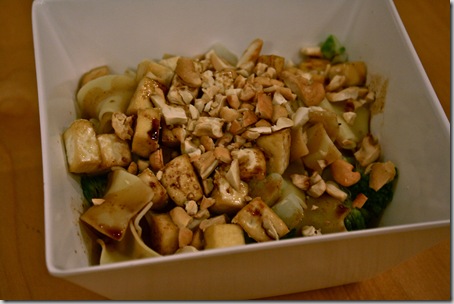 Egg noodles with teriyaki tofu, broccoli, & cashews
The organic broccoli was leftover from one of last week's dinners.  The roasted salted cashews are a pantry staple.  The egg noodles were on sale at WF (we used half of the 1 lb bag/$1.69).  The organic tofu was from WF (I baked the whole block/$1.69).
As usual, the 'fu was pressed for 2-3 hours, then baked for 35 minutes at 350.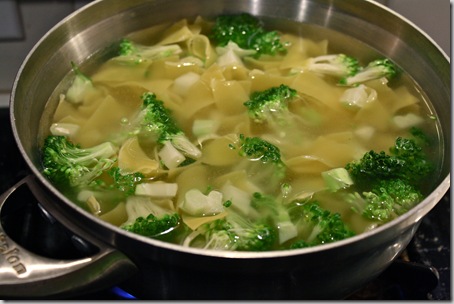 Added both the pasta and the broccoli to the boiling water.  Waited until they were cooked then drained them.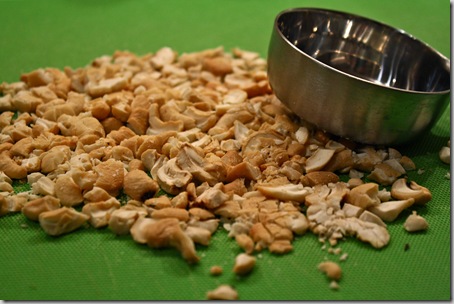 Crushed nuts in the meantime (using the bottom of the measuring cup).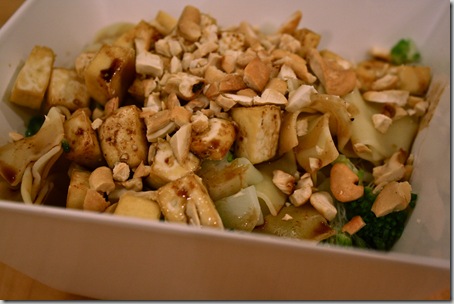 And then put it all together…
I didn't take a photo of the teriyaki sauce I used, but it's by Asian Gourmet and for some reason I can't find it anywhere online to provide a link.  It's ingredients are better than most I've seen in stores, so I hope it's not discontinued.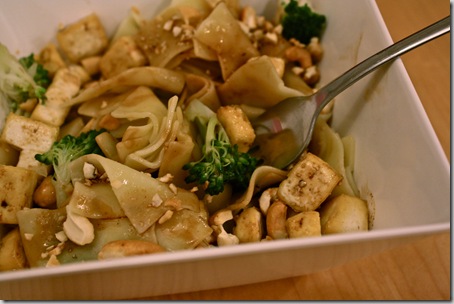 Kyle had seconds and there were zero leftovers.  This was a really quick and easy meal to throw together and we both loved it (oh, and did I mention it costs practically nothing), so it'll probably be a new staple.
Tuesday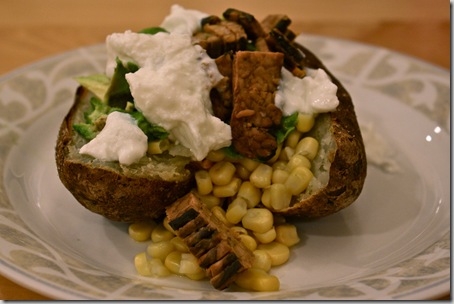 Baked potatoes with the works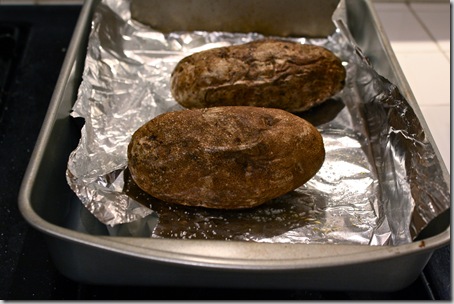 It's so rare that I make potatoes in the oven (the microwave is so much easier), but crispy skin just makes these so much better.
You can cheat and nuke them in the microwave first, which will decrease the oven time, but I planned ahead so I had the time.
Scrub the potatoes, prick with fork tines, coat in olive oil and salt, and bake for 60 minutes at 425 degrees.
I let them rest a bit (~10-15 minutes) before serving.  In the meantime, I prepped the toppings.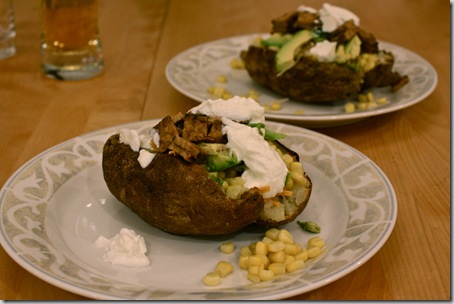 You can use whatever you want, but we went with:
corn (thawed from frozen)
Lightlife smkoy tempeh "bacon"
daiya cheddar (for me), regular cheddar (for Kyle)
Chobani plain greek yogurt
avocado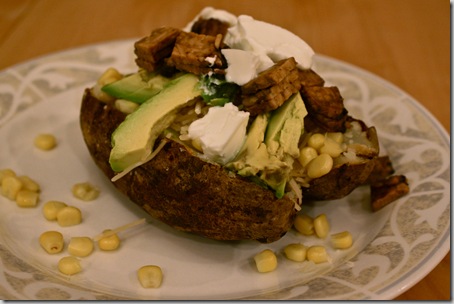 Mega yum, right?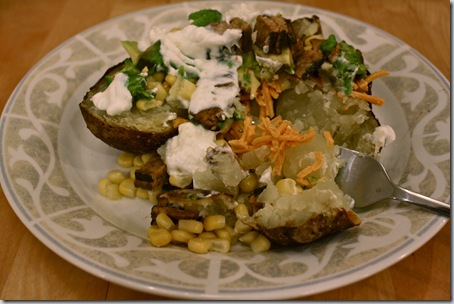 This was SUCH a satisfying meal.  Neither Kyle nor myself had room for dessert.
Wednesday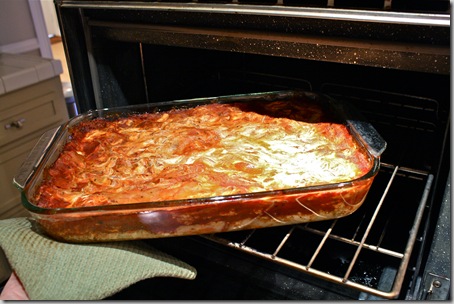 Lasagna
I made it the way I always do, with tofu "ricotta" using Sabra hummus.  I also added Chobani plain 0% Greek yogurt layers.  We had nearly everything for the recipe already in the fridge/pantry, including hummus, greek yogurt, and lasagna noodles, so I only had to buy marinara sauce and tofu at the store.
This is actually entirely for Kyle.  I am lasagna-ed out.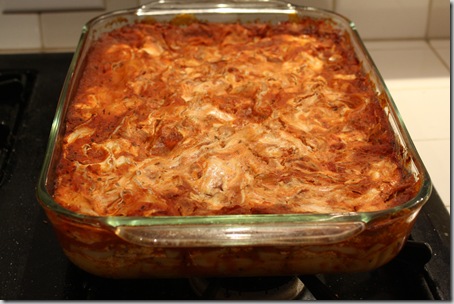 I had a millet, veggie, seitan combo instead.
The millet was leftover from the sticky orange tempeh dish, the veggies were from our baby shower, and the seitan was home-made from the previous week.
Thursday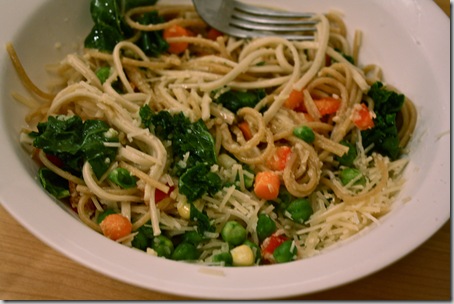 Pasta with veggies
This was Kyle's request.  He likes noodles, but he really likes noodles with veggies.  We had a few different kinds of pasta in the pantry already and for the veggies, I just grabbed whatever we had in the crisper drawer (leftover kale, carrots, bell peppers) and freezer (green garbanzo beans and corn).
I used two kinds of whole wheat spaghetti for his (left) and rice noodles for mine (right).
And then I topped them both with olive oil (we both love the organic 365 kind – it's really flavorful!).  His got parmesan, mine got nooch.  Sometimes all you need is simple.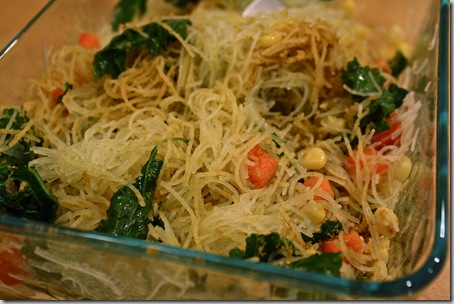 This meal hit the spot.  I think I like olive oil almost as much as I like Earth Balance.  It's a close call.
Friday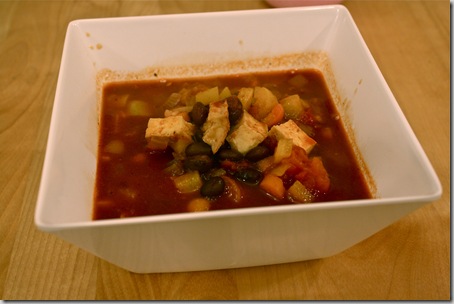 Tofu tortilla soup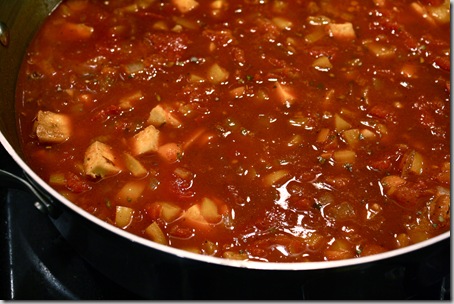 My bestie (and FPIC) Ethel sent a recipe my way last week and we decided to veganize it for our dinner date.  Since we are both on a budget, we split the ingredients and ended up with a lovely soup to share.  Our meat-less version of the recipe is below.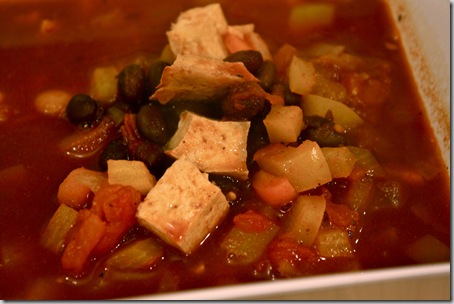 Tofu Tortilla Soup [vegan, gluten free]
Ingredients:
1 block tofu
1 large (28 oz) can whole peeled tomatoes, diced (or diced tomatoes)
1 (10oz) can red enchilada sauce
1 medium onion, diced
1 can of corn (oops, just realized I forgot this!!)
2 cloves of garlic, minced
2 cups veggie broth
1 can black beans
1 tsp cumin
1 tsp chili powder
1 tsp salt
1/2 tsp pepper
1 bay leaf
1 carrot, chopped
1 bell pepper, diced
optional: top with fresh cilantro, tortilla chips, cheese, avocado
Directions:
Either throw everything in a slow cooker and leave for 3-4hrs on high, or cook it on the stove top.
For the stove top method, first sauté the onions and garlic in olive oil.  Then add veggies (carrots, bell peppers, corn) and vegetable broth.  While that part heats up, bake the tofu.
For the tofu, simply drain it, cube it, and toss with olive oil and salt.  Then bake it on a baking sheet sprayed with non stick for 35 minutes at 350 degrees.  I didn't press the tofu first because we were short on time (read: hungry).
Next add the rest of the ingredients (beans, tomatoes, enchilada sauce, and spices).
Once the soup has returned to a low simmer, add in the tofu and let simmer (on medium heat) for ~10-20 minutes more.
Top with crushed tortilla chips, cilantro, avocado, and/or cheese.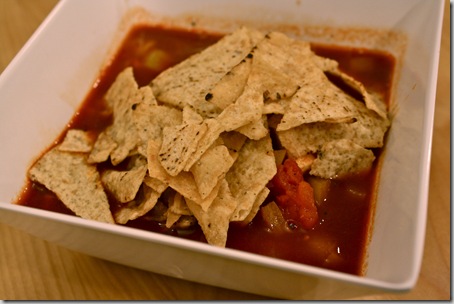 All three of us were in LOVE with this soup.  All we added on top were chips (365 tortilla chips are GF).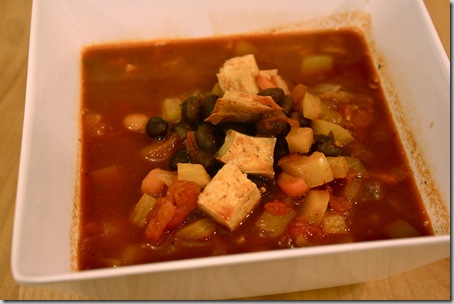 Highly recommend!