Now that Kyle's bringing his lunch to work – and he's vegetarian – I've been trying to get creative with snack ideas.
While I'm content eating the same things day after day, he's not.
Guess what he's finally sick of?  Clif bars.  I never ever thought the day would come (check out the photo below for a reminder of his love affair).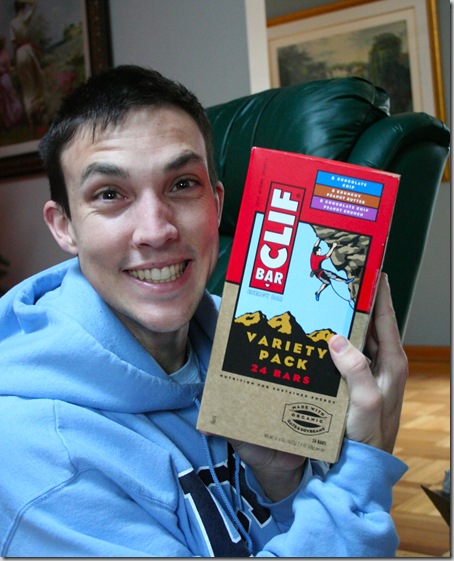 That goes for all kinds of bars.  So I've been brainstorming things that are healthy, nutritious, tasty and interesting.  And I decided to start a master list.  I'm sure there are moms out there looking for lunch box ideas.  Packing the same thing day in and day out gets old for adults and kids alike.
In no particular order, here are some more ideas:
string cheese/cheese wedges
soy nuts/roasted edamame
dried fruit
fresh fruit (apples, bananas, & oranges are so dang portable)
yogurt (soy, almond, coconut, etc.)
banana bread/muffins
nuts (honey roasted peanuts, dry roasted almonds, cashews, pistachios, etc.)
chips & salsa
crackers & hummus
cherry tomatoes & ranch dressing
pretzels & nut butter
veggies & tzatziki (carrots, cucumber, celery)
Ritz & peanut butter
celery & peanut butter & raisins (aka ants on a log)
popcorn/kettle corn
kale chips
apples & nut butter
crackers & cream cheese
tortilla wedges with cheese
pita triangles with hummus/nut butter
chocolate
Mary's Gone twigs & dip
home-made trail mix (cereal, raisins, chocolate chips, nuts, etc.)
lettuce wraps (stuffed with hummus, pesto, veggies, etc.)
falafel
yogurt covered raisins/dried fruit
chocolate covered pretzels/nuts
Hope that helps in future BYO lunch situations.  For more meal packing tips for vegetarians and vegans see these posts.